Those who tuned into any of the United States' preliminary games at the World Junior Championship saw a half-full HSBC Arena in Buffalo, N.Y., with an upper deck that was mostly vacant. The seats were full in America's semifinal game Tuesday — full of people wearing cardinal red and cheering for Canada.
It's easy to call it embarrassing, bringing back memories of 2005 when Canadians invaded Grand Forks, N.D., filled Ralph Engelstad Arena and won the first of five straight gold medals. It's the fifth time in 34 years the tournament took place on U.S. soil and the Canadians dominated Americans in attendance.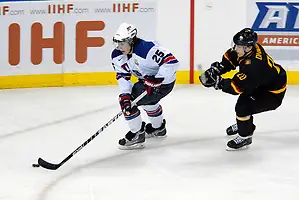 Slow down. Anyone who thought Tuesday would see a bipartisan crowd with stars and stripes matching the number of maple leafs in the seats isn't doing his or her homework.
Buffalo is a border city, close enough to home for some Canadian fans in attendance that a hotel reservation wasn't necessary. Canada's largest city, Toronto, is a two-hour drive to Buffalo. Winnipeg residents had to travel just three hours to attend the 2005 tourney.
It's not to say Western New York and New England don't appreciate hockey, but it's tough to round up casual American hockey fans from the region and get them to descend upon Buffalo for a hockey tournament many casual hockey fans don't know exist. Canada, on the other hand, doesn't have too many casual hockey fans.
In America, the WJC takes a back seat to the NFL playoff race, college bowl games and "Seinfeld" reruns.
The first experience many fans have with the WJC is when they notice certain players missing from their favorite college hockey team's roster for a couple weeks. It doesn't help that the only TV coverage of the tournament U.S. fans get is available only on the NHL Network, which is only available through certain cable and satellite packages.
The opportunity to see the WJC would be especially entertaining for fans who follow WCHA teams. Former Minnesota-Duluth defensive partners Justin Faulk (U.S.) and Dylan Olsen (Canada) were on opposite sides Tuesday just like Minnesota teammates Nick Bjugstad (U.S.) and Erik Haula (Finland) were last Sunday.
Canada had high hopes for Colorado College's Jaden Schwartz to be a star at the WJC before an ankle fracture ended his tournament. Five other WCHA players participated in the tournament.
WCHA country, namely the state of Minnesota, is an ideal setting for the States to host the WJC with rabid college hockey fans who can watch their favorite college team's recruits, current players and in some cases, players a season removed from the program.
That, and the proximity to the border, is why Grand Forks worked out so well.
The Xcel Energy Center seems like the perfect venue to host the WJC. It's a beautiful arena and has done a great job hosting hockey competitions at the collegiate, high school and amateur levels.
The problem is that it'd be hard to fill 18,000 seats or any number close to that with Winnipeg a good five hours away.
Hockey fans have also suggested the tournament should experiment with non-traditional hockey markets like Southern California, citing the growth of hockey's popularity. No doubt, hockey is growing in America, but we're not to that point yet.
The only way for the U.S. to host a successful WJC is to set the tournament in a hockey-savvy U.S. city within a drivable distance from the Canadian border.
There are horror stories of 1996 when Boston hosted and attendance flopped. Montreal was the closest large Canadian city, five hours from Boston. Midwest metro areas like the Twin Cities, Milwaukee and Chicago are all farther from the border than that.
Fans need to understand Canada will always outdraw America at the WJC no matter where the tournament is and the tournament has to be near the border when the U.S. hosts. Detroit, anyone?