Bob Prier graduated from St. Lawrence in 1999 with a bachelor's degree in economics and five years later he earned a master's degree in education at the northern New York State school.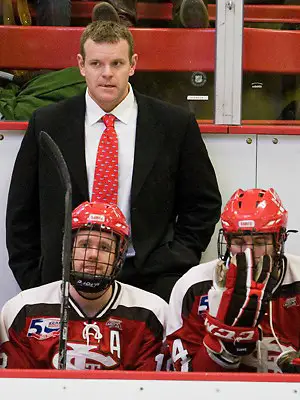 So why did he become a college hockey coach instead of pursuing a business career or one in teaching?
"There are a lot of roads someone can take with great academic backgrounds," said Prier, who earlier this month was named head coach of the Princeton men's hockey team, replacing new Penn State coach Guy Gadowsky. "I think at the end of the day, coaching is educating.
"I love teaching people and I love learning from people. At the end of the day, this profession is one that's so unique in that no matter how much you put into it — hours, time, travel — and the sacrifices you make to be successful at it, you get more back in the sense of watching people succeed.
"That's priceless," continued Prier. "If you look around the coaching world, a lot of coaches would be successful in other professions. It's about the fulfillment in coaching that you don't find in many other professions."
Gadowsky certainly was successful at Princeton, one reason that the Tigers are enjoying their best five-year run in program history.
For example:
• They compiled an 87-71-10 record during this span.
• They've hosted an ECAC playoff series each of those years.
• They've finished in the top half of the ECAC standings in four of the last five seasons.
• Princeton's last three graduating classes each completed their careers as the class with the most victories.
The obvious question for Prier, who spent the last nine years as either the assistant coach or associate head coach at his alma mater, is which is more difficult: getting there or staying there?
"To be honest, they're both extremely difficult," said Prier. "The challenge to get to the point where you're getting national recognition or respect around the country is tough. Parity exists in college hockey.
"Initially, it is difficult to get there. It comes from the guys in the locker room and a lot of times it takes time to get there. The time Guy and his staff put in is appreciated by me and the staff. We're coming into a program that's in a fabulous state with a group of guys that, from what I can tell in our initial meetings, will be a treat with which to work."
Prier may have one thing in his favor in that he was an assistant coach at Princeton during the 2001-02 season before moving onto St. Lawrence.
"That experience was invaluable and I certainly thank [former coach] Len Quesnelle for bringing me in here 10 years ago," he said. "One thing I learned is there's a great supply of young men with qualifications to be admitted to Princeton and a great supply of student-athletes who have the potential to attend Princeton.
"That experience has given me confidence in recruiting the proper individual for this hockey program. Plus, Princeton is rated the No. 1 academic institution in the country on an annual basis. There's so much for potential recruits here that it's an easy sell."
One of the first things Prier must do is "sell" himself to his players because not only is he a new coach at Princeton but this is his first spin around the rink as a head coach.
"I would like to be the type of head coach where players would have a comfort level to approach and discuss anything they would like," said Prier. "Sometimes it might be difficult for a player to approach a coach with issues.
"I want to put together a staff where our guys will be comfortable with everyone. If they're bashful and more comfortable with another coach, fine. But at the end of the day, I would hope any of our players would open up to me or anyone on our staff."
Prier already has made a point with his Tigers that more is expected of them than just playing well on the ice.
"With any sport for that matter, I think every coach expects the same, which is to understand your responsibilities in that there's more to it than coming to the rink and working hard every day," he said. "Everything you do socially and academically has an impact on the entire program plus your teammates, your peers and the entire institution.
"To be a part of something that's as special as these student-athletes are a part of is a huge responsibility. That was something that was conveyed by Guy and it's something which is nice about coming into this situation and which never can be voiced enough."