A solid defense is the cornerstore of every championship hockey team. When the stakes get higher, one-dimensional clubs fall by the wayside in favor of teams with strong blue lines.
The 2010-11 hockey season proved no exception to that rule as two talented clubs, Minnesota-Duluth and Michigan, built from the back line out, met for the national championship.
Here is a look at some choices for the top 10 defenders for the 2011-12 college hockey season:
There might not be a deeper corps of defensemen in the college hockey ranks than the group Frank Serratore will coach at Air Force this season. Led by the senior Mathis, the Falcons feature three returning blue liners that finished in the top five in defensive scoring in Atlantic Hockey.
Mathis, Air Force's captain, offers a two-way blend of physical play and steady offense, as eight goals and 27 points last season can attest. Along with the smooth skating Tim Kirby, the duo represents Atlantic Hockey's top shutdown pair, and both defenders carry the experience of playing in the 2009 NCAA tournament as freshmen when the Falcons upset Michigan 2-0 in the opening round.
If Air Force is to return to the national stage in 2012, Serratore knows that the Crystal Lake, Ill., native will have played a prominent role.
"Mathis is a focused, serious, calculated player who is all business," Serratore said. "With Kirby, they are best pair ever to play at Air Force."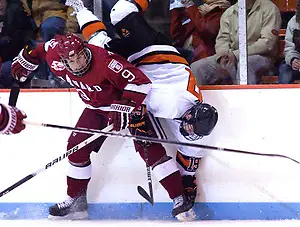 Few defensemen lead their team in scoring, but that is exactly what Biega did a year ago as a sophomore, racking up 11 goals and 30 points in 34 games.
Though it's hard to underestimate his impact offensively for the Crimson, the more impressive aspect of Biega's career is the jump the Montreal native made between his freshman and sophomore seasons. Playing in 32 games as a freshman, Biega managed just nine points, while racking up 47 minutes in penalties. Last season, Biega's offensive production tripled, but his penalty minute total dropped down to a more manageable 34.
That impressive maturation process has Harvard coach Ted Donato optimistic about Biega's future as a leader of his building club.
"[Danny] really started to make the jump in the playoffs his freshman year and now he has grown into our best defensive player," Donato said. "He's a powerful skater with a quick shot release, who is physically dominant on the ice."
2010-11 marked the first time since 1989 that Boston University missed the NCAA tournament for two consecutive years. But the Terriers are in good hands for a return to the national stage this season thanks to a defense led by one of the nation's impact sophomores.
Skating on a blue line that featured only two upperclassmen a year ago, the Wheatfield, N.Y., native made an impact on both ends of the ice. Offensively, Clendening contributed 26 points for the Terriers, tops for all Boston University defensemen. Defensively, Clendening utilized his size (6-foot, 195 pounds) and strength to clear out forwards from the front of his team's net and to take command of a game.
However, it is Clendening's transition ability that might be his strongest attribute, according to Donato.
"[Adam]'s very clever with the puck and is a guy that makes the right pass all the time," Donato said. "In the second half of the year he became a real difference maker for Boston University."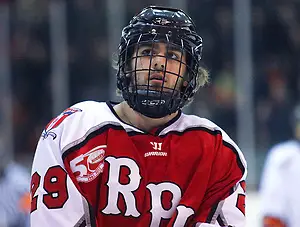 Few college transfers make a significant impact in their first season with a new team. But this was not the case for the Rensselaer sophomore, who stepped out onto the national stage in a big way in 2010-11.
Bailen's college hockey career started at Bowling Green, where as freshman the Fredonia, N.Y., native amassed 16 points in 37 games. After sitting out the following year, Bailen came into his own at RPI last season, contributing eight goals and 36 points on an Engineers squad that made its first trip to the NCAA tournament since 1995.
Stepping into a leadership role this season, Rensselaer coach Seth Appert expects even bigger things for his talented defender.
"We had the best new player in our league last year," Appert said of the then-sophomore Bailen. "With two captains from our defense now graduated, we need Nick to step up and [help] lead our young D corps."
When stories are written about Miami's defense, they usually start and end with the team's elite tandem of goaltenders. However, every night Cody Reichard and Connor Knapp's lives are made a lot easier by the play of Wideman.
Though smaller in size at 5-foot-10, 181 pounds, Wideman makes up for that with a superior skating ability and intelligent decision-making skills with and without the puck. The St. Louis native is also a force on the offensive end, whether it is with a crisp pass on a power play or with a deceptive shot that produced 72 points in Wideman's first three seasons.
And like all other Miami seniors, Wideman carries a chip on his shoulder from his team's overtime loss to Boston University in the 2009 NCAA title game. This season represents Wideman's last chance to capture the trophy that narrowly eluded his grasp three years ago.
"Wideman should be a dominant player this year," Michigan coach Red Berenson said. "He was a good freshman who has grown into a good 21-year-old defenseman."
2010-11 was a historic year for Union, which made a trip to the Division I NCAA tournament for the first time in school history. Led by Bodie, then a freshman, a much improved defense sparked the Dutchmen's surge to the top of the ECAC Hockey standings.
In a league loaded with elite defensemen, Bodie stood out a year ago by playing a solid two-way game. Offensively, the East St. Paul, Manitoba, native was the catalyst for Union, finishing tied for fifth on the team with 32 points in 40 games, while also sparking the nation's best power play (29.5 percent success rate). At the defensive end, Bodie helped the Dutchmen lead the ECAC in goals against (1.95).
"Mat Bodie is real budding star in college hockey," Appert said. "He's a really talented skater who gets around the ice so fluidly that it makes him quite a weapon."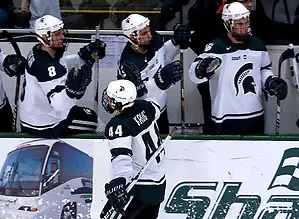 The ultimate compliment for a player is that when they take the ice an opponent always has to be aware of where they are. According to Berenson, Krug is exactly that type of impact player at Michigan State.
"[Torey]'s really a dynamic player who jumps into the holes and is a real offensive threat," Berenson said. "He's gets up and down the ice and is definitely a player to watch."
Though only 5-foot-9 tall, there may be neither a better skater in college hockey than Krug nor a player that competes harder. Though Krug is always dangerous without the puck, the highly skilled junior is even more of menace with it (11 goals and 28 points in 38 games last season). If there is a drawback in Krug's game, it is that the Livonia, Mich., native can play so aggressively that it can be a liability at times. However, few players make better decisions at top speed than the Spartans' elite defender.
When an opposing team's coach game plans against Boston College, most of the focus gets spent on shutting down the Eagles' explosive offense. However, every year the Eagles feature a blue line that ranks among the best in Hockey East. The emerging star for Boston College coach Jerry York's defensive corps is junior Dumoulin, who led all Eagles defenders with 33 points (three goals, 30 assists) last season.
"Brian had an outstanding year last year, and being named a first-team All-American proves that," York said. "He's always had great vision as far as moving pucks, but he's really developed his physical stature to the point where his play without the puck is just that much better."
The Biddeford, Maine, native is a force at the college ranks due to his imposing size (6-foot-4, 210 pounds), which provides a range with his stick that few college defenders can match. But Dumoulin just has a knack for the game and the skills as a passer to break loose Boston College's flashy forwards on an odd-man rush. Those skills were evident during the Eagles' run to the 2010 NCAA championship, when Dumoulin picked up three assists in Boston College's 7-1 win over Miami in the national semifinals.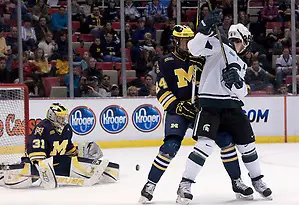 If pressed to name one game-changing defenseman in the college ranks, Merrill likely would be at the top of a short list. Last season, the sophomore defender took college hockey by storm, helping the Wolverines come within an overtime goal of winning a 10th national championship.
Despite his imposing size (6-foot-3, 209 pounds), Merrill is a fluid skater who sees the ice extremely well and makes skilled plays with the puck on his stick. Though Merrill is always a threat in the offensive end (25 points to lead all Michigan defenders in 2010-11), the Brighton, Mich., native is even more valuable as a matchup weapon to be utilized against an opposing team's top forwards.
But the most impressive aspect of Merrill's game is his temperament and composure on the ice. It is for that reason that Berenson is never afraid to send Merrill over the boards.
"If you have seen Nicklas Lidstrom play, Jon's a lot like that because he makes the right play with and without the puck most of the time," Berenson said. "He emerged as our most consistent defenseman by the first weekend last season, and by the NCAA tournament we had Jon playing close to 30 minutes a game against the other team's top lines."
Power play quarterback, offensive shutdown specialist, penalty killer, transition specialist, extensive ice-time logger and vocal leader on and off the ice — that is the job description for an elite college hockey defenseman. No player in the NCAA ranks better exemplifies those skills than Schultz.
The nation's top scoring defenseman as a sophomore a year ago (18 goals, 29 assists in 41 games), Schultz is the type of player that can take over a game all by himself. In five-on-five play, Schultz excels thanks to his elite passing ability and his terrific peripheral vision, but the West Kelowna, British Columbia, native provides even more of a threat on the power play, where half of his goals were scored last season.
But what separates Schultz from his peers is his commitment level. A likely NHL force once he turns professional, the Badgers captain made it clear soon after last year's disappointing season for the team that he wanted one more crack at college hockey to continue his development as a player.
"Justin's going to play in every situation for us and we've seen him really embrace that role," Wisconsin coach Mike Eaves said. "He has really stepped up as a leader in our training and with how he carries himself on and off the ice."