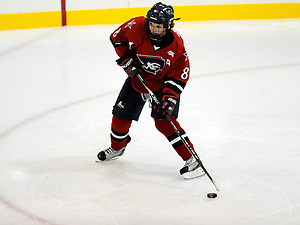 When Robert Morris fell to Quinnipiac on Saturday by a 3-2 score, it snapped the Colonials' program-record eight-game unbeaten streak, over which they went 7-0-1. Perhaps that isn't on par with the NCAA-best 33 game streak that Wisconsin set earlier in the season; however, for a program only in its seventh season, it was a big step in the right direction.
New head coach Paul Colontino, previously associate head coach at CHA rival Mercyhurst, felt experiencing some early success was a real positive for his new charges.
"I think it was great for them in that they hadn't had a run like that before, they did put together a number of wins," he says. "In a lot of ways, I think they gained some confidence from it, and sometimes it's just that realization that you can do it."
One Robert Morris player that has steadily proven that she can do it at this level is senior center Brianna Delaney. With 107 career points, she is the only RMU player to ever reach triple digits. Her 58 assists for the Colonials is also an all-time best for the program, and with 49 career goals, Delaney trails only Sara O'Malley's 52 in that category.
Delaney says that setting team marks, such as the unbeaten string, is even more rewarding because it is something that everyone on the team can celebrate together.
However, you can't have the team success without players that continually produce on the offensive end.
"It's not easy sometimes getting points when your team isn't getting a ton of points," Colontino says. "She's been steady in her past, and this year, she's been steady as well."
The Colonials averaged under 80 goals per season over Delaney's first three years, so her reaching the century mark in points indicates that she's been involved in much of their success, and her new coach recognizes her dedication to the team.
"As long as she can get the skates on, she's going out there," he says.
Brianna isn't the only Delaney on the Robert Morris roster; Cobina Delaney is a junior forward and frequently skates on her big sister's line.  Brianna says that it is nice to have her sibling playing a part in setting records at RMU and contributing to her success.
This season, freshman Rebecca Vint is leading the Colonials in scoring (13 goals, 10 assist, 23 points), averaging close to two point a game.
"I'm very glad that she has been able to get some of those points, because it has exposed her a little bit more to a lot of different people such as yourself," Colontino says. "Like, 'Wow, this freshman is putting up these numbers.'"
"You can throw her in on any situation — power play, PK, last minute, first minute — and she'll work hard and get the job done. She has provided a little bit of everything. She's got scoring, she's got grit, she's a two-way player — plays obviously the offensive side of things as you can see from her points, but what you don't see in many cases is her defensive play."
With Vint anchoring one line and Delaney another, Robert Morris has been in good shape up front.
"Between those two with Delaney, Vint, you've got two very offensive players combined with defense-oriented, where they play both ends so well," Colontino says. "So having two centers like that has been a huge bonus for us."
At 10-2-1, the Colonials are off to their best start ever. Some of that has been due to a mild early schedule that has been devoid of highly-ranked opponents, allowing the coach and his new team to get settled.
"As your season begins, like this year for me and the program, you're taking steps in different directions in some cases," Colontino says. "You're trying to do one thing at a time. It has been nice being able to focus on just our team and what we're trying to do, both on the ice and off the ice. Obviously with the on-ice stuff again, some of those wins, we're trying to define our style of hockey with how we want to continue the Robert Morris tradition. We haven't played a powerhouse per se, that can impose. For each game, I think, we've been very competitive."
According to Delaney, the team is taking to heart some of Colontino's lessons.
"Before when we went on the road, we'd try to get a split, but he's taught us that isn't enough, and now we go for the sweep," she says.
Delaney says that Colontino also has the team looking beyond their usual goal of contending in the CHA and seeing the NCAA tournament as a possibility. The Colonials aren't that far removed from making such a dream a reality, as they sit tenth in the current PairWise Rankings.
"In all honesty, the players have been so absorbent of things that the coaching staff has either told them or trying to teach them that in some ways, it hasn't been very tough, because they've allowed us to coach a lot as opposed to do other things," Colontino says. "So when we go out to practice, we're coaching, and when we're not there, we're talking hockey. They're a great group of gals in the sense that they take care of their schoolwork, and when they come to the rink, they're ready to work out and they're ready to practice. For us, changing that culture has been relatively easy, because I think the players specifically know what they want to do. So when you give that to them, it's like, 'Okay, we're going to do it.'"
For Robert Morris to have success on a broader scale, they'll need to be able to take on conference giant Mercyhurst and win, something that they've never done. Colontino denies that his presence will yield RMU any inside edge that can tip the scales.
"Obviously, I know that staff and that team extra special, as you're alluding to, as I'm fresh out of there," he says. "They're a great club. I think you could ask any coach around the country, hey, we're playing Mercyhurst, you know what you're going to get. You're going to get that very hard-working team that's very talented, that can do a little bit of everything and is never going to give up. We know that as well at Robert Morris. I agree with you, those games will be huge. They've had a much longer history in doing what we want to start doing."
The first crucial home-and-home series with the Lakers arrives on January 20 and 21. Prior to that, RMU hosts Bemidji State as 2011 winds down for a pair of games. However, Colontino doesn't believe that the Colonials can afford to look beyond a visit by Syracuse on December's second weekend.
"For us, it's definitely one game at a time, one weekend at a time," he says. "Teams like Bemidji, having a phenomenal season, you see them over the past three, four years, they're growing extremely well and they've become just a great hockey school there. Mercyhurst has had that tradition as well for a while. For us, sometimes you take care of the little things and the big things take care of themselves. We're focusing on us and how we want to play and win each game of each weekend. If we can do that, if we can take care of what we need to take care of, I think those other things will take care of themselves."