Editor's note: This is part of an occasional series of stories checking in with college hockey personalities, past and present.
In the 10 years since he retired from active coaching, Ron Mason has been the athletic director at Michigan State and is now the senior advisor for the Muskegon Lumberjacks, a second-year team in the USHL.
Admittedly, he just can't stay away from hockey.
He said that retirement has been relaxing, but his heart still lies within the game. Mason's stats and accomplishments speak for themselves.
Mason's grandson, Travis Walsh, plays for Muskegon and will suit up next season in East Lansing. Mason said he enjoys watching his grandson play and being in the rink once again.
On Jan. 24, Mason was even back on the bench as an honorary coach for the inaugural USHL/NHL Top Prospects Game and took time after the game to chat with USCHO about how he feels about being involved with the USHL and where he sees the league taking college hockey.
USCHO: What did you think about the prospects game and what's your take on the USHL overall?
Ron Mason: I thought the game had some great pace to it. I thought it had some skill to it. I thought it had some physicality to it and I thought it had some really nice playmaking to it. I thought the game had everything a game like this should have. Overall, I thought the kids overall were better than what I thought they might be.
This league [USHL] doesn't get the kind of notoriety that technically, it should. The college people know how good this league is because we're getting so many good players out of this league and into college and, potentially, to the next level, but I'm not so sure the USHL gets the same kind of respect that it should beyond that. Obviously, the NHL watches this league, but notoriety means a lot and publicity means a lot, but if you talk to someone outside of where this league is played, no one knows what it is. I don't see anything wrong with that because each guy here — these owners of these teams — they are doing a ton for U.S. hockey. Period. It's about developing kids and it's been phenomenal.
I remember back — and I used to call it the Detroit Junior Hockey League [North American Hockey League] — and that league never got a lot of respect, but my gosh, if you go back to see the number of players that came out of Detroit that were great college players and went on to play in the NHL, it's amazing. So for colleges and the U.S., [the prospects game] is just phenomenal.
USCHO: How has your involvement with the league and Muskegon gone so far?
RM: It's been really good. My grandson, Travis Walsh, plays here and I was here a lot last year following him around and I like that a lot. [Muskegon owner and GM] Josh [Mervis] called me and said we had a coaching change [Former Wisconsin assistant Kevin Patrick out, longtime NHL player Jim McKenzie in] and asked if I'd come on and be an advisor and that's right in my wheelhouse. You know, where else can I be, other than in a hockey rink? It's been wonderful for me.
USCHO: What does it mean to have all 30 NHL teams at the prospects game? How does that speak to where the league is going?
RM: When this many kids get together in one spot, you've got to be here. How many kids here can make it to the NHL? It's hard to say, but having this game is a start and it's a good start.
USCHO: What did you tell the kids before they took the ice?
RM: I just told them to play the way they play and to use your skills because that's the way you have to do it here. And if you try and do something you're not capable of, you won't be very good. I said that everybody here has to make everyone else better. If you're a physical player, don't be afraid to be a physical player. I thought the kids behaved very well. There could have been a lot more penalties called, but you know what? [The referees] let them go and it didn't really hurt a heck of a lot in the game because in a game like this, you really don't want a lot of power play and penalty killing. When that happens, it can be an injury-type of play.
USCHO: Do you feel a lot of the guys in the USHL have the ability to step right into college next season?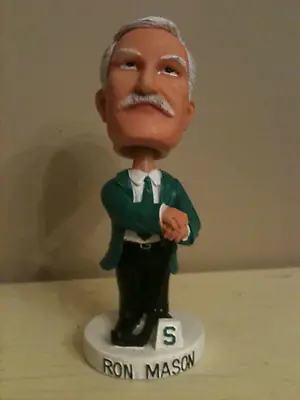 RM: You know what? I don't know how many kids in this league can step into a really good college program and make an impact. I mean, it's another step in the process. The occasional player can step right in, but I've seen so many people come out of junior hockey and step into college where the age limit is phenomenally different and the experience level is phenomenally different and it's really hard to be an impact player as a freshman. You can't really predict. Maybe a goalie could be because he's a different position – that could happen. Maybe an unbelievable scorer could do it, but I think as a whole, there is another learning process, but that's the beauty thing about it. If you can get to college, you've got three or four years there to improve and develop again to get to where you need to be.
USCHO: Since you've been out of the coaching game, where have you seen the level of the USHL go from where it was 10 or 15 years ago?
RM: Oh, man, it's phenomenal. Back 20 years ago when they first started the USHL, I thought it was OK and there were maybe a few good players in the league. I never watched a lot of USHL games, but my assistants did. I used to go to Detroit and Southern Ontario because those were our closest areas to watch people. We [Michigan State] also got a lot of kids out of Western Canada, which we had a tradition of getting, so we kind of always went in that direction.
Now, heck, you can spend your whole time watching this league and not have to go anywhere, especially if you have the right kids. And here we have a team in Muskegon. It's unbelievable what Josh has done to get this team here. For all the schools in the state of Michigan, it's phenomenal. Muskegon isn't more than a couple hours from each school. That's just great.
USCHO: What have you thought about how Tom Anastos has done so far behind the bench at Michigan State?
RM: Tom has done more than just coach the team. He's gone out and because he is a Spartan and he knows a lot of people, he's been able to bring a lot of Spartans back into the picture. Tom was never out of the game; he was always involved. I am very impressed with what he's done. The kids are playing so hard and they're not going to blow anybody out, but they're winning games and that's all we can ask. He's put a new face on the program.
I really like what he's done so far. I walked into practice a few days after he started practice in the fall and I thought I was running it. There were all the same drills that he learned when he played there. You gotta love it.