When re-negotiating a contract, most people want perk after perk included, along with a massive raise in salary.
John Buccigross just wanted three days away from his ESPN "SportsCenter" duties next April.
And he got it.
Buccigross, a Pittsburgh native and longtime "SportsCenter" anchor, will be doing the play-by-play for the Frozen Four starting next season in his hometown alongside color analyst Barry Melrose.
"My contract was up July 1 and when we started negotiations for a new deal, the one thing I wanted written into the new contract was that I would call the Frozen Four and ESPN saw no problem with letting me do that," Buccigross said. "I have called regionals for the past four years [with Melrose], but it's always been a long-term goal to call the Frozen Four."
Buccigross said play-by-play has always been a passion and it started when, as a child, he would turn the sound down on the TV during games and call the action as if he was there.
"I have always had an insatiable love for sports and especially hockey," Buccigross said. "I grew up playing pond hockey and street hockey and was even born just a few blocks from the CONSOL Energy Center at Allegheny General Hospital. When I was 12, it started to be a dream for me to be able to go to games and be a part of the whole production. To be able to have that chance next April in my hometown is something I'm really looking forward to doing. And it won't be just Barry and I having a conversation about hockey. You'll get all the action.
"When Peyton Manning drops back to pass, you don't have the announcers talking about something else. They are saying, 'Manning drops back, looks left, has a man down field, goes deep,' you know? That's how my style is. I want you to know what's happening."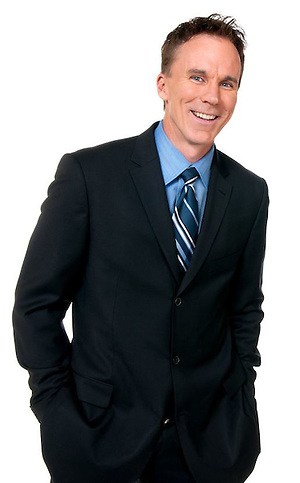 Buccigross works for a company that shows little to no hockey, even on "SportsCenter." He knows it's an issue that hockey fans and even media professionals will ask about.
One of ESPN's few on-screen hockey buffs, Buccigross, 46, started hosting "NHL 2Night" on ESPN2 in 1998 and then started a column on ESPN.com in 2001 that continues to this day and has evolved to include video.
"We made a very aggressive effort to get the NHL back, but all Comcast had to do was match what ESPN was offering," Buccigross said. "We offered lots of money, I can say that. We gave it a shot, but we still have the NCAA contract and NCAA sports is some great programming.
"Even with hockey not being on ESPN, you've got increased TV coverage in the local and regional markets and even online streaming. And a lot of these games are in HD, which is a plus. I drop in little nuggets now and then on "SportsCenter" and I guess in my position, I have the power to do that."
Buccigross admitted to following NCAA hockey very closely and said he will be ready to go come next spring.
"Where I live in Connecticut, it's pretty much prime territory for college hockey," Buccigross said. "You're not far from New York or Boston and you've got Yale, Quinnipiac and Connecticut right here in-state. With kids getting older (Buccigross has two sons, Brett, 20, and Jackson, 13, and an 18-year-old daughter, Malorie), you really realize how much time you have to do all the things you want to do and still be there for the kids. I've been fortunate to be able to do both."
And being an active proponent for college hockey via Twitter (@Buccigross), Buccigross said it's amazing the power of social media when utilized as a vehicle for networking.
"I've met so many great coaches over the years and now with the advent of Twitter, you get to know and meet a lot of very cool people," he said.
When asked if he'll drop in a "What Neil Peart was to Rush, Jerry York is to Boston College" analogy at the Frozen Four, Buccigross laughed.
"Not during the game, but maybe in a highlight package," he said. "The kids deserve all the attention and I think now that I've shown I can talk the talk, it's time to walk the walk and call the games as natural as I can.
"With Barry, a lot of people think that college hockey is beneath him, but nothing could be further from the truth. He has fun during the games and really takes the time to get to know the players and their names. It's great working with Barry, it really is."
As for his media presence, the aforementioned video in his columns seems to be the way of the future.
"I do a lot of everything and always seem to have a lot to write about," Buccigross said. "I'm learning that people love video and podcasts and that long-form is getting less consumed. I think I have a good audience that enjoys seeing what I produce. You have to change with the times and with technology changing and improving exponentially, we certainly have the resources and most people can listen to the podcasts and watch video on their mobile devices."
Buccigross added that what he does for a living never seems like work and summed it up with a James Joyce adage.
"Chance furnishes me what I need," he said. "I'm a like a man who walks along, stumbles over something, reaches down to pick it up and it's exactly what I want."