While having a great offense will help most teams win games during the regular season, it is the teams that boast a dynamic blue line corps that tend to run deep in playoff chases. Just ask the Ferris State Bulldogs, who won three close contests en route to the national championship game last season.
Here is a group of 10 defensemen who are looking to help get their teams to the promised land this season.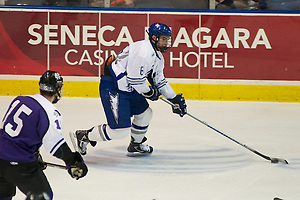 After helping the Falcons to a second-place finish in Atlantic Hockey as a freshman, McKenzie was part of the effort that got the Falcons to the top of the conference last season.
McKenzie had seniors Tim Kirby and Scott Mathis to give him guidance. With both gone to graduation, the junior from Petaluma, Calif., will be asked to lead the Falcons blue line and one coach said McKenzie is prepared for that challenge.
"I've been really impressed with this kid," the opposing coach said. "I think he's ready to take the next step this season."
Playing behind the likes of Brian Dumoulin and Tommy Cross is enough to mask the defensive talents of a big skater like Wey. Missing chunks of his freshman and junior campaigns with various ailments haven't helped, either.
"He's been injured a lot in his first few seasons, but was good last year once he was healthy," one opposing coach said of Wey. "He's a big guy who really moves the puck well."
The 6-foot-3 Pittsburgh native has only 20 career points to show for three years of play with the defending national champs, but like forward Chris Kreider last season, this may be the solid defender's time to shine as he shows his offensive upside without Dumoulin and Cross garnering all the attention.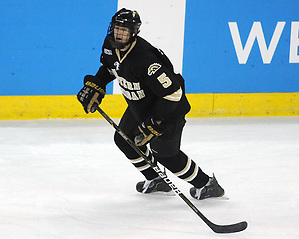 The Broncos lost defenseman Matt Tennyson early in the offseason but kept DeKeyser, the steadiest defender the team has had over his first two seasons.
A dynamic player for his size (6-foot-3, 198 pounds) who plays a physical game, DeKeyser ranks highly on nearly every coach's list. Not only is he strong in his own end, DeKeyser picks up points at key times. While helping the Broncos to a five-game winning streak late in the season, he notched six points.
"He's got a nice blend, a little offense and very strong defensively," an opposing coach said. "He has great endurance and can really play a lot of minutes for you."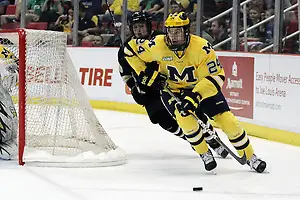 The Brighton, Mich., native and perhaps the most recognizable name on this list missed a large chunk of last season due to suspension and never really found his game from there.
"It's really hard to get back in after losing half the season," an opposing coach said.
The junior picked up just 11 points in 19 games last season but showed his ability to take over games by scoring multiple points four times. More than one coach was willing to draw comparisons between his game and a certain NHL prospect.
"He's a lot like Justin Schultz," said another opposing coach, linking the former Wisconsin player. "He has great patience, he's so smart with a really high hockey IQ."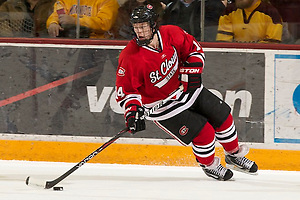 The first WCHA defenseman on this list has the potential to be the most exciting of them all despite playing on a team better known for its top forwards in recent years.
"He's really electric, he skates very well," an opposing coach said. "He's a great second-wave defenseman."
As a sophomore last season, the junior from Rogers, Minn., posted a nine-point improvement in offensive production over his freshman campaign. Jensen scored four of his six goals on the power play.
"He can beat you in a couple of different ways," an opposing coach said.
This season, Jensen will be tasked with taking on a larger leadership role as one of the upperclassmen on a relatively young Huskies squad.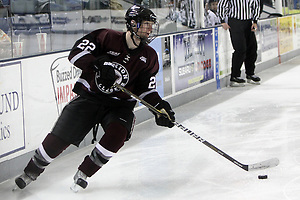 Playing alongside your brother can be a special thing. Playing alongside your brother on a great team takes it to another level. With brother Kyle, Mat Bodie has made a pair of NCAA tournament runs in his first two seasons.
"He's just consistently good on a strong defensive team," an opposing coach said. "He's pretty talented and has the puck skill ability to run the power play effectively. Defensively he's not a liability either."
While few coaches agree on how important a player the East St. Paul, Manitoba, native is to the defensive machine that the Dutchmen have created over the last couple of seasons, they all agree that he is a consistent threat when he is on the ice. His nine-game point streak to open the 2011-12 season was further proof of that.
A 40-point jump in production between your freshman and sophomore seasons will capture some attention. That's what the St. Cloud, Minn., native did, going from one point to 41 and electrifying Mariucci Arena crowds night in and night out.
"He shoots the puck well; it's definitely a weapon for him," an opposing coach said. "He's only going to build on the numbers he put up last year."
Coach Don Lucia's Golden Gophers have been producing excellent offensive defensemen in recent years. At least one coach believes that Schmidt might make college hockey fans remember his name as the best of the bunch.
"Minnesota has a pretty potent power play and he's a big part of that," an opposing coach said. "He's a great skater, and he really moves well."
Playing alongside former Terriers player Adam Clendening had its advantages for Noonan as the then-sophomore tied for second on the team in goals with 16.
Where Noonan really shined last season was on the man advantage, where he finished second on the team with eight power-play goals. To say that his ability to score surprised many would be an understatement.
"He's much better than I thought he'd be," an opposing coach said. "He skates a lot better than I thought he would for a big guy."
The 6-foot-1, 205-pound native of Norfolk, Mass., became a focal point of the Terriers' offense as the season moved along. Three times he scored two goals in a game and he notched six multi-point games, five coming from Jan. 20 on.
"He does a great job of getting involved offensively without getting out of position defensively," an opposing coach said.
Ask any coach which defenseman from last season they would want to have on their roster and one of the first names that jumps to mind is this talented sophomore. Last season's WCHA rookie of the year and Hockey Commissioners Association's national rookie of the year was nothing short of outstanding while posting 38 points in 43 games.
"He's a real exciting defender," an opposing coach said. "He's very mobile and really skilled offensively."
Finishing fourth on the Pioneers in scoring, LaLeggia did more than just score points. With just five defenseman in the lineup most nights, LaLeggia had to develop into a leader on both ends of the ice immediately, and he proved able to do so quickly, playing key minutes against opponents' top forwards.
The toughest competitor on this list may also be the best. Having come into college hockey with more press than any Crimson player in recent memory, Biega has lived up to and perhaps exceeded expectations.
A hard-hitter with the ability to also put the puck in the net, Biega notched 35 points in 34 games last season, making him second only to Schultz last season in points per game by a defenseman.
Perhaps the greatest thing Biega has brought to the Crimson is a change of culture, and that hasn't gone unnoticed throughout the college hockey world.
"Harvard wasn't known much for their offense," an opposing coach said. "But he's changed that with the way he plays."
Time will tell whether Biega will be able to lead the Crimson back to the NCAA tournament for the first time since 2006.