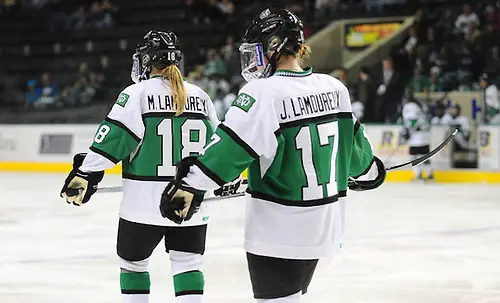 Picking the winner of the WCHA this season is a bit like shuffling a deck of cards and then trying to anticipate the order the various suits will appear. Obviously, there are eight teams in the league, not four, but to date, all of the circuit's championship banners have been hung in Duluth, Minn., Madison, Wis., and Minneapolis, Minn., and only North Dakota looks positioned to have a shot at busting into that clique in 2013. I'll admit that some of my picks may be questionable; I could have echoed the predictions of the WCHA coaches, but what fun is that?
"You'll go into every weekend not knowing who is going to come out with points on a particular evening or particular weekend; who is going to win games," said Mark Johnson, whose Badgers emerged on top of the standings after the 28-game schedule in 2012. "I think that bodes well for the fans of women's hockey around the country. They're going to be entertained on a nightly basis no matter who is coming into their building or what game they're going to go watch. Minnesota has the makeup to have another strong team. Certainly North Dakota, with the experience their players gained last year and the class that they have coming in, are going to have a good season. Then the rest of the crew: ourselves, Duluth, Ohio State, Bemidji, Mankato, St. Cloud — good players, good coaches, and it creates good competition for everybody."
The conference bid adieu to a star-studded senior class in the spring, so most of the programs that at least flirted with the country's top 10 last season have some patchwork to do. The team returning to campus with its leadership core most intact would seem to be found in Grand Forks, so they'll be my choice to finish first, although I wouldn't be shocked should they wind up fourth or anywhere in between.
"The team that finishes first in our league and the team that finishes fourth, not much separates them at all," Minnesota-Duluth coach Shannon Miller said. "And arguably, I would say the top four teams in our league are going to be in the top six in the country. Having experience and probably goaltending, that will be things that separate these teams."
The second division figures to be just as difficult to predict, as the teams that previously finished fifth and sixth must rebuild more than those below them.
"I think Mankato and St. Cloud are both going to take some jumps this year," Minnesota coach Brad Frost said. "They didn't have the greatest years last year, but when we play them, we certainly seem to get their best. I think those two teams will be better than what they were last year. It'll be interesting to see where Bemidji and Ohio State fall in the grand scheme of things here as well."
The biggest surprise will occur if one of the teams picked to finish in the bottom half crosses the gulf to the upper division.
North Dakota
Projected Finish: 1st
WCHA Coaches Poll: Tie for 2nd
Previous Season: 3rd, 16-9-3-2, 53 points
Key Departures: Stephanie Ney, Alyssa Wiebe, Monique Weber, Kelsey Ketcher, Margot Miller, Ashley Holmes
Arrivals: Meghan Dufault, Tanja Eisenschmid, Johanna Fallman, Samantha Hanson, Leah Jensen, Shannon Kaiser, Amanda Koep, Sam LaShomb, Marissa Salo
Key Players: Jocelyn Lamoureux (34-48-82), Monique Lamoureux-Kolls, (26-45-71), Michelle Karvinen (24-37-61)
While most teams in the league are trying to shore up offenses hurt by graduation or already lacking punch, North Dakota returns its top four scorers to an attack that led the league last season. Those four combined for 249 points a year ago, topped by the 82 put up by Patty Kazmaier Top 3 Finalist Jocelyne Lamoureux. In their senior season, she and twin sister Monique will attempt to bring their hometown team its first championship. After a year to acclimate to NCAA play, WCHA Rookie of the Year Michelle Karvinen looks poised to improve on her 61-point debut.
It can be overwhelming to attempt to figure out the rookies on the North Dakota roster, where a dozen people are listed as freshmen or redshirt freshmen.
"Our freshmen are really split into two groups for us, preparation year players and true first-year players," coach Brian Idalski said. "As a group, our first year players give us more skill, size, speed, and depth. We will have more depth, especially at forward, then we have probably ever had here at UND."
Certainly North Dakota now attracts recruits above what were seen prior to Idalski's arrival, including Canada U-18 forwards Meghan Dufault and Becca Kohler.
UND's fate may ultimately be decided at the other end of the rink.
"Offensively we led the WCHA in scoring last season, but defensively we were inconsistent," Idalski said. "I believe the focus for us is to be a better team defensively."
The inconsistency manifested in goal, where Stephanie Ney has now graduated and senior Jorid Dagfinrud was brilliant at times and struggled at others. When the defense held up, UND was as tough to beat as anyone.
With a nucleus in place, North Dakota should be able to jump to a fast start and take the early lead in the conference race. That earns them my nod to take the WCHA crown.
Minnesota Golden Gophers
Projected Finish: 2nd
WCHA Coaches Poll: 1st
Previous Season: 2nd, 21-5-2-1, 66 points
Key Departures: Sarah Erickson, Jen Schoullis, Anne Schleper, Kelly Seeler, Emily West
Arrivals: Hannah Brandt, Jordyn Burns, Brook Garzone, Amanda Leveille, Milica McMillen, Maryanne Menefee, Lee Stecklein
Key Players: Noora Räty (1.35 goals-against average, .942 save percentage), Amanda Kessel (32-48-80), Megan Bozek (15-27-42)
After going six seasons without winning a tournament, the Gophers claimed two in March.
"We had been so close over the years, in my five years as the head coach," Brad Frost said. "When you win it, you realize just how hard it is to do. The difference between us and Wisconsin come last March was minimal at best, so it's a big save here, or a referee's call there, or a goalpost, or whatever it is. We played really well down the stretch last year, and obviously, that's a goal again. I feel like we have a blueprint for success here, so we're going to focus on us and what we do well and the process. If we do those things, our team is going to play very, very well and give ourselves a shot."
Minnesota returns an All-American at every position with senior Noora Räty in goal, senior co-captain Megan Bozek on defense, and junior Amanda Kessel up front. Kessel is recovering from hip surgery in June and is not back to full strength, but as Frost points out, at 75 percent she's still better than most people. The graduated Gophers seniors filled huge roles, so Minnesota needs immediate contributions from a heralded freshman class to contend.
"Hannah Brandt was just voted as the preseason rookie of the year in the WCHA, and I think that's very well deserved," Frost said. "She's special. She's a little bit combination of [Krissy] Wendell and [Natalie] Darwitz. She sees the ice real well and has some finish to her and is a pretty dynamic player. She's not going to blind you with her speed up and down the rink, but she sees the ice as good as anybody out there."
Minnesota also gets needed depth in goal in Amanda Leveille, another scoring threat in Maryanne Menefee, and expected blue line regulars Milica McMillen and Lee Stecklein.
A number of returning players will need to assume larger roles as well for the Gophers to repeat last season's success.
"Of course, it tasted so good and so everybody wants to get back there and do it again, but it's a long row to hoe as we go forward," Frost said.
In the end, it's likely that once again not much will separate one team from another.
"What's funny is if we didn't win it and Wisconsin beat us 4-2, the summer would have been really long and we'd have been analyzing and reanalyzing everything," Frost said. "It just happened to be that we were playing really, really well at the end of the year, all of our players. There was a confidence going into that game, into that national tournament, that this team just knew they were going to win it. Right now, we don't know if we're going to win it, but hopefully as the year goes along we continue to develop that confidence in them and they believe in themselves enough to go out there and do it."
Wisconsin Badgers
Projected Finish: 3rd
WCHA Coaches Poll: Tie for 2nd
Previous Season: 1st, 23-3-2-1, 72 points
Key Departures: Brooke Ammerman, Brittany Haverstock, Hilary Knight, Carolyne Prévost
Arrivals: Courtney Burke, Molly Doner, Kim Drake, Kaitlyn Harding, Mikayla Johnson, Rachel Jones, Erika Sowchuk, Jorie Walters
Key Players: Brianna Decker (37-45-82), Alex Rigsby (1.43 GAA, .949 save percentage), Stefanie McKeough (5-18-23)
It borders on sacrilege to place a Mark Johnson team this low, and there are compelling reasons why it may be a mistake to do so.
The Badgers return last season's Patty Kazmaier Award winner in forward Brianna Decker. Stefanie McKeough was named WCHA Defensive Player of the Year. Alex Rigsby is the WCHA's reigning WCHA Goaltending Champion. How can that possibly add up to a third-place finish?
The program graduated its all-time leading scorer in Hilary Knight, Brooke Ammerman, who racked up 215 points herself, and do-everything forward Carolyne Prévost, who struck for 59 points in only 33 games as a senior.
"It's going to be a challenge to try to replace the number of goals that we lost from last year's team," Johnson said. "I think that if you look at us overall, we've got some pretty good pieces to start with, with our goaltending situation and certainly the players that we've got on our blue line. It's going to be more of a score by committee. We're going to have to have a lot of people contribute. Certainly some of the people that have been here for a couple of years are going to be asked to step up and try to create some more offense. If we're able to do that, then obviously, that'll help us win hockey games."
Some of that offense will have to come from this season's freshmen class that includes Johnson's daughter Mikayla, although she appears bound for a redshirt season.
"Erika Sowchuk, Kim Drake, and Molly Doner are kids that have had success on the teams that they've played the past couple years," Johnson said. "For all the freshmen, whether it's Courtney [Burke], or those kids, or Rachel Jones or Kaitlyn Harding, it's how quickly they adjust to college hockey."
For the Badgers, it may be a matter of how quickly they adjust to the fact that they no longer have Knight steaming down the ice, and that process will not be made any easier by McKeough being sidelined by symptoms from a concussion suffered last season.
However the results play out in Madison, the season will be a success on at least one front, as the Badgers move into their new home, La Bahn Arena.
"I think everybody in town is looking forward to opening the building here in a couple of weeks," Johnson said. "Obviously with the addition of it, it's going to be a fun process as we get on there and get used to the facility and get used to the ice sheet and get ready to play our games down the road."
Minnesota-Duluth Bulldogs
Projected Finish: 4th
WCHA Coaches Poll: 4th
Previous Season: 4th, 15-12-1-1, 47 points
Key Departures: Jennifer Harss, Haley Irwin, Kacy Ambroz
Arrivals: Kayla Black, Alivia Del Basso, Jordan Krause, Hannah Bramm, Marie Delarbe, Aleksandra Vafina, Sofia Carlstrom, Karissa Grapp
Key Players: Audrey Cournoyer (22-26-48), Jenna McParland (21-11-32), Jessica Wong (15-23-38)
Minnesota-Duluth finished lower than third in the WCHA for the first time in a season that saw it miss only its second national tournament in 13 years and first since 2004. That the Bulldogs were on the outside looking in as the Frozen Four was conducted on their home ice says more about the teams above them than it does about UMD. Minnesota-Duluth was only 5-10-1 versus the NCAA tournament field, primarily due to a 2-8 mark against the two teams that met in the national title game. By the end of the year, UMD could compete with anyone, as evidenced at the WCHA tournament by a semifinal victory over Wisconsin and essentially a one-goal loss to Minnesota.
Among the challenges for coach Shannon Miller are replacing Haley Irwin, producer of 206 points during her four years in Duluth, and finding someone to guard the net with the same proficiency as Jennifer Harss.
"We actually have nine freshmen this year; right now, two that are redshirting and seven will play so we have a really young team," Miller said. "We have a very young team and young goaltending, so there's going to be a lot of teaching and a lot of patience, but that's my strength, being patient and being able to teach and same with my coaches. So you just chip away it. You don't worry too much about your results early in the season. What you want to do is be one of the best teams at the end of the season, and we certainly were last year and I'm optimistic that we will be again this year."
As that group matures, the Bulldogs will rely on a group of seniors that claimed an NCAA title as freshmen. Sophomores Jenna McParland at forward and defenseman Brigette Lacquette should improve on seasons that landed both on the WCHA All-Rookie Team.
An up-and-down first half of the season doomed the team in last year's race, and youth and poor health could produce similar results. Due to a depleted blue line, Miller had to get creative to fill the line chart as the team kicked off its season with a pair of exhibition games.
"[Freshman] Hannah Bram has really stood out," Miller said. "She's a forward with really good size, good vision, good hands. Ironically, she's a power forward, but I have to play her at D right now, on defense. We have a really interesting situation this weekend; we have more goalies dressed than we do defensemen. I've never experienced this before."
Miller's makeshift rotation proved effective in a pair of wins over the Minnesota Whitecaps, but will be further tested in the coming weeks as the Bulldogs host Ohio State and Wisconsin. Later in 2012, UMD plays both Boston College and Boston University in two-game series, contests that could prove pivotal in determining the Bulldogs' NCAA Tournament fate.
"We shoot to have the strongest schedule in the country," Miller said. "I wish the NCAA committee honored it more than it does for strength of schedule, but UMD shoots to have the number one strength of schedule every year."
Bemidji State Beavers
Projected Finish: 5th
WCHA Coaches Poll: 6th
Previous Season: 6th, 11-15-2-0, 35 points
Key Departures: Zuzana Tomcikova, Montana Vichorek, Marlee Wheelhouse, Kimberly Lieder, Alana McElhinney, Lauren Williams
Arrivals: Ivana Bilic, Megan Lushanko, Lauren Merkley, Hanna Moher, Alexane Rodrigue, Abby Ryplanski, Kaitlyn Tougas
Key Players: Sadie Lundquist (12-23-35), Emily Erickson (17-15-32), Erika Wheelhouse (8-16-24)
Every year we survey the Bemidji State roster, take inventory of what has been lost, and expect the team to slump. Somehow though, coach Steve Sertich keeps the train rolling down the track. BSU had its best season in history in 2011-12, despite returning few proven producers on offense.
The problem this season comes at the other end of the ice. Star goaltender Zuzana Tomcikova and primary backup Alana McElhinney both graduated, leaving an opening in the team's most important position.
"I would guess that [Abby] Ryplanski and [Jessica] Havel probably will get a look first," Sertich said. "Ryplanski has some D-I experience at Niagara. Jess Havel has been here for three years and works really hard and deserves a look, too. [Freshman Alexane] Rodrigue will probably have to wait and see how that falls out here in the beginning weekends of the season."
Establishing a new number one goaltender is made doubly difficult by the graduation of three top defensemen in front of her. Replacements for Montana Vichorek, Marlee Wheelhouse, and Kimberly Lieder must also emerge.
"Luckily, we have Erika Wheelhouse coming back, but it's going to be tough to fill those gaps," said Sertich. "Tess Dusik is starting out the year at D and Dani Williams played both forward and D last year; she'll probably start out at D. Those three will, I hope, be our top D back there and we'll kind of see who can make a jump up from last year."
Ironically, the forward position has gone from the presumed weakness to the team's strength in the last 12 months.
"We have [seniors Sadie] Lundquist and [Emily] Erickson coming back off good years," Sertich said. "I look at [Kristin] Huber and [Natasha] Kostenko coming off good freshmen campaigns, so I'm excited about them. I think our rookies might be a pleasant surprise. They've looked good so far, but we'll see what happens when we get into games."
For coaches trying to patch together the defensive ranks, those first games at Providence arrive all too soon. The saving factor may be that the Friars have losses to graduation of their own to overcome.
"I think they're probably in the top 15 in the country right now, but in many ways, they're a lot like us," Sertich said.
Minnesota State Mavericks
Projected Finish: 6th
WCHA Coaches Poll: 7th
Previous Season: 8th, 3-24-1-0, 10 points
Key Departures: Alli Altmann, Jackie Otto, Ariel Mackley, Emmi Leiononen
Arrivals: Krystal Baumann, Casey Hirsch, Katie Johnson, Lindsay Nagel, Haley Northcote, Giulianna Pallotta, Brianna Quade
Key Players: Lauren Smith (9-10-19), Lauren Zrust (6-13-19), Danielle Butters (4.17 GAA, .873 save percentage)
Why were the Mavericks' conference results so unimpressive last season? Definitely their nonconference play, going 4-2 with splits versus both Mercyhurst and Robert Morris, suggested that they had greater potential. Losing Kathleen Rogan, the Maverick's leading scorer as a rookie, to injury less than a month into the season likely had a negative impact. Rogan is set to return after a medical redshirt season.
Mankato has become a destination for Minnesota players that return to the state after first leaving to attend college. Sophomores Krystal Baumann and Casey Hirsch return after stints at Vermont and Syracuse, respectively, to join a roster that already included transfers Lauren Smith and Lauren Barnes. The transfers combined with a freshmen class of five should bolster MSU's depth.
The previous season, after starting with much promise, ended with a frustrating streak that saw the Mavericks go winless over their final 15 games. After clashing with ranked teams in six of its first seven series, Minnesota State sees the schedule ease a bit. Perhaps the Mavericks can take advantage and string together some wins.
A huge key will be the play in goal of Danielle Butters, the heir apparent to Alli Altmann. Butters was inconsistent as a backup; the starter's role may prove to be a better fit.
Ohio State Buckeyes
Projected Finish: 7th
WCHA Coaches Poll: 5th
Previous Season: 5th, 13-14-1-1, 41 points
Key Departures: Laura McIntosh, Natalie Spooner, Kelly Wild
Arrivals: Kendall Curtis, Kara Gust, Julia McKinnon, Melani Moylan, Bryanna Neuwald, Cara Zubko
Key Players: Ally Tarr (17-10-27), Hokey Langan (8-13-21), Lisa Steffes (3.08 GAA, .894 save percentage)
The Buckeyes graduated almost half of their goals and points from last season, much of it coming in the persons of Natalie Spooner and Laura McIntosh. When either was out of the lineup, Ohio State struggled. OSU scored a single goal in 120 minutes versus Wisconsin at home without Spooner, and then sputtered to two ties of Princeton and a split with St. Cloud State while McIntosh was away.
Minus their offensive cogs, the Buckeyes' middle-of-the-conference offense is likely to drift down, and their defense has not historically been strong enough to carry an anemic attack. Improvement under second-year coach Nate Handrahan is possible, although the team's totals for goal scored and allowed were nearly unchanged from the final year under the previous regime. Additional familiarity with his systems may bring better results defensively.
Barring that, improved results will require either strides forward in goal, where juniors Chelsea Knapp and Lisa Steffes garner the minutes, or a boost from the incoming class. Forward Julia McKinnon, a veteran of Under-18 competition for Canada, is the most likely to produce immediately.
The battle in the standings between the Buckeyes, Beavers, Huskies, and Mavericks figures to be just as hotly contested as the race at the top of the conference. Expect it to remain undecided until the final weekend or two.
St. Cloud State Huskies
Projected Finish: 8th
WCHA Coaches Poll: 8th
Previous Season: 7th, 4-24-0, 12 points
Key Departures: Brittany Toor, Jaclyn Daggit, Tayler VanDenakker
Arrivals: Hanna Brodt, Katie Fitzgerald, Kalli Funk, Skye Kelly, Jenna Redford, Ivy Smith, Vanessa Spataro
Key Players: Julie Friend (4.59 GAA, .872 save percentage), Molli Mott (10-4-14), Abby Ness (2-12-14)
St. Cloud State managed to climb over Minnesota State and out of the cellar a season ago, flying against the statistics, because SCSU finished at the bottom in both scoring offense and scoring defense in league play and overall. The offense did improve slightly, connecting nine more times against WCHA foes, but that gain was offset defensively as 15 more pucks found the Huskies' net. However, they took the season head-to-head series versus the Mavericks three games to one, and that coupled with an upset of Ohio State was just enough to inch ahead of the team from Mankato.
"We're excited," coach Jeff Giesen said. "We've got a great group of girls; they've been working hard. We had a great summer of conditioning. Everybody came back in great shape, and we're ready to move on."
The Huskies graduated only three seniors, but one was leading scorer Brittany Toor. Although Toor had only 16 points, that still means that she was involved in over 36 percent of the team's goals, and SCSU has found any lost offense difficult to replace during the past couple of seasons. This season, expect the St. Cloud offense to move forward with the addition of forward Kalli Funk, a sophomore transfer from Niagara, and two forwards included in the class of six freshmen.
"Our freshmen are going to add some excitement to our team," Giesen said. "We got a lot of new faces."
The team desperately needs to shore up its defense, and the incoming players offer help in that regard. Katie Fitzgerald provides another option to sophomore Julie Friend in goal, and three rookies bolster the blue line.
"Our expectations are to try to get back to that middle of the pack," Giesen said. "I think we can have some solid games, and it depends on how everybody performs. I think we have the pieces in place to really give ourselves a chance every night, and that's an exciting time to have."
Whether or not their position in the standings improves, look for the Huskies to better their conference record of the last couple of seasons and be much more competitive.
Wisconsin BadgersProjected Finish: 3rdWCHA Coaches Poll: Tie for 2ndPrevious Season: 1st, 23-3-2-1, 72 pointsKey Departures: Brooke Ammerman, Brittany Haverstock, Hilary Knight, Carolyne PrévostArrivals: Courtney Burke, Molly Doner, Kim Drake, Kaitlyn Harding, Mikayla Johnson, Rachel Jones, Erika Sowchuk, Jorie WaltersKey Players: Brianna Decker (37-45-82), Alex Rigsby (1.43 GAA, .949 save percentage), Stefanie McKeough (5-18-23)I