Where to stop, where to stop. When listing the Division I college hockey forwards who should command attention during the coming season, the hardest part is stopping at 10.
But a line, even a jagged one, has to be drawn somewhere. Suffice to say, like many names that weren't included, everyone on the list that follows is well worth the watching.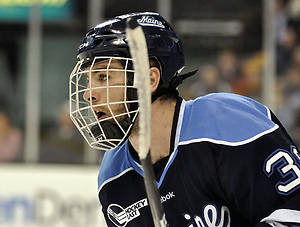 Last year as a junior, Diamond was the adhesive that glued together the top line in college hockey. Now that ex-linemates Spencer Abbott and Brian Flynn have moved on to the pros, Diamond will be the focal point of the Black Bears attack.
"He's pretty scrappy," said Flynn, who is now a Buffalo Sabres prospect. "For a small guy he's very tough. What made our line so good was that he would win 90 percent of the pucks we would throw in the corner. That would give me and 'Abs' more of a chance to make things happen."
Diamond was named team captain, adding a leadership role to his offensive duties.
Even though he stands just 5-foot-8 and weighs just 160 pounds, Czarnik proved last year as a Miami freshman to be quite a handful.
The pesky Czarnik picked up 31 penalty minutes to go with 37 points (10-27–37), and was, in general, a pain in the opponents' backsides.
"He just competes," said former teammate Connor Knapp. "I would compare him to Nathan Gerbe where he plays with an edge. He's a lot like Nate in that off the ice, he's lighthearted but when you put him on the ice, he wants to win. He's got that extra gear."
The Washington, Mich., native also was a strong part of Team USA's World Junior Championship team in 2012, chipping in two goals and two assists to the cause.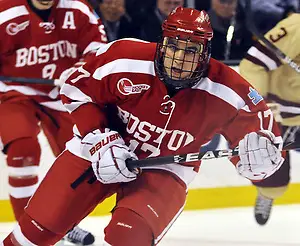 There are few more versatile forwards in all of Hockey East than Nieto, who will enter his third campaign for Boston University.
To wit: The Long Beach, Calif., product crafted a 42-point season (16-26–42) last year — second best among the Terriers — but also led all of the club's forwards with a plus-18 rating.
"He's probably our best all-around forward," Terriers coach Jack Parker said. "He's a terrific skater. He can kill a penalty and play power play. Hopefully we'll have him his senior year, but I'm not sure we will."
The San Jose Sharks, who drafted Nieto in the second round (47th overall) in 2011, will no doubt be watching with great interest.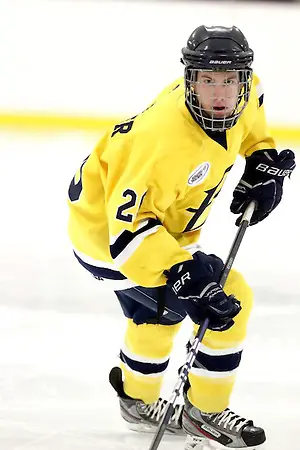 Sophomore jinx? Not with Gensler. Among the Falcons' top scorers two seasons ago as a freshman, Gensler followed that up last year by winning the Atlantic Hockey scoring crown (37 points) on his way to a 50-point (23-27–50) campaign overall.
Although smallish (5-foot-9, 170 pounds), Gensler is valued as much for his heady play — he improved his plus-minus rating by 24 to plus-17 last year — as for his touch around the net.
"Brett's hockey IQ is extremely high, which allows him to stay one step ahead of the play," Bentley coach Ryan Soderquist said. "That, matched with being a gifted goal scorer, makes him a threat at all times."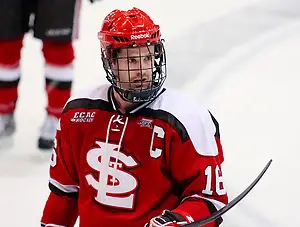 Flanagan averaged well above a point per game as a junior last year, and tied for the Saints scoring lead with a 14-23–37 campaign. Just think what he could have done if he had been healthy.
Flanagan lost eight games to injury during the heart of the season, then returned with an explosive six-point weekend (3-3–6) in his first two games back.
"Kyle is a very impressive hockey player," St. Lawrence coach Greg Carvel said. "He has NHL ability. He is undersized, but with his hockey ability and hockey sense, he's the complete package. He can score points and is defensively responsible. I expect him to be a Hobey Baker finalist."
A two-year captain, Flanagan's importance to the Saints is as important off the ice as on it.
The once-moribund Union program has earned its first-ever ECAC Hockey preseason poll first-place ranking, and Carr is a big reason why. Heading into his junior campaign after posting back-to-back 20-goal seasons, Carr, a 6-foot, 190-pound left wing, is a scoring threat on every shift.
He is especially dangerous on the power play, on which Carr has netted more than half (21) of his career tallies.
"First and foremost, he's a shooter," Dutchmen coach Rick Bennett said. "When he's on, he's taking three to five shots per game. He's a guy who loves to score goals. There's not a lot of guys in college hockey with a burning desire to score."
There always seems to a big spot in the Boston College offense for the little guy, and 5-foot-8 left wing Gaudreau is the latest in a long and talented line.
Gaudreau, who is blessed with blazing speed and a deadly finishing touch, is coming off a sensational freshman season (21-23–44) in which he finished second (by one point to Chris Kreider) on BC's national championship team in scoring.
With Kreider having moved on, Gaudreau, a fourth-round pick of the Calgary Flames, could well follow in his skates as the most dynamic forward in Hockey East.
Grimaldi was set to make a big splash on the college hockey stage last year, only to have his debut year halted after four games by a knee injury.
Now fully healthy again, the dynamic Grimaldi is ready to light up the Ralph with his formidable range of offensive gifts.
"I really like being creative out there," Grimaldi said.
Listed at just 5-foot-6 and 165 pounds, Grimaldi was the shortest player ever taken in the NHL Entry Draft when Florida chose him in the second round (33rd overall) back in 2011.
The little Californian could easily prove to be a huge draft day steal.
Building off a strong freshman campaign (16-17–33), Guptill is poised to be even more productive this year.
Guptill, who picked up CCHA rookie of the year honors, has the size (6-foot-3, 190 pounds), to go with his scoring touch, and, with added strength and experience, could develop into one of college hockey's premier power forwards.
His game could translate well to the pros, which is good news for the Dallas Stars, who picked the Newmarket, Ontario, native in the third round in 2010.
When jumbo-sized center Bjugstad decided to return to the Gophers for his junior season instead of turning pro with the Florida Panthers, it produced joy in the Twin Cities and dismay throughout the rest of the WCHA.
If anyone today is a game-changer in college hockey, Bjugstad is it. Still growing at 6-foot-6 and 215 pounds, the Coon Rapids, Minn., native could well surpass last year's 25-goal, 42-point output.
Bjugstad also learned how to play within his size last year, having trimmed down his penalty minutes from 51 as a freshman (in only 29 games) to 28 in 40 tilts.
One more year at Minnesota can only help get Bjugstad ready for the Panthers, who made him their first-round pick (19th overall) in 2010.