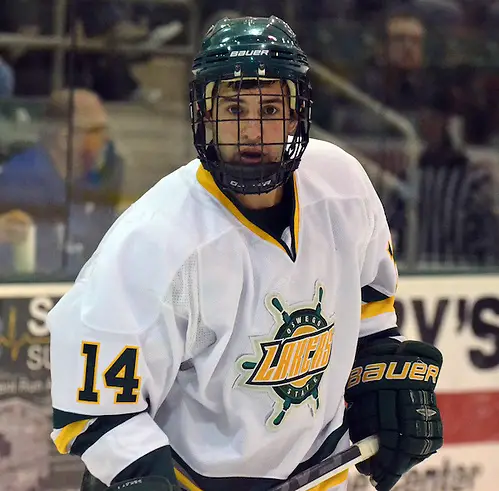 The opening week of SUNYAC play featured some middle-of-the-season-like individual performances.
For instance, Cortland forwards A.J. Moyer (two goals, one assist) and Michael Lysyj (one goal, two assists) each enjoyed three-point nights in the season-opening 7-4 loss at Oswego.
It was the most goals ever put up by the Red Dragons at Oswego.
"To score four goals in this building (the Campus Center Ice Arena)," said Cortland Joe Baldarotta, "I don't know how many teams are going to do that this year."
Then there was the point-fest enjoyed by a slew of Potsdamers in Saturday's 9-5 fireworks show win over Morrisville.
Bears left wing Mike Arnold squeezed off nine shots on goal and connected on three of them, while top line center Matt Viola amassed five points with two goals and three helpers.
Still, those impressive numbers were overshadowed by the six-spot — all on assists — racked up by Trevor Cope.
Just the same, even though Cope's highlight night set a new SUNYAC single game standard, it wasn't enough to earn the sophomore winger the league's Player of the Week honors.
Those plaudits were picked up by Oswego senior Paul Rodrigues, who set up two critical Lakers goals against Cortland Friday, then scored three times the following night in a 9-0 nonconference win over Elmira.
Meanwhile, in the back end, Brockport freshman goalie Jared Lockhurst launched his collegiate career in fine style.
The former Wellington Duke (OJHL) allowed just three goals (on 71 shots) in two games — a 4-2 win at Buffalo State and a 1-0 loss at Fredonia.
Perhaps the most intriguing tilt staged over the weekend was the aforementioned Cortland/Oswego clash, intriguing because the Lakers rarely have to play from behind, but did after Cortland jumped out to a 2-0 first period lead, and doubly intriguing because they almost never surrender four goals in any game, much less at home.
They did however, before managing to hold off the upset-minded Red Dragons, who had closed to within 5-4 on Lysyj's tally midway through the third period.
Only after late goals by Tim Carr and Chris Brown (into an empty net) was Lakers coach Ed Gosek finally able to relax.
"I can't say that we looked past Cortland," said Gosek, "as much as we were not ready to match their intensity. They came out, worked extremely hard, and were ready to do the little things. It's positive that we got the two points. But sometimes it's not about the winning, it's about the process and doing things the right way."
Indeed, Gosek's thought was echoed by Joe Baldarotta.
"There are no such things as moral victories," Baldarotta said, "and I'm not happy that we lost. We're not used to being ahead 2-0 in Oswego's building. We're learning, so I'm not that upset with my club. We could have folded the tent up a couple times and we didn't."
NOTES: With the 2012-13 campaign now in full swing, coaches have plenty of day-to-day matters to deal with. Even so, the process of reloading for next season and beyond is already underway. Oswego will welcome Texas-born defenseman J.J. Hart, who has committed to the Lakers for next year. Hart currently skates for Kanata (CCHL). Also, goaltender Andrew Winsor (Trenton OJHL) has committed to Brockport :: Congratulations to Geneseo coach Chris Schultz, whose wife presented him with his second son, Drew, on Oct. 24. "Perfect timing with the season getting underway, right?", said Schultz :: Hurricane Sandy, which battered the East Coast this week, forced postponement of the Penn State at Fredonia contest, which has been moved from Oct. 30 to Dec. 11.