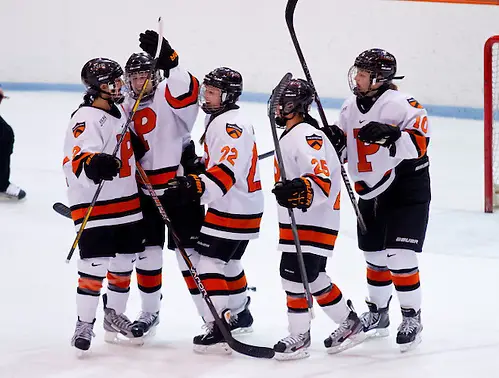 Candace: As you covered in your wrap blog Monday, there were a lot of surprises over the weekend. I think for me though, the biggest has to be Princeton, whom I'd given up for dead after the Tigers got thrashed by Colgate, pasting Clarkson, 4-1, in Clarkson's home arena. Yes, one was an empty-netter, but still. What has to concern the coaches is that Clarkson gave up three in the third. While Clarkson has wins over Cornell, Harvard, Mercyhurst, and North Dakota, and seems to be in a solid place in the PairWise, the Golden Knights almost always play close games, whether they win or lose. The question that strikes me is whether Clarkson is the most vulnerable good team in the country right now.
Arlan: First we'd have to define what a "good team" is. Is Northeastern good? It beat Clarkson. More recently, the Huskies defeated Boston University and Boston College. So I'd say that Northeastern is good, but by the numbers, it is very, very vulnerable if it doesn't win Hockey East. I'd agree that Clarkson is vulnerable, just not as vulnerable as teams like Northeastern, North Dakota, and even Wisconsin. We can come up with scenarios where the Golden Knights will be out, but in most simulations of the conclusion of the regular season and the conference tournaments, Clarkson will survive.
As for the close games, Clarkson doesn't score that much. The Golden Knights score less than three goals a game. A stingy defense makes them successful, but combined with a good, though not great offense, they're going to have to play a full 60 minutes most times out. They also get their production from a relatively small number of people. Five players have between 43 and 26 points; the next highest after that drops to 15. If a team can limit those five, then it will probably do okay versus Clarkson. It could also be a matter of how certain teams match up. Princeton has speed, while Clarkson isn't necessarily a fast team. This season's edition of the Tigers can be vulnerable at times defensively, but Clarkson may not be explosive enough to exploit those flaws.
If I was in charge in Potsdam, I'd choose to instead sell my locker room on what a great job the players did with a major character check the next day against Quinnipiac. It says a lot that the Golden Knights were able to stick with it in a scoreless game as the pressure mounts on the favored team playing at home. Credit Clarkson that Carly Mercer was able to deliver a game-winner with five seconds to go with help from Jamie Lee Rattray and Erin Ambrose. Of course, that's only possible because Erica Howe had matched Victoria Vigilanti save for save up until that point.
Cornell played a very similar game against Dartmouth, the only difference being that 65 minutes elapsed and both teams were still looking for a way to get a puck into a net. That result may have been as surprising as any, because it came only eight days after the Big Red fell at Quinnipiac. But as we've seen in recent years, nothing comes easy for them against Dartmouth.
Candace: No, and it's odd. It seems almost as if Cornell sees that green jersey and plays scared. If I was Doug Derraugh, I'd hope to avoid Dartmouth in the ECAC tournament. Big Green netminder Lindsay Holdcroft turned in a solid performance in stopping 34 shots, but I wonder how many of those were good chances. I didn't see the game obviously, so I'm not sure how valid that stat reflects Cornell's ability to pressure Dartmouth. I've seen plenty of games with inflated shots on goal as a team desperately seeks to get a goal.
Regarding Clarkson, I wasn't specifically addressing their chances of making the NCAA tournament, which are very good, but what happens when the Golden Knights actually get there. It is impressive that they found a way to beat Quinnipiac in a very tight game the next night, and I'd imagine the Bobcats are kicking themselves for losing a point in the standings with only five seconds to go in the game. Quinnipiac is another team that can struggle offensively at times, which is why, while they are a good team, I can't quite picture them winning the ECAC Tournament and getting  the subsequent auto bid.
Surprising result two came in the CHA, where Robert Morris was swept by Lindenwood. On the one hand, it's a great result for the Lions, who have strung together an impressive five-game unbeaten streak. On the other hand, the Colonials lost three of four to Lindenwood, yet won three of four from Mercyhurst. At this point, it seems the only team the Colonials can beat is the Lakers. One season after winning the CHA tournament, the Colonials are now in fifth place in their conference, and seem destined for a one-and-done in the CHA. What's your take?
Arlan: RMU is definitely lacking something. Maybe they miss a senior like Brianna Delaney, who provided some key offense, or even leadership from her or a defensive-minded blueliner like Kathryn Stack or Paige Pietrangelo. The Colonials have already lost five more games than they did last season, and they just seem to be without some glue to hold everything together. Maybe they need duct tape — yet another use. Things are just off. Goaltender save percentages are down, the team is allowing greater than half a goal more each game, and the offense is down by even more. They used to average over a goal more than opponents, and now the Colonials are being outscored. Maybe hockey just isn't as fun for some reason, and it's just the sight of those Lakers uniforms that gets everyone stirred up.
Robert Morris should still be able to finish fourth. Lindenwood travels to Syracuse and RMU hosts Penn State. I'd expect RMU to emerge from the weekend with more points than the Lions. That would enable RMU to host the Lions in a quarter, and despite the recent struggles, wouldn't one still give the edge to the Colonials? There is still some latent potential there, and if they could advance, a probable semifinal date with Mercyhurst would loom. I doubt that the Lakers would be surprised yet again, but never say never.
On the flip side, one has to be happy for Lindenwood. A year ago, the Lions were searching in vain for that first victory over a true D-I program. The high point was an OT loss at Syracuse. Six wins on the season may not seem like that much, but given where they were, it is a nice accomplishment. A lot of the improvement can be traced to great goaltending from rookie Nicole Hensley, but the Lions have also come up with timely goals in unconventional methods. Down a goal and short-handed in the final minute? No problem, pull your goalie anyway and score 15 seconds later, and then win on a penalty shot in overtime. It points to a scrappy bunch of players who are enjoying the opportunity to compete after not being prepared to do so last year. Lindenwood and RMU are two programs at the same position in the standings, but given the path they traveled over the past 18 months, it's a safe bet that the Lions are enjoying the ride more of late.
Is there a surprising result three?
Candace: Ah-yup, I'd say there are at least two more. Before we get to your neck of the woods, let's look at Rhode Island, where Brown won two games, edging Union on Friday, 2-1, before beating Rensselaer, 5-2, on Saturday. The latter is certainly surprising, given the Engineers are safely ensconced in seventh in the ECAC standings, and have generally played better than all the teams below them. The Bears have struggled mightily with goal scoring all year. In 24 games so far this season, they have managed to score more than two goals only five times, and Saturday's game was only the second time they managed to get more than three. Given that the Bears play Harvard next, a return to the offensive doldrums is likely, and while Brown has one game on the schedule with Princeton, where a win could put them in a tie for the final playoff spot, the Tigers close their season against Yale while Brown closes with Quinnipiac, so edge Princeton for getting that eighth spot, which is what I had said at the beginning of January. I still wonder why Brown has had so much trouble scoring.
That loss does have me wondering what to make of Rensselaer though. The Engineers have played some of the top teams in the conference tough, including a 2-1 loss to Harvard, a tie and win against Dartmouth, and a tie against St. Lawrence. I had thought that maybe they might throw a scare into their first round opponent in the ECAC tournament, which at this point is likely Harvard, since the Crimson have two games in hand against Clarkson and also play the Golden Knights in the last game of the season.
Arlan: This week's column will focus on the final two playoff teams in the ECAC, which means RPI and one of Princeton, Colgate, Brown, or Yale. I spoke with the coaches of those teams, so for example, Amy Bourbeau will share some insight as to why the Bears displayed a little more offensive pop. When we first tried to guess the identify of the final two playoff teams in the league back in December, you tabbed Princeton and Brown, I thought RPI and Colgate, and it looks like we'll each get one right and one wrong. Princeton controls its own destiny, and depending on the result of Brown at Harvard on Tuesday night, either the Bears or Yale will as well. As far as RPI, that Brown game mattered a little less to the Engineers in terms of postseason future than it did to the Bears, so motivation may have played a role. Coaches and players like to say that they approach every game as the most important game, but deep down, we all know that some games matter more than others, and desire isn't something that can easily be switched on and off.
I do think that the area where there has been the most improvement in the country this season is in that bottom tier of the ECAC. Those teams are generally much more entertaining to watch than they were a couple of years ago, and capable of competing with anyone in the league from night to night. As Princeton coach Jeff Kampersal points out, the challenge in the quarterfinals is in having to defeat a strong team twice. So while I don't see it changing the big picture of the four teams that advance to the ECAC semifinals, the opportunity to participate in the postseason can be an invaluable learning experience for a team moving forward.
Kampersal also mentioned that Union, the only team in the country that knows its season ends this weekend, is well coached and plays well, but like a number of teams, the Dutchwomen struggle to score. That seems to apply to even a team or two in the top 10. With an Olympic year on the horizon, that figures to be even more true next season.
What's next: the fourth surprise, or is there other unfinished business in the ECAC?
Candace: No, I think we can leave the ECAC alone now and move to surprise four, which happened Saturday night in Minneapolis. One night after losing 8-0, Bemidji State came the closest of any team in the nation to ruining Minnesota's perfect season. The Gophers trailed twice, admittedly for very little amounts of time, and finally needed overtime to maintain their perfect unbeaten and untied season. Bemidji netminder Jessica Havel channeled the spirit of Zuzana Tomcikova in stopping 41 shots. What do you think was going on with the Gophers? Maybe they relaxed a bit after scoring at will the night before?
In the long run, that game may be very good for Minnesota, because it will serve as a reminder that no matter how talented the Gophers are, they still need to bring their best effort to the rink every night if they want to defend their NCAA crown.
On another note, Amanda Kessel needs seven more points to finish the regular season with 100. Kessel has, in her junior year, become possibly the most dominant female player in the short history of the game. Her linemate, Hannah Brandt, is second in the country in scoring, and yet still has 22 fewer than Kessel. The offensively-gifted Jocelyne Lamoureux is in third, 26 points behind Kessel's output.
Arlan: Others may feel differently, but I don't think Saturday's result was really about the Gophers at all. That was Bemidji State playing the way that it can and usually does against Minnesota. Friday night, Minnesota scored eight seconds into the game. That completely changes the game, especially when the second goal follows a minute later. Saturday, the Beavers played great team defense and got in the way of a ton of shots. They had 17 blocks in the first period alone. Not many people around the country are going to know who Erika Wheelhouse is, but anyone who has ever coached against her will say, "Oh yeah, the kid who kept blocking our shots!" I don't get the stats on individual shot blocks, but Wheelhouse alone easily had more than a dozen, and many were off the sticks of defensemen like Megan Bozek and Rachel Ramsey. Those pucks are traveling, and it takes courage to step in front of them. After blocking a few, there are bound to be body parts begging to be kept out of harm's way, so when kids keep sacrificing for their team and bravely forming a wall in front, that says a lot about their character. A tip of the cap to Wheelhouse and her teammates.
As for Havel, she is a true walk-on who spent three years on the bench watching Tomcikova and Alana McElhinney, only playing 20 minutes. This year, she's split time with Niagara transfer Abby Ryplanski, and while the results have been mixed, I'd suppose that some amount of rust builds up while not playing for three years. Saturday, she was on her game and made some great stops, and as BSU got a chance to settle into the game, you could see its confidence grow. Kaitlyn Tougas was able to get off a couple of shots that found their way into the net, and Bemidji State came ever so close to pulling the upset of the season. Unfortunately, the Beavers went home with zero points, and because St. Cloud State had a five-point weekend, BSU is looking at a return to Minneapolis for a WCHA quarterfinal unless it can manage to take at least three points from Wisconsin at home this weekend.
Should Minnesota reach the final of both the WCHA and NCAA tournaments and Kessel plays in the nine games required to do so, then she is on pace for 120 points. I watched Natalie Darwitz set the NCAA record with 114 points in a season where Krissy Wendell had 104, and I didn't think I'd ever see anything like that again. Considering this is their first season playing together, Kessel and Brandt read each other as well as anyone, including those two former Gophers or the Lamoureux sisters. It's uncanny to watch them complete three-foot passes to each other in traffic.
In the meantime, Lamoureux and her team head to Duluth, where wins won't help North Dakota as much as losses will hurt, and the Bulldogs need points to stay ahead of Ohio State as the final WCHA quarterfinal host. I believe UMD has to win the WCHA tournament at this point to reach the NCAAs, while UND must at least reach the conference final. Which team will want these games more this weekend?
Candace: I don't think it's a case of one team wanting it more than the other as much as a case of North Dakota being a deeper, more talented team that can hurt its opponents in a variety of ways. Against Wisconsin this past weekend, Minnesota-Duluth's difficulty with scoring again came into play. That overtime loss may come back to haunt the Bulldogs, because now there's a chance for Ohio State to pass the Bulldogs and host the first-round playoff encounter. Admittedly, Minnesota State is a good team, and would probably love to play spoiler, but if the Buckeyes sweep this weekend, the Bulldogs absolutely must get a win, and that could be difficult. Michelle Karvinen has become the definitive second threat for North Dakota, ahead even of Monique Lamoureux, as she is averaging two points a game since her return. Additionally, North Dakota seems to have tightened up defensively, as Shelby Amsley-Benzie is playing very well in net. Her saves percentage is now at .904.
I can think of one squad that will be rooting for the Bulldogs though, and that's Wisconsin. The Badgers travel up to Bemidji this weekend with revenge on their mind, since the Beavers embarrassed them at the christening of the Badgers' new home rink. If Minnesota-Duluth does get a win this weekend, it opens things up for Wisconsin to finish second in the WCHA. Wisconsin currently sits in the eighth spot in the PairWise, meaning they'd just scrape into the NCAA tournament, assuming that one of the favorites in the ECAC and Hockey East wins the auto bids for those tournaments. Northeastern is hot on the Badgers' heels though, and has actually surpassed North Dakota after winning the Beanpot. I don't think any of those three teams can afford a regular season loss if they hope to make the NCAAs. What's your take?
Arlan: UMD does not have an explosive offense this year, but the three goals it scored in Madison matched what North Dakota's offense managed there back in December. Wisconsin is hard to score against, and the Bulldogs can be as well, but they've got to stay out of the penalty box. They gave the Badgers nine power plays on Friday, the Badgers scored on three, and that was the game. Saturday, UMD only committed two penalties, killed those off successfully, and was able to get the game to overtime. The Bulldogs will have a tough time defeating North Dakota if they are constantly skating to the penalty box. UMD's power play isn't nearly as lethal, so it would aid the hosts if the referees' arms stay down. Given North Dakota is No. 1 in penalty minutes and the Bulldogs are fourth, I don't know how likely that is.
In this week's wrap in the blog on Monday, I discussed how the comparison of Wisconsin, Northeastern, and North Dakota shakes out. Basically, it comes down to Northeastern is in good shape versus North Dakota because it beat the only common opponent, Clarkson, while UND only split. Versus Wisconsin, the converse is true for Northeastern, as the Badgers swept the only common opponent, New Hampshire, and the Huskies did not. Even if the Huskies can take the Teams Under Consideration comparison, they lag behind both WCHA teams in the RPI. So either Wisconsin has to start losing or Northeastern seems to be locked out. UND may get another shot at Wisconsin, and if it wins, it could create a situation where each team wins one comparison of those involving two of Wisconsin, Northeastern, and North Dakota, and the team having the highest RPI would be ranked highest to break that tie. If all three win up until their conference semifinal, none of the top seven teams today in the PWR falter, and nobody from outside the top eight wins an auto bid, then the winner of a potential WCHA semi between North Dakota and Wisconsin would get into the NCAAs. That analysis assumes a lot of results, so we'll have to see what unfolds in actuality.
Another trophy was decided over the weekend. The path may have detoured a bit from that taken in previous seasons, in part because more games in the schedule requires a longer road, but Mercyhurst is back on top of the CHA mountain. Syracuse can come close consistently, but to date, the Lakers have presented an obstacle that the Orange cannot clear in any game.
Candace: Yes, and I should thank my lucky stars that the Lakers came through and kept me ahead in our picks race! Of course, I don't know if you can say that Mercyhurst is "back on top of the CHA mountain" when the Lakers won the regular season title last year. True, Robert Morris won the CHA tournament last year, and while Mercyhurst is the favorite heading into the CHA tournament this season, you can't say they are back until they've won it. I expect Mercyhurst to win though, because Syracuse seems to be unable to shake the specter of the Lakers. They come close, but ultimately fall short.
Syracuse's emergence has been good to see. The team has seen a few tumultuous seasons, with key players leaving prematurely for other schools. If the Orange can stay together next season, I'd expect them to challenge Mercyhurst for the CHA crown. While the Lakers are likely to make the NCAA tournament, and players like Christine Bestland would be tops anywhere they went, I think the lower level of competition the Lakers face regularly in the CHA will hurt them a lot in the first round of the NCAAs. Then again, if the tournament were to start today, the Lakers would face Boston College, a team they split with, so who knows what will happen. It should be a fascinating last month of the season.