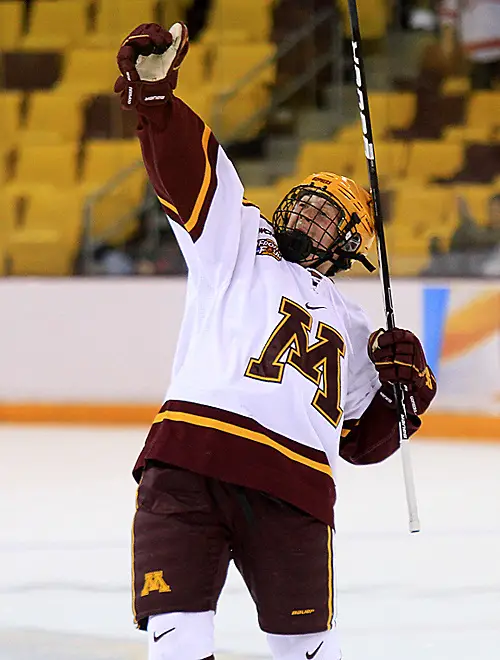 Candace: The conference tournaments are in the box, and while there were some minor upsets (Northeastern beating Boston College and Harvard beating Clarkson), things pretty much went according to plan. In fact, I can't ever remember, in either the men's or women's game, an instance where in every conference the regular season champion also won the conference tournament, yet that's precisely what happened. What's your take on the conference results?
Arlan: The third seed knocked off the second seed in every tournament except the CHA, as North Dakota also defeated a higher-seeded Wisconsin. However, those two teams finished tied on points, and Harvard was just one point behind Clarkson, so I doubt that either of those results on neutral ice would raise too many eyebrows.
The only result that I found to be a total surprise was the Huskies and Eagles. Northeastern had been playing very well, so I can understand it winning. But for the third time in its last four games, BC could only score once in regulation, and those opponents, Vermont, Maine, and Northeastern, all rank in the bottom half in scoring defense. The Eagles are an enigma to me; I don't have them figured out at all. Maybe somebody is playing hurt and that's impacting production. Or it could be that BC didn't place a ton of emphasis on that game, given that they wound up hosting anyway, and now they enter the NCAA tournament better rested than teams that played on Sunday, such as Harvard, their upcoming opponent.
As for the regular-season champ winning every tournament, that has happened before. In 2005, Providence was a co-champion of Hockey East with New Hampshire before winning the playoff title, but the other three won outright. The champs won across the board in 2007. That was the case in 2008, but with an asterisk. Mercyhurst shared the regular season with Wayne State before winning the CHA playoff, and Minnesota-Duluth won the WCHA tournament after being declared regular season champion, but it later had to vacate the season title. Last year was the complete opposite; every season champ fell in the conference tournament.
In terms of other surprises, about all I can see is that we only had one overtime game over the weekend, that being Syracuse defeating RIT, 2-1. Given all of the parity that we've seen in the season to date, maybe that means we are poised for a lot of overtime or a lot of upsets in the upcoming quarterfinal round.
Candace: I'm not so sure about upsets, although I could see a couple for sure. But some overtime games wouldn't surprise me at all. Whether they're like that triple-OT epic between Boston University and Cornell last year still remains to be seen. I think some OT would be nice though, as there's nothing quite like playoff overtime.
You mentioned North Dakota and Wisconsin being tied for points in the WCHA race. That's not the only place they were tied. Depending on which formula you used, either Wisconsin or North Dakota was ahead in the PairWise for the final NCAA tournament spot. North Dakota was actually below both Wisconsin and Northeastern on the USCHO PairWise rankings, yet the committee chose North Dakota. I had a feeling they would, since North Dakota had beaten Wisconsin in the clubs' last two meetings, but I wasn't sure. North Dakota's PairWise ranking was so low in part due to five losses to Minnesota, the team it plays in the NCAA quarterfinals. Did you think North Dakota would get the final slot, or were you thinking Wisconsin would? Northeastern could have rendered it moot by beating Boston University in the Hockey East finals, so I'm sure there was a lot of scoreboard watching on Sunday. The Huskies ultimately fell short for a second straight year.
Arlan: It did surprise me on Saturday night after the WCHA championship when someone from North Dakota said UND had fallen to 10th in USCHO's PairWise. Upon analysis, that was due to how that script was handling the Common Opponents comparison between North Dakota and St. Lawrence, two teams that had Minnesota among their common opponents. The computer rolled up all the results into one and then compared the winning percentages, so factoring in a fifth loss to Minnesota made it look like UND no longer won the comparison with the Saints. Although it's not explicitly spelled out in the most recent NCAA championship handbook available online, which is from 2011, the selection committee must consider the performance against each of the common opponents separately, as is done for the men's selections. The only other COP in this case was Clarkson, where North Dakota had a definite advantage. Doing so gave the comparison with SLU back to North Dakota, which then was back to being even with Wisconsin and Northeastern in comparisons won, and UND's higher RPI broke the tie. That made sense, given North Dakota was ahead of Wisconsin in the PairWise heading into their game on Friday, so it was logical that a head-to-head win and a loss to a third party shouldn't cause UND to lose ground. However, given that the selection criteria used continue to be more complicated than discerning, one never knows.
One has to feel for Northeastern to come so close and be a game short once more. The Huskies, like the Badgers, were ultimately done in by disappointing results earlier that left little margin for error, despite late charges. Both Northeastern and Wisconsin wound up running into a couple of the game's hottest teams in Boston University and North Dakota, respectively. I've been waiting for a few months to see more from BU, and the Terriers seem to be moving in the right direction in the wake of the Beanpot. All four of the conference champions are on hot streaks, and for BU, nobody is hotter than Kerrin Sperry. She stopped 77 of 79 shots on the weekend in earning tournament MVP honors in Hockey East. Could she elevate the Terriers to a new level?
Candace: Define new level. The Terriers have been to the title game once, losing out to Wisconsin in 2011, so they've been pretty far already. If you mean by this season, well, the Terriers did win the regular season and conference titles. Playing host to Clarkson, I'd have to favor the Terriers in that game if Sperry continues to play well, because I think the Terriers have a few more offensive weapons than the Green Knights. If they win that, there could be a rematch with Cornell in the Frozen Four, although I doubt we'll have a repeat of 15 goals and six periods if the two squads do faceoff again. I don't even think we'll see one team getting five goals, as happened when they played  pair back in October, with each team winning one.
You mentioned North Dakota being hot, and they have been, but it didn't matter when they played Minnesota and its Patty Kaz troika. Brian Idalski was quoted in a local Grand Forks newspaper saying, "If I compliment then any more, they'll have to put me on the payroll." Now North Dakota will play Minnesota for the sixth time this season in the quarterfinals of the NCAA tournament. With Noora Räty in net, anybody facing the Gophers has a tall order ahead of them; Minnesota didn't allow a goal against in the entire WCHA tournament. You were at the WCHA title tilt between the two Saturday; what does North Dakota need to do differently to come out on top?
Arlan: That's the big question — how does a team defeat Minnesota? UND did a lot of things right on Saturday night. It started well, outshooting the hosts by one in the opening 20 minutes and keeping the game scoreless into the first intermission. Freshman goaltender Shelby Amsley-Benzie played well, making 32 saves. Idalski's team played hard throughout and competed to the end. It held Amanda Kessel to a single assist and kept Hannah Brandt off of the score sheet entirely. North Dakota kept its penalty minutes below its average, which is second in the country, and only gave the Gophers three power-play opportunities.
That first power play spanned the first intermission,and Minnesota didn't generate much beyond a couple chances for Brandt that Amsley-Benzie stopped, and North Dakota got the kill. When UND went back to the box three minutes later, it was in trouble immediately. Minnesota's second power-play unit got the puck in the net, but it was disallowed due to a high stick. The Gophers regrouped during the review, put their top unit on the ice, and Megan Bozek fired one in half a minute later. When Maryanne Menefee carried the puck down the ice on a partial breakaway and converted before another two minutes passed, the hill had become too steep to climb. In the third period, the Gophers just got pucks deep and forced UND to attempt to go 200 feet to score.
There are positives for UND. They were coming off a hard-fought, 2-1 win over Wisconsin in the semifinal the day before in which the top players had logged a lot of ice time. That likely took more out of North Dakota than Minnesota's 5-0 win over Ohio State cost the Gophers. UND scored nine goals against Minnesota during the season, more than anyone else did, and it has players like Meghan Dufault, who scored four of them, and Michelle Karvinen, who added three, that have had success. But Noora Räty is in a zone, with five straight shutouts to give her 17 on the year, so it will be difficult. Kessel looked more like herself on Saturday after a rusty game on Friday, so if she improves over the week, holding Minnesota to two goals or less for a second game becomes more challenging. Thanks to its familiarity with the Gophers and the offensive talent on the roster, I give North Dakota as good a chance as any team in the field of ending Minnesota's historic run.
Meanwhile, second-seeded Cornell has been following a pattern of scoring late in tight games in the postseason. A lot of people are perhaps dismissing Mercyhurst's chances. Can the Lakers be the team that figures out a way to turn Cornell's penchant for drama against it?
Candace: Mercyhurst definitely has a shot. The Lakers have some potent scoring, especially Christine Bestland. In fact, I think the Lakers are a stronger offensive team than Harvard. I watched some of the ECAC title game online while I was attending the Denver-Alaska-Anchorage game, and there was a lot of back and forth play. Cornell had more shots, but I thought Harvard held its own in some ways. That game really looked like it was going to overtime, but credit the Big Red for pulling it out with that late power-play goal.
The game is at Lynah, and when the two teams played there in late January, the Big Red jumped all over them, scoring three in the first and never looking back en route to a 4-0 shutout. I think it's important for Mercyhurst to get the first goal and make Cornell think. The Lakers also have to hold Brianne Jenner in check; she scored twice in that game in January.
The final game of the tournament is also a rematch, as Boston College takes on Beanpot rival Harvard. The two played back in February in the Beanpot, with the Eagles clawing out a 2-1 decision. Since the Eagles offense has been MIA lately, it would seem to be a case of them needing to clamp down defensively, which they failed at miserably against Northeastern. So do you go with BC and Cornell in the rematches, or do you think some revenge might be at play?
Arlan: "Eagles clawing" — I like that; it's a nice visual. That's about how my brain feels any time I try to figure BC out, so I'll delay a moment. Harvard is much more straightforward. All season long against top competition, the Crimson score one, two, or three. The only exception was the ECAC semifinal, when they scored four against Clarkson, but the last one was into an empty net, so that's essentially three again. When they get the three. they win, one means a loss, and the two-goal games can go either way. So just looking at the Harvard side of the coin, it looks like another 2-1 game in either direction.
Here's my latest Boston College theory. On January 13, the Eagles defeated Cornell, 4-3. Since then, they've only played three games on home ice. Three home games in almost two months — a young team may not even recognize it as being home ice on the rare cases when they get to play on it at that point. They do get to play at home on Saturday; the first meeting with Harvard was at Northeastern. So I think that being home for an NCAA game will get BC charged up and it will have its best performance in a while and take care of Harvard; I'll say about 3-1.
Nothing in Mercyhurst's second half suggests that the Lakers are ready to go on the road and defeat Cornell. Mostly, they've been playing bad to middle-of-the-pack CHA teams and fattening up the record and stats. The two excursions out of conference produced bad starts. Cornell jumped on the Lakers immediately and the game was over around 16 minutes in. They got into a hole in the first meeting with BC as well, trailing 3-0 just past the halfway point. That happened early in the season, too, falling behind Clarkson, 3-0, early in game one. Now Mercyhurst always regroups, and it took close second games of the series against both BC and Clarkson. Given the first game at Cornell took place at the end of January, does Saturday count as the second game of a series? Can the Lakers make adjustments as they have in the past? Or will it take them a bit to adjust to the speed of the game, because Cornell is by far the best team that they've seen in a while? I think Mike Sisti and his staff have to figure out a way to hang in there and keep the scoreboard close while adjusting to the game. They've been great at this in the past, when the CHA has not afforded Mercyhurst the competition that other teams are getting. So I look for a closer game this time than the 4-0 game the teams played earlier, and if it is deadlocked late, as Cornell games have been of late, that favors Mercyhurst.
Looking for an upset in the first round, I'd say Clarkson has the best chance, but the Lakers seem to play their best when people expect the least from them, so I wouldn't rule that one out, either. Where do you see Cinderella showing up?
Candace: That's a hard question. I don't know that Cinderella shows up if Clarkson or Harvard win, because I think there isn't much separating Boston College, Boston University, Clarkson, and Harvard. I mean, technically, it would be an upset by seed, but you can't always go by seed. Two years ago, Boston College was a higher seed and playing at home and beat Minnesota, which I actually thought was an upset given how the Gophers were playing heading into that game.
So based on that theory, the only real Cinderella games would be North Dakota beating Minnesota or Mercyhurst beating Cornell. The latter would be a minor upset in my opinion, and not worthy of the Cinderella label, simply because the Big Red of late have basically played to the level of their competition. Look at the Colgate series as Exhibit A for that.
So a true Cinderella would be North Dakota beating Minnesota. Now, I like North Dakota. I think they have talent and work hard, and while some people have come down on the Lamoureux twins for a) leaving Minnesota after one year, and b) taking too many penalties, I don't share either opinion. Going back home to North Dakota when that school showed a real interest in building its women's program makes sense. As far as the penalties, as someone who has played before and was on an A-level women's team that went undefeated, I remember how opposing teams would do anything to slow us down, which meant hooking, slashing, and stuff after the whistle, and things often didn't get called because we were the better players. I think the Lamoureux twins wear gigantic "Xs" on their backs, because opposing teams know that if they can get Jocelyne and Monique off their games, they've got a much better chance of winning. Consequently, I would imagine there are times when the sisters get incredibly frustrated and might retaliate, and unfortunately that's when you usually get called. Now, I've only seen North Dakota play Minnesota, a team that doesn't need to resort to things like that to hold opponents in check, so I could be way off base, but it wouldn't surprise me if that happens a lot.
Having said that, I just don't see Minnesota losing. The Gophers are just too deep and balanced. They have so many ways to beat you. Offense is struggling? No problem; Noora and Megan shut the door. Give up a few goals due to some defensive lapses? No problem, Amanda and Hannah light the lamp. So I guess I don't think Cinderella will really show up. There might be a minor upset in one of the other three games, but I also wouldn't be surprised if all four seeds make it to Minneapolis.
Getting back to Minnesota, the top three for the Patty Kazmaier Award all play for the Gophers: Amanda Kessel, Megan Bozek, and Noora Räty. Were you surprised by that? Did you think anyone else from the top 10 should have gotten in ahead of one of those three? Who would you favor for the award at this juncture?
Arlan: I was surprised from the standpoint that for awards like the Kazmaier, it is typically difficult for defensemen to gain recognition. They tend to be obsessed with points. At a lot of programs, Bozek would be on the ice for 30 to 40 minutes a game, and she'd put up even bigger numbers. She has the skills to be an offensive force in any game, in addition to being a shutdown defenseman. But Minnesota has mostly just rolled three pairs of "D," and Bozek plays within the system. If the situation demands it, then she'll look to create more offensively. Otherwise, she moves the puck and plays defense. That's not necessarily how you win awards, but it goes a long way to winning games, and together with the job she's done as captain, I think she's done everything that Minnesota asked of her. I've had a number of coaches this season tell me that they think that Minnesota has the best forward, defenseman, and goaltender in the country. Looked at that way, it's not as surprising.
Could the voters have produced a different list? Sure, it all depends on how one wants to look at the picture. After watching Brianna Decker on Friday, I thought that she did great to put up 55 points with what she has for a supporting cast this year. But she's been on the other side of the fence, putting up big numbers while playing with talented linemates on a strong team. So one could make a case that Decker belongs in the top three, but would that be consistent with the way that the voting has gone in other years? I'd say that Brianne Jenner is the one that I most expected to see as a finalist outside of the Minnesota players, just because there are always a lot of votes coming from the East, and she has stepped up her game following the graduation of Rebecca Johnston. The time for Alex Carpenter and Kendall Coyne in the spotlight figures to still be a year away, but that may have to wait if the Olympics call. The Lamoureux sisters are tough to sort out, even relative to each other. Does Monique get extra credit for playing out of position? I know that she has played defense earlier in her career, but she doesn't have that many college games on the blue line. Her offensive game is great there, as well as doing anything that involves handling the puck. But there are times when her defensive reactions aren't at the same level as other top-notch, full-time "D." So even though Monique is sacrificing for the good of the team by playing defense, I'd probably tend to favor Jocelyne for an award like the Kazmaier, because she is a better all-around player at her position. But as a forward, her year gets compared to other forwards, and she has much better support than somebody like Decker and less production than Kessel. That puts her more in the Brandt range in terms of offensive production, although she obviously has to take on a far bigger leadership role.
So who should win? It would be nice if the three could just share the Kazmaier, but that would only happen in a movie. A few weeks ago, I'd have said Kessel, but then she got hurt again and missed a few games, and Räty hasn't allowed a goal since. I realize that the voting has already taken place, but Räty's season has gone from great to truly historic. Leading the country in goals-against average and save percentage with a 35-0 record and 17 shutouts? If the vote goes a different way, I'll fully understand it, but that's more shutouts than any three other goalies who will start on Saturday have combined.
Candace: In terms of the top three, the one I would have expected outside of the current top three is Lamoureux. She's put up big offensive numbers again this season, and is a big reason North Dakota has a good a season as it did. But I understand why the three are who they are. Kessel and Räty were locks with the seasons they had, so there was really only one other spot.
In terms of which of the three wins it, who knows? Räty's numbers have been super solid obviously, but there is this little part of me that looks at Minnesota and sees that backup goalie Amanda Leveile, a freshman, started three games, including one against New Hampshire, and had three shutouts in her decisions, and then she also played one or two periods against a few other teams, and she didn't give up a goal in those games either. So how much of Räty's success is because she is an outstanding goalie (which she is), and how much is because Minnesota is excellent on the blue line and has a group of forwards that can dominate time of possession? Bozek is an interesting case, because she plays defense, and she is second nationally among scoring in defensemen, behind Monique Lamoureux. However, since she is the captain, and has kept her team focused through what has been mounting pressure as the Gophers close in on the perfect season, her leadership could be an intangible. Then there's Kessel, who I think has just taken her game to another level this year, averaging 2.71 points a game. At one point, that stat was over 3.00 points per game. Any one of the three is a worthy choice, so it will be interesting to hear the winner announced a week from Saturday.