Drew LeBlanc is at a point in his life where his career path can take several different routes.
He finished his fifth and final season of college hockey at St. Cloud State with professional potential. He also has the tools to go pro in another career, teaching high school algebra.
2013 NCAA Frozen Four
Follow all of our coverage at Frozen Four Central
NCAA tournament page, with bracket
LeBlanc signed with the Chicago Blackhawks on Friday, and he's headed to the NHL team to start making a living by playing hockey.
"When my hockey career is done, I can't wait to go back and teach," said LeBlanc, a center from Hermantown, Minn. "I want to be part of someone else's life and help them be the best they can."
But Friday at the Consol Energy Center wasn't about the future, rather about an exclamation point on his personal achievements at the collegiate level.
LeBlanc was named the winner of the Hobey Baker Award at center ice with his teammates, coaches and St. Cloud State fans in the stands a day after the Huskies lost in the Frozen Four semifinals.
"There's a lot of great players to come through here and lay the groundwork for our program," said LeBlanc, a four-time WCHA scholar athlete and two-time All-WCHA selection. "To be here representing something they built up is really something special. I'm sure there's a lot of proud alumni out there and I'm proud to be the one to represent them."
LeBlanc is SCSU's first recipient of the award. Mark Hartigan was the only other Huskies player to be among the top three finalists. Last month, LeBlanc was named WCHA player of the year and WCHA scholar-athlete of the year.
Huskies coach Bob Motzko was a player at St. Cloud State in the mid-1980s and recognizes the significance for the school.
"This is great for our hockey program and our university but right now it's all about Drew," Motzko said. "My first thoughts have been on Drew and the fact that this validated his decision to come to St. Cloud State. He is one of the best kids I've been around in my time in coaching."
LeBlanc is one of the nation's best passers and led the nation in assists from Dec. 14, finishing the season with 37. He added 13 goals for a season total of 50 points. He's the first 50-point scorer at SCSU since Ryan Lasch did it in 2007-08.
He finished his five-year career with 42 goals and 105 assists in 171 games. The assists and games-played totals are career school records.
"I couldn't be happier for Drew right now," junior defenseman Nick Jensen said. "There are no words to explain how he deserves it more than anyone else."
LeBlanc recorded 12 points in 10 games in 2011-12 before his season ended after he skated for a puck, lost an edge and crashed into the endboards in an early-November game. The result was a broken leg.
The NCAA granted LeBlanc a medical redshirt and a fifth year of collegiate eligibility, forcing him to decide between the pro level and college hockey. Certainly, he had opportunities to sign.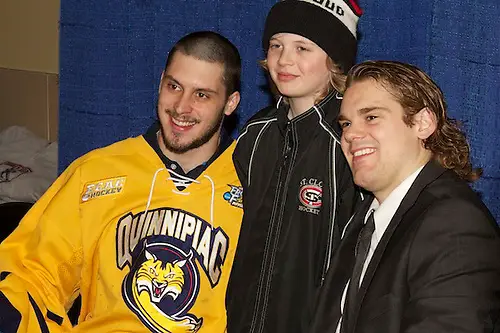 "I don't regret coming back for this season for one second," LeBlanc said. "It was the best decision I ever made. It shows you that staying loyal and doing the right things, good things will happen."
Added Motzko: "He had to go through a devastating injury where there was a question mark if his career could be over. He had the commitment to come back and re-do the year and he did it for the right reasons. He could've left and gone pro."
LeBlanc has a math degree but likely won't be able to get his teaching license without finishing his student teaching at Apollo High School in St. Cloud.
"It's important to me and I'm for sure going to come back and get that teaching degree at some point," LeBlanc said. "I'm going to try to get it this year for sure. I have all the courses done to be a teacher.
"Like I told my advisor, I want to graduate from St. Cloud and be an alum."
Graduation is important to LeBlanc but so is math and teaching. After all, it runs in the family. Drew's dad, Guy, is a math teacher at LeBlanc's alma mater, Hermantown High School.
"He might not have to be a teacher if he plays hockey long enough," Guy LeBlanc said.
Toward the end of the season, NHL scouts were asking why LeBlanc's numbers were down a little on Friday nights, according to Guy LeBlanc. Drew's answer was that he's just tired, and being on his feet all day in front of a classroom probably had something to do with the fatigue.
Despite Guy LeBlanc's and Motzko's pleas for Drew to cut back on the teaching for the stretch run of the season, Drew refused because teaching is so important.
And with the passion Drew LeBlanc has for teaching, he doesn't see it as a bad backup plan.
"Because you can't play hockey forever," LeBlanc said. "You're only one injury away."