Looking for a lot of flash and dash? Don't bother gazing at the rearguards.
Defense is not the province of pretty boys, and unless you're the second coming of Bobby Orr (and frankly, no one is), college rearguards will major in hits, not glitz.
However, since small details make for big performances, the game's best viewing might just be on the blue line.
Here, in alphabetical order, are 10 Division I defensemen well worth watching in the 2013-14 season: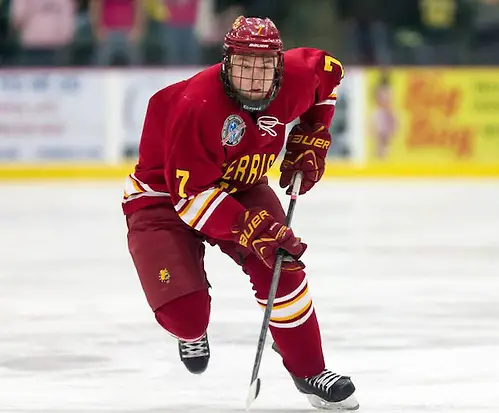 The term that best describes the Powell, Ohio, native is "difference maker."
Binkley certainly made a difference as a freshman two years ago during Ferris State's improbable run to the Frozen Four championship game.
And with puck possession being so critical, Binkley's puck-moving skills will continue to help the Bulldogs keep opponents on their heels.
Although he's just 5-foot-9, Binkley sells out his body on each shift, his 49 blocked shots last year standing as a testament to his doggedness.
Mike Downing, Michigan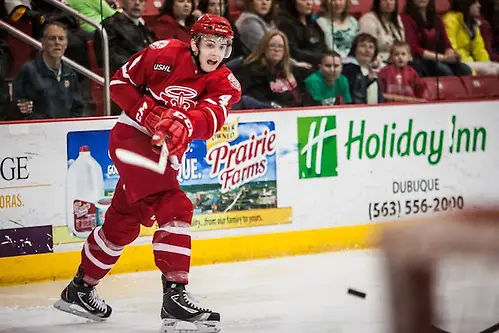 The lone freshman on the list, Downing will bring both size (6-foot-3, 200 pounds) and skill to the Wolverines.
Downing can punish opposing forwards with bone-rattling checks. And while he will make his share of rookie mistakes, he will have the opportunity at Michigan to pick up the finer points of the position while adding more strength to his still-growing frame.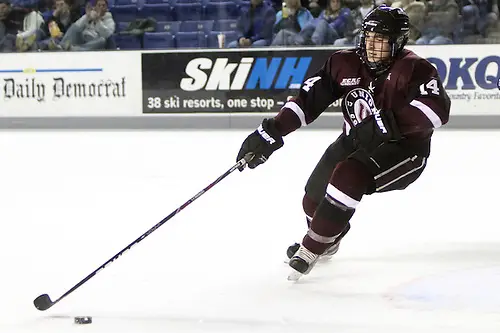 Unpronounceable and barely spellable, Gostisbehere has nevertheless become something of a memorable name.
The junior from the hockey hotbed of Margate, Fla., helped Team USA take gold at the World Juniors last season and in the process notched something akin to a Gordie Howe hat trick for the tourney (a game-winning goal, an assist and a one-game suspension for a stick foul).
He's also been a key cog in the Union program's rise from the ashes.
Not the largest guy on the ice (5-foot-11, 170 pounds), Gostisbehere, Philadelphia's third-round pick in 2012, manages to play bigger than his frame.
They like them small, skilled, mobile, and local on the Boston University blue line, so it's little wonder that the 5-foot-9 dynamo from Charlestown, Mass., fits in so well there.
The last cut from last year's World Junior squad, Grzelcyk will have plenty to prove this year — with the Terriers who begin life after Jack Parker, with USA Hockey as he seeks a WJC spot this year, and with his hometown Bruins, who took him in the third round last year.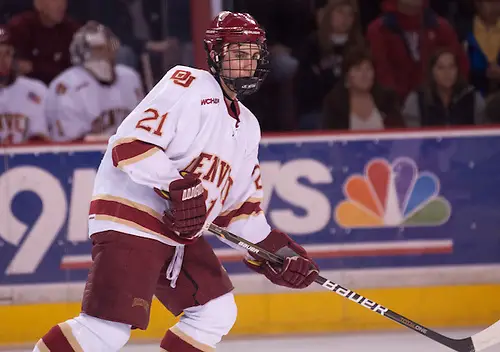 LaLeggia is looking to bounce back from a down year, which saw both his point production (from 38 to 29) and his plus-minus rating (from plus-13 to minus-7) slip.
Another of the game's smallish (5-foot-9, 181 pounds) blue liners, the Edmonton Oilers prospect still has the offensive goods, particularly on the power play, to make matters interesting.
A smooth skater, Matheson showed as a freshman what a great knack he has for playing the two-way game. All he needs is to add strength to his 6-foot-2, 190-pound frame.
Stats may lie in some cases, but not with his plus-15 rating or his 25 points (8 goals, 17 assists) as proof.
Little wonder that the Pointe-Claire, Quebec, native was taken in the first round (23rd overall) by Florida in 2012, and it will be a surprise if Matheson sticks around after what should be a fine sophomore campaign.
The lone senior on the list, Noyes has elevated his game in each of his previous three seasons, upping his goals from three to six to nine.
When the Tigers have a man advantage, expect to see Noyes in his office, aka the point, from where he quarterbacked the nation's second-most-productive power play.
It says plenty that as a freshman, Obuchowski was trusted to carry such a large load during the Bulldogs' march to the Frozen Four title.
A heady player (aren't they all at Yale?) and physical to boot, the undrafted West Bloomfield, Mich., native also showed that he could play big-time minutes in all situations at the most crucial times.
Should Yale get within reach of a second straight title, it will likely be because of a large helping hand from Obuchowski.
Perhaps the most gifted defenseman in the NCAA, Skjei had some adjustments to make when he arrived in the Twin Cities last fall.
Skjei (pronounced Shay) had to temper his offensive urges and knuckle down in the defensive zone, while partnering with the now-departed bomber Nate Schmidt.
Look for Skjei, taken by the Rangers in the first round in 2012, to broaden his game this year to help the Gophers fill graduation holes.
And look for a highly motivated Skjei, a late cut from last year's U.S. World Junior team, to be a stalwart on this year's squad.
The middle member of hockey's van Riemsdyk fraternity, Trevor is a proven puck mover from the back line, and fits nicely into Wildcats coach Dick Umile's attack mode.
Last year's point totals (8-25–33) make van Riemsdyk the most productive among all returning Division I blueliners.
At 22, the undrafted van Riemsdyk might be considered a late bloomer, but his offensive gifts could open some professional doors for him, sooner rather than later.