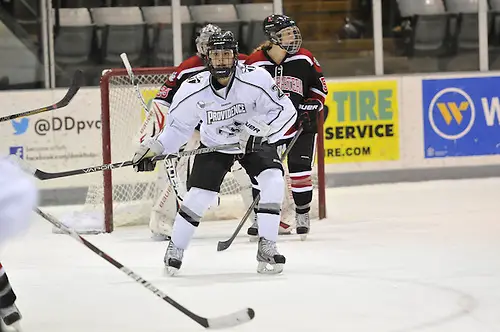 Haley Frade of Providence College . (Tom Maguire/TOM MAGUIRE)
After Boston College, the conference race looks to be wide open, and it wouldn't take much imagination to draw up a wide array of scenarios that could unfold. I'm going to look in a different direction than the league's coaches and pick Providence to wind up in the second spot.
"When you have a young team, you just have to get the basics down," Deraney said. "When you have a team like we have, even though we're bringing in five new freshmen and a graduate student, we can start from much higher ground this year. That's what excites me most, to be able to take this team to another level from an execution standpoint, the things we want to do in all phases of the game: offense, defense, and special teams."
A season ago, the Friars were inexperienced and exhibited a few growing pains.
"Last year, much to a lot of people's surprise, we were kind of opposite of what we usually are," Deraney said. "We were the number nine team in offense nationally, but yet, we were the 30th team in team defense. That is so uncharacteristic for us. I think that had a lot to do with how young we were at the defense position and in the goaltending position."
Goaltending in particular needed a period of adjustment, as franchise goalie Genevieve Lacasse had seen the lion's share of the action until her graduation. Sophomore Sarah Bryant played the majority of the minutes in goal as a rookie, but senior Nina Riley got the call in the final three games and figures to have the inside track coming into the season.
"I think our goaltending is a year older now with the year of experience," Deraney said.
The defensive unit also gains that experience; the entire blue line that started down the stretch returns. In addition it has been bolstered by some recruits.
"A year older really excites me," Deraney said. "I think we'll be a year tougher. We'll know how to defend better — what it takes to defend against really talented teams and hard-nosed teams."
Offensively, Providence brings back nine skaters who recorded double-digit points.
"I'll be very disappointed if we're not in the upper half of team defense, and I expect our offense to be even better," Deraney said. "That's why I'm so optimistic about this season for our team."