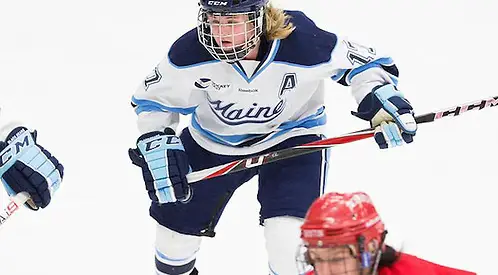 After two promising years for Maria Lewis, Maine regressed in the third season under her direction. While some of that was understandable due to the players lost to graduation after the previous season, the talent level threatens to decline further now that the eligibility of primary goaltender Brittany Ott and star forward Brittany Dougherty, who had twice the points of anyone else on the roster, has been exhausted.
Compounding the problem, Lewis starts the season on administrative leave while the department investigates NCAA compliance issues. Assistant coach Richard Reichenbach, speaking in her stead, addressed the loss of Dougherty.
"It's almost impossible to be able to replace what she did with her size and her effort — just the work ethic that she put in every second that she was a Black Bear," he said. "But I think we have a really strong group of forwards who learned a ton last year."
Maine will need scoring threats to emerge from that group.
"One of our captains was Jenny More," Reichenbach said. "She's a very tough kid from Manitoba. [In the past] she was more of a support player and was really good at getting the puck to the players who could put it in the net. I think her main focus this upcoming year is really to transition to being more of a Dougherty role and being the player who needs to get it done, not supporting the player who gets it done."
At the other end, Meaghann Treacy looks like the heir apparent to succeed Ott.
"The good thing about Meaghann Treacy is that she redshirted and got to be around Brittany Ott that year, and then last year another year," Reichenbach. "So she was two years around her, just kind of learning from Ott and Ott's mentality of how to approach practice and workouts and academics and being a good teammate."
The uncertainty surrounding Lewis' situation, added on the heels of a rough season, could drive the program in one of two directions. Either it could prove to be a handicap and leave the Black Bears behind the other squads in Hockey East in the race to improve, or it could force the team to become closer to overcome obstacles and pay dividends in the future.
"There were some tough times last year, and it was a group that was positive and battled," Reichenbach said. "When you have a group like that, you know that in the long run they're going to learn a lot, and you know that they care about each other. When you relate that to the ice play, that's something they're going to be able to do. They're going to be able to work together. They're going to be able to understand the systems. They're going to hold each other accountable. I definitely think that's the strength."