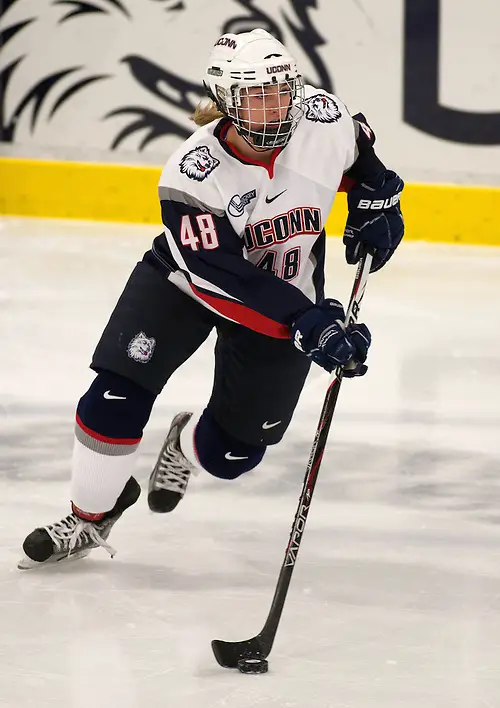 Former Niagara coach Chris MacKenzie takes over a Connecticut team that has nowhere to go but up as it comes off of a three-point season.
"We're just getting to know each other right now as a team," he said.
More often than not, just such a fresh start under a new regime proves beneficial to a team.
"If you look at our roster, it's great that they have another year of experience under their belt," MacKenzie said. "We do have the five leading scorers back, so I think that will help. Hopefully the change, a refresh button, whatever you can call it, is going to be exciting for them. I know I'm excited about it."
As with any team coming off of a last-place finish, there is no shortage of areas that cry out for improvement.
"My expectations are that we reach our potential and do our very best," MacKenzie said. "It's that simple. The preseason poll has us picked in a spot that I think is probably at this point what the expectations would be. Hopefully, we need to change those in short time."
Immediate progress often does not come in the win column, as other foundations must be laid.
"The immediate short term will just be installing our systems," the new coach said. "Some will be similar to what they've done before; others will be different. Getting into playing the way we want to play and just installing habits so they become instincts on the ice so there's not as much thinking."
To move up the standings, the first order of business would be reducing the 142 goals allowed last year. A good place to start is in goal, where MacKenzie has some familiarity with incumbents Sarah Moses, who played for him at Niagara, and Elaine Chuli, someone he once recruited.
"My hope is that we're strong in net this year and we can build our team out from there, the defensemen, and so on and so forth," he said. "If we start there and can be strong there, that will give us a chance in any game we play."
Whether UConn escapes the basement, or remains last as the coaches predict, look for the point total to increase with the optimism that a coaching change brings.
"The long term would be bringing the program back to some of the success they've had in the past, and hopefully, beyond that," MacKenzie said.