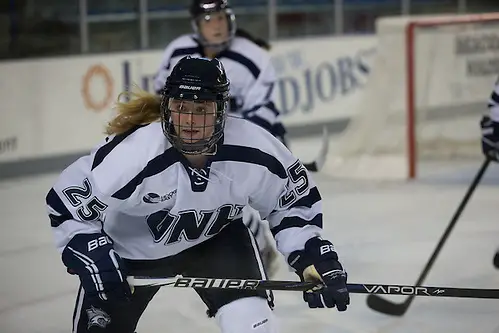 When New Hampshire was topping the standings on a regular basis, it featured a high-octane offense capable of dominating games. The 82 goals scored by the Wildcats last season in getting back to the upper half of the standings was the most the team had managed in three seasons, yet no player reached 30 points and two of the three to crack the 20-point mark have graduated.
The lone returning player in that group is defenseman Alexis Crossley, now a sophomore.
"Alexis is definitely an elite player in Hockey East and a national team candidate for Team Canada," coach Brian McCloskey said. "Just great vision, very intelligent, mature beyond her years and carries herself with a lot of confidence, so we look for her to have another big year. She obviously was a leader for us last year right out of the gate. She'll be a critical player for us."
If UNH does not have star-quality players beyond her, at least the talent level is up from what it was a couple of seasons back.
"We return a nice little nucleus of veterans that have been with us for the last three or four years, but I think we're still in a rebuilding mode in some ways," McCloskey said.
Lacking the firepower the Wildcats once deployed, it is crucial that the players on the ice are capable of playing a team game.
"Nicole Gifford is just a great all-around player for us, invaluable," McCloskey said. "Probably one of the smartest players I've coached. She's very selfless, a great playmaker, very intelligent defensively, so she's a real key for us because she's been through a lot as an individual. She's one of those kids who has a knack for playing above herself. Nicole's not big, she's not particularly the fastest, but she's quick in small areas. She's not going to score 50 points, but she's somebody who shows up on the score sheet in little ways, whether it's a great defensive play or penalty kill."
Defensively, the Wildcats reduced the goals allowed by 0.8 per game, but that figure must drop lower for UNH to return to contention.
"We made a decision to go with a little leaner blue line because we have some good kids coming in the following year, and we didn't want to load it all up in one year or two years," McCloskey said. "We're going to have to stay healthy. The goal will be a critical position for us again, and that's going to be determined on the ice. I'm not going in with any preconceived notions."
New Hampshire played four different goalies last season; three return, and freshman Ashley Wilkes joins the mix. Jenn Gilligan saw the majority of the minutes last season, and it would aid the team immensely if she or one of the other three candidates laid emphatic claim to the job.