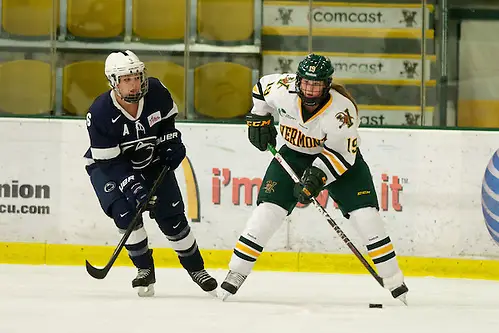 In his first season at Vermont, Jim Plumer lifted the Catamounts to a sixth-place finish and had his team contending for more. Is the team positioned for additional improvement in his second year?
"I think last year was a very good learning experience for all of us," Plumer said. "For me personally, there was a lot to learn. We got better as the year went on, and at the end of the day, it was one of the most satisfying years I had as a coach despite that it wasn't the best record I ever had. I feel like we made a lot of substantive changes in our culture, and it took a while for our team to learn how to play and sort of understand what we were looking for. I think this year with a good core of returners and a lot of newcomers that are going to give us some quality in key positions and a lot of depth, which we didn't have at all last year, we're really optimistic about taking another step forward."
Certainly, other coaches around the league were impressed by the gains made.
"I'm really intrigued by Vermont this year," said King Crowley. "Their goalie, [Roxanne Douville], is really good if she plays to her potential. They have some good players up front with [Amanda] Pelkey and [Brittany] Zubak and a couple of other kids. I just think they could really be dangerous and really take some teams by surprise."
A 53-save effort by Douville earned Vermont a tie with King Crowley's Eagles and cost Boston College a share of the title. Vermont's ability to can hang with a team good enough to reach the Frozen Four hints at greater things being possible.
"We're really excited about our goaltending," Plumer said. "Obviously, having [Douville] back, and I think she finished the season very strong and got that recognition from the league, I think it was important for her and her confidence."
Even an all-conference goalie needs scoring support from her skaters, and the Catamounts seem poised to provide more aid to their netminder.
"I think they all feel like they have a lot more to give," Plumer said. "It was a breakout year for Brittany Zubac, and her work ethic has continued since the season ended. She had a great off season; she's in tremendous shape. I think she was really excited about what she was able to accomplish last year. I think the thing we feel even better about is Amanda Pelkey had a great off season. A year ago at this time, she was recovering from a broken collarbone. She didn't play until November, and probably wasn't herself until much later in the season, maybe not even until February. She had a great Olympic tryout, she's healthy, mentally feels good, and I think she's got a lot of confidence right now. Klara Myren also had a productive off season. She had to recover from surgery, but she's in the mix for the Finnish Olympic Team at this point."
Plumer brings in a recruiting class of seven players, plus he also has a couple of other options that weren't available last year.
"We do have a couple of new players who aren't freshmen," Plumer said. "One who's returning who didn't play at all last season is our captain, Brie Sundquist, who was out with an injury the entire year last year. She's healthy and she's going to make a huge difference for us on 'D.' She's mobile, she sees the ice well, she's got good stick skills, she thinks the game at a high level. I think that right there is a huge shot in the arm. Having Ashley Salerno join us for our senior year after having played at Amherst for three years and obviously knowing my coaching style is also going to improve us on 'D.' As far as the freshmen, they're all going to get opportunities. We've got five forwards that are going to step right in and play a lot."