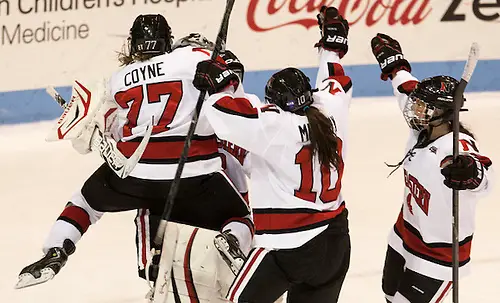 Northeastern coach Dave Flint can relate to the challenge that Durocher faces, because the Huskies are also minus their top three scorers from a season ago. Sparkplug Kendall Coyne is bound for the Olympics, while Casey Pickett and Rachel Llanes have graduated.
"We have some big shoes to fill, losing [Coyne] with the national team and then her two linemates to graduation, so any time you lose over 50 percent of your scoring, you don't just replace it," Flint said.
That line accounted for 72 of Northeastern's 137 goals a year ago.
"I like the kids we have; I like the dynamic we have," Flint said. "We're just going to have to play more of a team game this year and not rely on one line so much, which I think is actually better for us."
The Huskies will look to a number of people to pick up the slack.
"Katie McSorley – she's definitely been a kid who can put pucks in the net for us," Flint said. "She'll do a good job. Kelly Wallace last year had a breakout year. Brittany Esposito, she can start playing for us after the first 12 games because of a redshirt issue. [Paige] Savage is someone who tried out with the Olympic team and just came short, so she's a top-notch player. We have a good cast, and it's kind of a matter of who is going to step up and rise to the occasion."
Even with contributions from a number of people, it is unlikely that the Huskies will be able to match the production they received from their potent top line.
"We'll definitely have to be better on the back end," Flint said. "Chloe [Desjardins], when she was healthy last year, I think she was right around 95 percent save percentage. When she wasn't healthy, she was about 84, 85 percent. I think she's playing with more confidence now. So she's going to be relied on; she's going to have to be the anchor back there."
If the offense can reload and the defense can clamp down, perhaps the Huskies can shed the dubious label of the best team to never reach the NCAA tournament.
"That's our goal," Flint said. "We fell just short the last two years."