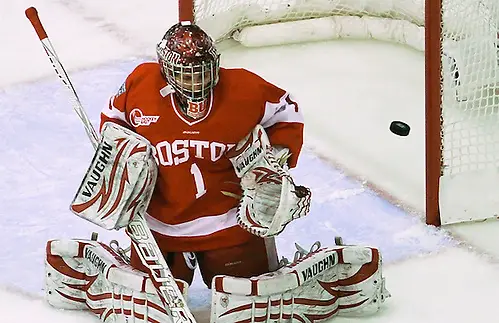 Boston University is coming off its most successful Hockey East season in program history, going 18-2-1 and earning its second regular-season title. Adding a third this year will be a major challenge.
Top scorer Marie-Philip Poulin is off to her second Olympics. Jenelle Kohanchuk and Isabel Menard, second and third in points a year ago, have graduated, as have key role players like Jill Cardella and defenseman Kathryn Miller. Before the season gets underway, an injury has further weakened the blue line.
"Shannon Doyle is going to be out for the season," coach Brian Durocher said. "Obviously, she's a first-team all-star. She was sort of the leader of our defensive corps, and she's going to go through a double-surgery process that's going to take her out for the year."
The Terriers will look to senior Kaleigh Fratkin and junior Shannon Stoneburgh to anchor the defense in front of senior goaltender Kerrin Sperry.
However, it is on offense where the biggest questions need to be answered. BU scored 139 goals in 2012-13, most ever by the team, but the scorers of 70 of those tallies won't be available this year.
"We still have some very good players here in house, but almost in a tiered effect we've got to have kids step forward," Durocher said. "I could start with the kids who I think are the leaders in Sarah Lefort, Louise Warren, and Kayla Tutino. They're experienced. They've been down this road before and they've been in big games, big situations and produced."
The Terriers may profit from the experience of last season when they edged Boston College by a single point in the conference race and every game was crucial.
"This year, I think we're going to be a little more a part of the pack," Durocher said. "We're going to have to fight for every inch we can get. Every shift is going to be important. It's going to be a challenge for us from top to bottom that the kids are ready to play, the kids don't assume that they can have a bad period or a bad game and come up with the win, because once in a while over the past years, we did do that. Many people are going to be in different roles, new roles, and hopefully, they're up to the challenge."