BOSTON — For the first time since 1973, Boston University began its season with a new head coach behind the bench. It will take a good while to see how similar or different the program will be under David Quinn after the 40-year reign of Jack Parker.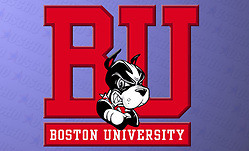 On top of the coaching change, BU fans really needed their game programs Friday night, as seven of the 18 skaters in a 3-1 win over Massachusetts were freshmen. Of course, the game marked the first time that Quinn had seen any of the current Terriers play in a game that counts.
So what he did learn from game one of his tenure? He saw some inconsistency but also some resilience, as his team looked a bit tentative in the first period before breaking out with three goals early in the second period.
"I know that we're going to be able to compete, and we're going to overcome adversity," Quinn said. "They were taking it to us pretty good for a stretch, and we kind of fended them. We survived, and sometimes that's what you've got to do in this game."
We also saw some early glimmers of Quinn's style. After sophomore Sam Kurker took two offensive-end penalties in the first 22 minutes of the game, Quinn benched him.
"I think he holds us accountable," right wing Evan Rodrigues said. "We're a defensive-minded team. He lets us play some offense, but he wants us to play the right way."
Co-captain Garrett Noonan reiterated the point. "I don't think he wants to take any creativity away from our skilled forwards and skilled defensemen, but he demands that you play the right way," he said. "If you don't, you're not going to play."
Quinn said he was pleased with the freshmen.
"I thought their effort was there on every shift," he said. "We're going to make mistakes; I understand that. But they can't be because you're lazy or casual."
Altogether, the Terriers are young but hoping to learn without taking too many lumps in the loss column. "As we're finding our ways and creating our own identity, it's nice to win hockey games, and that's what we did tonight," Quinn said.
"I can't wait to play tomorrow night and get back to practice Monday because we're going to be a completely different team in two months."