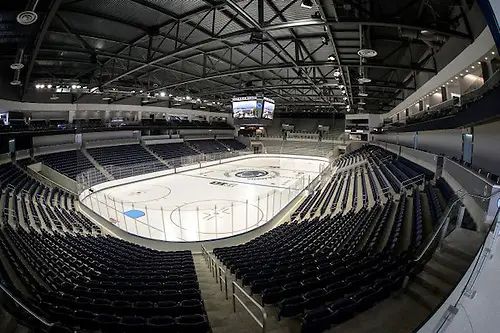 STATE COLLEGE, Pa. — If you build it, they will come.
The line made famous by the 1988 movie "Field of Dreams" has for a long time applied to Penn State for a frozen pond instead of a field.
There was just one problem: There was neither a building nor the money to fund the construction of one.
Despite having roots in Happy Valley that date back to the 1940s, top-level college hockey in still lacked despite a pair of NHL programs in the state that have enjoyed a healthy rivalry.
Varsity hockey in State College had been only a dream for Joe Battista since he and his afro-mustache arrived on campus in 1978. Battista has since gotten a haircut and shaved the mustache, but the dream remains.
All that is left now before he gets to live it is for the puck to be dropped at Pegula Ice Arena on Friday.
"The rumors then were that a new ice arena was going to be built, 4,500 seats, Division I hockey," said Battista, the Penn State associate athletic director, reminiscing about the old days. "Anybody that was around in those eras old enough like me to know that, the economy just wasn't cooperating."
Instead, what is now the old building, the soon-to-be decommissioned (and repurposed) 1,056-seat Greenberg Ice Pavilion that suited the club program for 32 years, was built. Last season, the building showed its age more than once with separate septic and compressor issues.
Enter Pegula Ice Arena, paid for with $89 million of funding from hockey program benefactor Terry Pegula. Upon moving into the new building last month, the only issue was learning how to use all of its tools.
"The devil's in the details. It's making sure things work a little here, work a little there," Battista said. "Chris Whittemore, our manager here who's really kind of our ice expert, we've all known it will take a year before we have the ice temperature, the humidity, all of the things that go into making great ice where we need it to be."
To the naked eye, however, there are no problems. The proof was in the players' reaction. Battista said all the waiting was worth it when he saw looks on players' faces when they moved in.
They may has well have piped in George Takei saying "oh my" on a never-ending loop.
Both fans and players can see the bells and whistles of the building instantly when they walk in. And so will recruits.
"I just think there would have to be another college program that comes close to this for you not to come here," sophomore goaltender Matt Skoff said.
Even though the building is the smallest by capacity in the Big Ten at 6,000 seats, the players have amenities that rival NHL clubs. On their way to the locker room, they will see their strength training facility that includes a 5,200-square-foot gym with 40 yards (in length) of running turf for sprints, all of which is enclosed in glass.
A synthetic ice area with Rapid Shot and Rapid Hands training systems is adjacent to the gym for players to work on their shot and stickhandling.
The player's lounge area is fully equipped with a ping-pong table; movie theater-style recliners to watch the flat screen or play video games; a kitchen; and a study/film room.
"We are very spoiled," Skoff said. "I don't think any college hockey rink has a locker room like we do."
The locker room itself has plenty of room for players to relax and cool down during intermissions. The logo in the middle of the floor is literally three feet in the floor as opposed to painted on a slab.
For the inevitable injuries, the training room has its own separate hydrotherapy section with separate hot and cold tubs as well as a steam room and underwater treadmill (with cameras so trainers can monitor range of motion) for rehabbing lower-body injuries.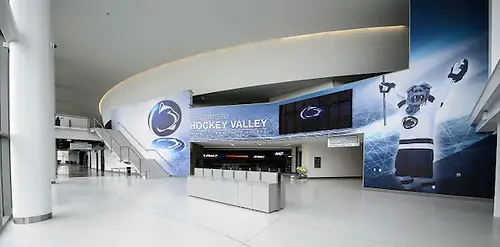 Sophomore forward Casey Bailey said the arena is quickly becoming a popular hangout.
"I think actually getting in here and being able to have access whenever we want is incredible," Bailey said. "It's a dream come true. It's brought us all closer. I've been in here at 7 o'clock at night. I just drove up here, hanging out here, watching TV with five or six of the guys."
The Anchorage, Alaska, native also joked during the team's media day about putting bunks in so that the players could live there all the time.
All of the state-of-the-art amenities are meant to attract recruits, but both Battista and Nittany Lions men's coach Guy Gadowsky hope the atmosphere ultimately will be the main selling point of Penn State's program.
That is where the fans come in.
When fans look up they see a giant "Welcome to Hockey Valley" sign. If they look down they will see curved lines like carved ice from skates. The first look at the seating bowl and ice is what architects call the "a ha" moment.
"There is no bad seat in the house," senior defenseman and alternate captain Nate Jensen said.
There is one aspect of the seating bowl that immediately sticks out: The student section is steeper than the rest of the building. It is, in fact, the steepest allowed by building code.
The Nittany Lions will shoot at that end of the ice twice, which means that for 40 out of the 60 minutes, the students will harass the opposing goalie.
Skoff said he has a little sympathy for his counterpart there.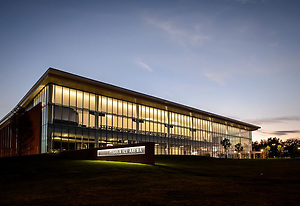 The second sheet of ice allows the Pegula Ice Arena to be a Division I hockey arena and the neighborhood community rink at the same time. Behind the student section is an overlook of the second sheet with floor-to-ceiling glass so even toddlers just learning to walk can perhaps see their sibling play hockey, figure skate or simply learn how to skate.
The idea in it all is to grow the game of hockey in and around Pennsylvania.
"The skill level has grown tremendously, and not just in State College," said Penn State forward Taylor Holstrom, who worked with youth players at summer camps. "They have kids come in from Philly, from Pittsburgh, from Ohio. That kind of thing will grow and that kind of shows you what it is doing for hockey as a whole and it is helping not only Pennsylvania, but the whole East Coast."
However, the attention will still be on how well Penn State performs in the Big Ten and how it sounds when Flyers fans and Penguins fans unite together to cheer for the same team.
During the first official practice allowed by NCAA rules, began at 12:01 a.m. last Saturday, the student section was a little more than half full with the band, and it was close to deafening at that end of the building when the team was introduced.
Gadowsky described the turnout for the first practice as "fantastic." He also added that coming out of tunnel, it looked "like a wall of people."
All that is left is to fill it to see what the building will be like for the pregame skate and opening faceoff when Penn State hosts Army on Friday.
Gadowsky was adamant that the meaning of the historic night is why everybody wants to see it. It's also homecoming, making a tough ticket to get even harder. Tickets available online were priced at over $100.
What it will be like to emerge from the tunnel Friday night is still unknown to both coaches and players even though they have a small idea from the first practice. Gadowsky said he will be giving a glance to his right to look at the student section.
When it comes to playing in the actual game, junior captain Tommy Olczyk said he hopes that the players will just play hockey like it is any other game.
There are plenty of jitters for the home team; it's just a matter of controlling them, Gadowsky said.
"I don't think there's going to be any way to control [the emotion]," Gadowsky said. "I actually think that is what everybody is coming to see. It's going to be high emotion. There's a lot of people who put a lot of work into this and dreamed a lot of dreams for this to happen."