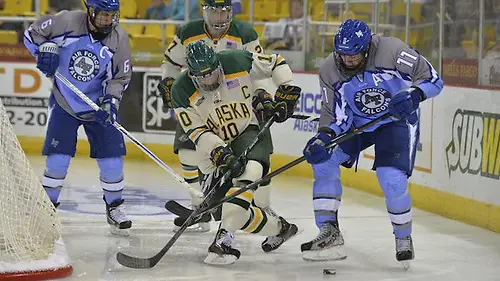 Matt Thomas is itching for another game.
"I coached 98 games last season," said the first-year Alaska-Anchorage coach, who came to the Seawolves from the professional ranks.
Besides the fact that he's still getting used to the Friday-Saturday college schedule, Thomas, a longtime, successful coach in the ECHL, is eager to see how his new team responds to its surprising 2-0 start.
Anchorage, which won just four games last season, opened the season by winning its own Kendall Hockey Classic, beating Quinnipiac and Air Force.
"Any time you have early success it makes an impact on so many levels," Thomas said, "especially for our program. It's important that we feel good about ourselves. Now it's important that we don't feel overconfident."
It was the Seawolves' third straight Kendall title and their eighth overall. However, they haven't been 2-0 to start the season since 1996-97.
Anchorage jumped out to a 2-0 first-period lead against Quinnipiac, which played in the national title game last spring, and won 3-1. Against Air Force the Seawolves trailed 2-1 late in the game before scoring three times in the final two minutes.
Senior forward Jordan Kwas scored two of those final goals and assisted on the game winner, which was scored by Matt Bailey with just four seconds left in regulation. Kwas also scored earlier in the game for his first college hat trick. He was named the tournament's most outstanding player and this week's WCHA offensive player of the week.
"If you talked to Jordy after Friday night's game, he'd probably say he wasn't happy at all with how he played," Thomas said. "But he was solid. He played really well in both games on the defensive side of the puck. For him to be rewarded with a four-point night and a hat trick … the guy's committed to it."
Anchorage will head north to Fairbanks this week for the Alaska Goal Rush, in which it will play Western Michigan and Denver.
"We know it was only one weekend," Thomas said. "We have a long way to go."
A country divided
You've heard of the East vs. West rap wars? How about the East vs. West ref wars?
Last January, Cornell coach Mike Schafer left Denver bitter about how he thought the WCHA referees treated his team. He called their performance "disgusting" and said, "I won't come back to the WCHA."
Last Saturday night, following a game in which his team was assessed 58 minutes worth of penalties, Minnesota State coach Mike Hastings delivered a message to Schafer: "We're even now."
The game at Providence, officiated by a Hockey East crew, featured 80 minutes of penalties combined. For the weekend, the two teams were assessed 41 penalties.
Hastings called out his own players' "old habits" after Friday's 5-1 loss, but after Saturday's 3-0 loss, directed his comments elsewhere.
"If you talk to [Providence coach] Nate [Leaman], Nate was probably a little upset at the officiating in the first period," Hastings said in a postgame interview posted on Minnesota State's website. "And from the second period on it was a bit of a gong show from that standpoint.
"One thing, Mike Schafer, I want to let you know, we're even now. Because a team from out west came out here and … I saw you last year and it sounded like you got it pretty bad. And I'm going to tell you that I believe east and west are even now.
"I want to give credit to Providence, Nate Leaman. I think they've got a heck of a hockey team. I think that staff does a great job," Hastings continued. "And it's too bad that two teams — one from the west, one from the east — can't go out without having, I believe it was, 18 power plays throughout the game. I thought it was a bit ridiculous.
"But, again, we gotta go back and get better and focus on what we can control because we couldn't control those two individuals tonight."
Lakers go with Murdock
Lake Superior State coach Jim Roque said he's been preaching from Day One that the Lakers players who practice and play well will keep their spot in the lineup night in and night out.
That was the case over the weekend for senior goaltender Kevin Murdock against Robert Morris.
With the Lakers' 1988 NCAA championship team on hand, Murdock got the nod both nights and earned a pair of 3-1 wins with 26 and 27 saves, respectively.
"Kevin Murdock played well for us in net both nights," Roque said. "He was a big reason we were able to win the second night. He played real, real well."
Roque said Murdock got the initial start because he "looked a little better" than his senior counterpart in goal, Kevin Kapalka, during the preseason and the first week of practice. Roque said Murdock "probably" earned the right to start Friday at Union.
"I'll let him jump in there and see what he can do," Roque said. "Sometimes you have to go with the guy you think gives you the best chance to win. Obviously, Kevin Murdock delivered this weekend."
Tech, Northern go winless
Northern Michigan's Walt Kyle and Michigan Tech's Mel Pearson were unable to get a victory out of either goaltender they started on the road last week.
For the Huskies, sophomore Pheonix Copley stopped 39 of 41 shots in a 2-1 loss on Friday at Minnesota-Duluth while sophomore Jamie Phillips saved 21 of 22 shots in a 1-1 tie with UMD.
Copley was the No. 1 star Friday, despite the Huskies being on the losing end.
"I feel bad for Pheonix because he gave us a chance to win, and that's what you ask of your goaltender," Pearson told the Duluth News Tribune. "You know a goalie is hot when he makes the tough saves look easy."
At Wisconsin, Wildcats redshirt freshman Mathias Dahlstrom stopped 33 of 38 shots in a 5-2 loss on Friday and sophomore Michael Doan saved 27 of 29 shots on Saturday.
Chances are Kyle will play both again this week against Nebraska-Omaha in Marquette on Friday and Saturday.
"Obviously, Michael gained some points," Kyle said. "Mathias had an edge, but it was a razor's edge."
Around the WCHA
• The record says 0-1-1, but Bemidji State got the shootout win on Saturday night at St. Cloud State with Radoslav Illo scoring the winner. The NCHC will break ties with shootouts this season. The WCHA will not hold shootouts if games remain tied after overtime, but Bemidji State agreed to use the shootout before the nonconference series.
• Alaska's Cody Kunyk scored just 12 seconds into Friday night's game against Air Force, but it was hardly the fastest goal in Nanooks history. Last season at Alaska-Anchorage, Colton Beck (still a current player) scored nine seconds into a game. But the team record is five seconds, set in 2005 by Ryan McLeod in a CCHA playoff game at Bowling Green.
• Alabama Huntsville was blown out 9-1 by Northeastern in its opener but bounced back to make a game out of the series finale, falling 3-2. "We looked like a completely different team tonight," coach Mike Corbett said. "We played our brand of hockey and were in the game from start to finish."
• Ferris State coach Bob Daniels was worried his Bulldogs would struggle to score early this season, but after two wins in three games, Ferris has 10 goals from nine different players. Garrett Thompson is the lone Bulldogs player with two goals and only two of the 10 scores have come from defensemen.
• Bowling Green rallied from a 3-0 deficit on Tuesday to win 4-3 and score a regulation victory over Ohio State for the first time since Feb. 1, 2008. The Buckeyes were unbeaten in their previous 13 games against the Falcons, not counting shootouts. The win comes just a few days after returning from a tie and loss at Union.
• This week's WCHA players of the week are Alaska-Anchorage forward Kwas (offensive), Alaska defenseman Colton Parayko (defensive) and Lake Superior State forward Alex Globke (rookie).