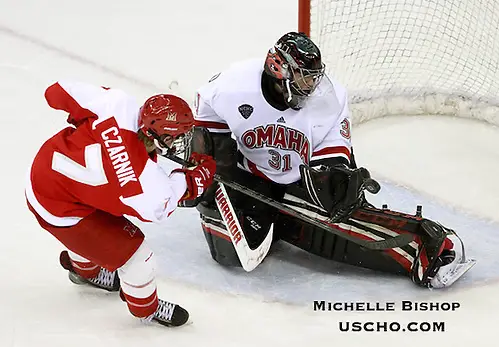 You may remember I suggested in my NCHC column last Wednesday that, with Nebraska-Omaha goaltender Ryan Massa playing so well on Friday nights so far this month, maybe the time had come to make him the Mavericks' solid No. 1 starter.
It appears UNO coach Dean Blais could be leaning that way.
One wouldn't expect much to be said about the goaltending in a nine-goal game, but Massa was arguably the Mavericks' unsung hero in their 6-3 win over then-No. 8 Miami Friday night. He made 29 saves in the winning effort, and he stoned star RedHawks forward Austin Czarnik on three separate breakaways, including a penalty shot on which Czarnik came in too close and wound up shooting at Massa's midsection.
Blais rewarded the junior goalie by giving Massa the start again Saturday night in what ended up as a 3-1 win for UNO. Massa capped off his first back-to-back starts in the same weekend this season by stopping 25 shots in the rematch while the Mavericks clinched a sweep of Miami for the first time since February of 2002.
The Mavericks went 6-2-0 against a November slate made up of, in order, Denver away and then North Dakota, Michigan and Miami all at home. Massa picked up five of those six wins, putting together a 1.99 goals-against average and .934 save percentage for the month.
Unfortunately for the Mavericks, though, they're coming into a lull in their schedule at maybe not the best time.
UNO is idle this weekend for the first time this season, and the Mavericks are done until January once they complete a two-game set at Colorado College Dec. 6-7. The challenge, then, is whether UNO can keep its momentum despite only playing two games in six weeks.
Broncos find redemption again
Western Michigan coach Andy Murray spoke at his weekly press conference last Monday about how his Broncos needed to find a way to bounce right back from a pair of disappointing losses on the road the weekend before.
Mission accomplished.
After going 0-for-12 on the power play and giving up three such goals to Denver a week ago, Western almost looked like a different team last weekend in a home-and-home series with former CCHA rival Michigan State. After sophomore goaltender Lukas Hafner made 22 saves Friday in a 2-0 shutout win in East Lansing, the Broncos came home to Kalamazoo and scored two power play goals Saturday en route to a 4-1 win over the Spartans.
Perhaps even better was that Western went a perfect 8-for-8 on the penalty kill against MSU, including 5-for-5 in the Broncos' home leg of the series.
Here's one thing that still needs to be fixed, though: What we've yet to see from WMU is an ability to string together positive results two weekends in a row.
Western has been a streaky team thus far. After getting swept in a home-and-home with Notre Dame to open the season, the Broncos then went 3-0-1 in their next four games, 0-3-1 in the next four after that, and then 2-0 in the home-and-home with MSU.
This weekend's slate could provide WMU with tougher sledding than it had against the Spartans. In Notre Dame's Shillelagh Tournament, Western will square off with Northeastern before facing either the Fighting Irish or Alabama-Huntsville.
O'Donnell victimized by questionable officiating
Just over a week after Hockey East found itself issuing a statement that HEA officials had erred three times in reviewing an apparent game-tying goal for Massachusetts against Boston College Nov. 14, a player from an NCHC team fell victim to a questionable call by HEA officials.
Late in North Dakota's game Saturday night against Boston University, with the score locked at 3-3, BU went on a power play at the 16:57 mark when UND forward Brendan O'Donnell was whistled down for slashing.
The problem? O'Donnell did nothing of the sort.
In the incident in question, O'Donnell had his stick on the ice the entire time and never hit with it Tommy Kelley or Doyle Somerby, the two Terriers around O'Donnell in the play in front BU goaltender Matt O'Connor's net.
Kelley's stick broke in two on the play, but only when Kelley hit it against O'Donnell while appearing to try and get to the rebound off an initial shot by UND defenseman Jordan Schmaltz.
O'Donnell remonstrated with Hockey East referee Kevin Shea and linesman Brendan Blanchard on the way to the penalty box, but to no avail. Thankfully for UND, the Terriers didn't convert on the power play, and the game eventually ended in a 3-3 tie.