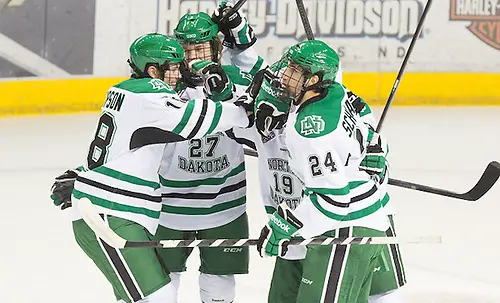 Sports teams that have a lot of players banged up are often referred to as MASH units, but North Dakota's men's hockey team last week resembled something from a different wing of an infirmary.
Between UND's series at Nebraska-Omaha Nov. 9-10 and last weekend's series at home with then-No. 20 Minnesota-Duluth, an estimated 10 to 12 were hampered by a stomach flu bug that hit the team.
Needless to say, this made for a difficult week for UND just in terms of preparing for the Bulldogs' visit to Ralph Engelstad Arena.
"It all started early in the week with a couple of guys getting down with a bout of the flu, and that gradually progressed to probably about 10 or 12 guys that got it," UND assistant coach Brad Berry said. "And the virus stayed for two or three days for each one of the guys.
"From a practice standpoint, it was pretty difficult to try and get a full team practice out there, and we did skate with a limited number of players. But the biggest factor was getting everyone healthy and getting their energy level up to a game-ready level. So it was a tough week, but the guys responded as well as they could."
The virus first made its impact on the team in Omaha during a series in which UND dropped a 4-2 decision to its hosts Nov. 9 before picking up a hard-fought 3-2 win the following night.
Where problems became particularly clear was when it came time for UND's team to head back to Grand Forks, N.D. Grand Forks is a straight shot up Interstate 29 once crossing over the Missouri River from Nebraska into Iowa, but it's also a nearly 500-mile trip one-way.
With players and coaches being in such close proximity to one another for so long, then, one can imagine the virus was bound to get around.
"Coming on the bus after a 5 p.m. game in Omaha, after the game, there were a couple of guys that weren't feeling well to the point where they had nausea and stomach flu, so they sat out the next day," Berry said. "But gradually a few more came down with it throughout the week.
"It's one of those things where you're on the road and in the bus in such a close environment that you're together for a few hours at a time, you can't help getting exposed to different things."
Things were particularly rough early in the week — UND's list of absentees from Tuesday's practice reached into double-digits — but something resembling normality came back around Friday when North Dakota scored the first two and last two goals in a 4-2 win over Minnesota-Duluth.
The visiting Bulldogs rolled the following night, though, doubling up on UND 6-3.
Berry was pleased with UND's energy Friday, but he felt that not enough of it was left for the rematch.
"You deal with it, and the biggest thing is bringing your energy level up every night to have success, and that was our main focus," Berry said, "But practice was secondary compared to health and getting our guys close to 100 percent for the weekend.
"It's the old adage that it is what it is, and we had to deal with it. And I thought on Friday, for sure, our energy levels were way up and we played a really solid game. But I think you could tell the gas in the tank was out a little bit on Saturday."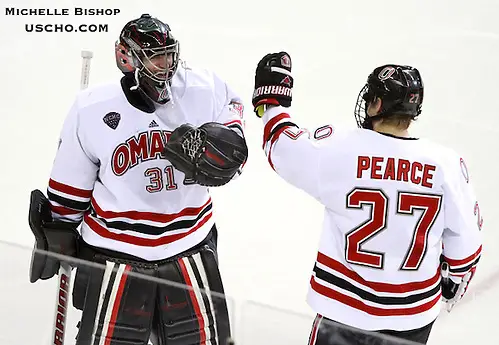 UNO's goaltender carousel keeps spinning
Things have been going pretty well lately for Nebraska-Omaha, with a 4-2 record so far in November.
Something has been missing, though.
Goals?
Nope, that's definitely not an issue. UNO has yet to score fewer than two goals in any game this season, and the Mavericks have scored at least three goals in five of their six games so far this month.
Defense?
Getting warmer, although that's not quite it. UNO has conceded an average of 2.5 goals per game this month and 3.25 per game this season, and that will need to go down if the Mavericks are to compete for top honors in the NCHC this season.
A No. 1 goaltender?
Bingo.
UNO coach Dean Blais has a well-documented history of experimenting with his netminders before ultimately deciding on which goaltender to ride, and this season has proven no exception. After freshman Reed Peters picked up his first collegiate start in last Saturday's 4-3 loss to then-No. 2 Michigan, all three UNO keepers have started in at least one game already in the current campaign.
Peters, who is 0-2 after having picked up a 3-2 loss in relief against North Dakota Nov. 10, picked up 27 saves in his start against Michigan.
"It's nonconference, and Reed hasn't really gotten the opportunity to play," Blais said following the Mavericks' loss to the visiting Wolverines. "[Starting Peters was] kind of make-or-break, see what he can do.
"We've got Miami and Colorado College after that, and then he goes home for Christmas. He's got to at least have an opportunity, and he's looked good. He's improved at a fast rate."
No one UNO goalie has yet to make the No. 1 job his own just yet. In terms of stats and performance, though, statistics and recent performances have indicated that one netminder might be winning that race.
Junior goaltender Ryan Massa has started only on Friday nights so far this month, but he's won in all three of those outings. The only Maverick goaltender with prior collegiate experience coming into this season, Massa gave up only two goals in each of those three outings and has posted a .935 save percentage this month.
UNO's two freshman goaltenders have paled slightly in comparison thus far, and especially lately.
Kirk Thompson (3-2 in six appearances) and Peters have been given the Saturday nods so far in November, but although Thompson picked up a 3-2 overtime win at Denver on Nov. 2, he was pulled a week later against UND after giving up a pair of soft goals. Peters also has run hot and cold in the UNO nets so far, albeit against two top-15 teams.
This weekend, UNO hosts No. 8 Miami in the final two games of the Mavericks' current six-game home stand. For the games against the RedHawks, Blais plans to continue at pace with his goaltender experimentation as he waits for that solid starter — whoever it is — to emerge.
"[Massa] has played well the last three weeks, and he'll probably start against Miami on Friday," Blais said. "And then we'll make the decision [about Saturday]."
Western looking for an immediate 'bounce-back'
Although Western Michigan is winless in its last four games and lost three of them, coach Andy Murray found things to like out of his Broncos' performances last weekend at Denver.
Other aspects of Western's games in the Colorado capital, however, left a lot to be desired.
Although Denver swept Western Michigan 5-3 and 1-0, the Broncos battled and looked good while playing at even strength. When their special teams units were out on the ice, however, things became problematic for the visitors.
Western didn't exactly get obliterated while on the penalty kill, but three of DU's goals last weekend came while the Pioneers were playing with a numerical advantage. One of them was the only goal of Saturday's game, which came when David Makowski shot past Western goaltender Lukas Hafner 6:40 into the second period while the Pios were on a five-on-three power play.
What's worse, DU had its penalty kill on lock all weekend. The Pioneers went a perfect 12-for-12 on the penalty kill against the Broncos, and DU still has given up only five power-play goals on opponents' 62 opportunities so far this season.
Murray said he liked his team's competitiveness against the Pioneers, but he suggested that his special teams units will have to bump up their game, starting this weekend when Western faces old CCHA rival Michigan State in a home-and-home series.
"We played a Denver team that are very mobile on the blue line, and they move the puck very effectively, are well-structured and coached very well, and they're a tough opponent," Murray said at his weekly news conference Monday in Kalamazoo.
"I liked our battle in our team, [but] certainly our special teams and our power play in particular needs to be better. It was not due to a lack of opportunities; we had a number of great opportunities on the power play and simply did not capitalize. We've got some work to do there, and losing two games in Denver, we need to get a bounce-back right away."
NCHC players of the week
Offensive player of the week — Cory Thorson, St. Cloud State: The senior Huskies forward had a huge weekend for SCSU at Alabama-Huntsville, picking up five points on three goals and two assists in two games against the Chargers. Four of those points — a career high for one night's work — came in St. Cloud's 10-0 win in Friday's series opener thanks to two goals and as many assists. He then picked up the Huskies' first goal in the rematch the following night before leaving the game later with an injury.
Defensive player of the week — Dillon Simpson, North Dakota: North Dakota's captain came up big last weekend at home against Minnesota-Duluth, contributing four points to the cause while also anchoring UND's blue line. The senior defenseman had a pair of assists Friday against the Bulldogs before picking up a goal and an assist in the series finale. He also blocked three shots on the weekend, including two on Saturday.
Rookie of the week — Alex Iafallo, Minnesota-Duluth: Iafallo continues to be as good as he was advertised coming into this, his first collegiate season. Minnesota-Duluth picked up eight goals in Grand Forks last weekend, and Iafallo had a hand in half of them, picking up a goal and an assist in both games against UND. Iafallo, who has received this award twice already this season, is riding a five-game point streak.
Goaltender of the week — Sam Brittain, Denver: Pretty much no contest here, as the senior netminder helped lead the Pioneers to a sweep last weekend at home against Western Michigan. Between DU's 5-3 win over the Broncos Friday and the Pios' 1-0 victory the following night, Brittain amassed 54 saves and helped DU kill all 12 of Western's power plays on the weekend. Seven of those power plays came on Saturday. This is the third time that Brittain has won this award.
In memoriam
Our thoughts go out to the friends and family of Chad Johnson, a former hockey player at North Dakota who was found dead Monday in Fargo, N.D.
Fargo police announced in a written statement Tuesday that Johnson died of injuries related to being struck by a train. His body was found Monday evening by a BNSF Railway crew near railroad tracks in an industrial area of the city.
A Grand Forks, N.D., native, Johnson played in 95 games for his hometown university between 1990 and 1993, collecting six goals and 16 assists.
Following a four-year pro career, Johnson joined the Lincoln Stars of the USHL in 1997 as an assistant coach. He remained there for two seasons before taking the same job with the Fargo Force in 2009, but he returned to Lincoln a year later to take the reins as the Stars' head coach.
Johnson, 43, resigned from his position in Lincoln on Sept. 18, citing personal and health reasons. It was then that he opted to move back to Fargo to be nearer to his family.