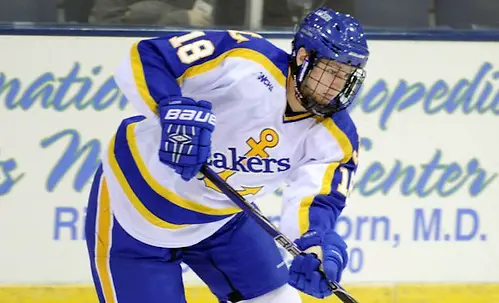 Lake Superior State coach Jim Roque had a different plan for freshman forward Alex Globke than the one that's played out through 10 games this season.
The 6-foot-3, 206-pound wing out of Waterford, Mich., and the Carleton Place Canadians of the Central Canada Hockey League was supposed to replace early departure Kellan Lain at center this year.
Instead, Globke has made himself right at home with LSSU seniors Dan Radke and Colin Campbell, who have combined for nine goals and 18 assists equaling 27 points for the Lakers. Globke has accounted for five goals and seven assists.
The line came to be via an early effort by Roque to pair one of his many freshmen forwards with two veterans in hopes the experience would rub off.
"They've had instant chemistry from day one so we haven't touched it," Roque said. "They're on the power play together. I think Alex will tell you Danny and Colin have been really good linemates for him."
Globke had a seven-game point streak snapped last Saturday in a loss at Michigan Tech but still leads all WCHA freshman in scoring with his 12 points. His five goals ties him for the league lead among rookies with Ferris State's Kyle Schempp. His 1.2 points per game average is sixth in the nation among freshmen as well.
He's tied for third overall in scoring in the WCHA with Northern Michigan's Stephan Vigier, Ferris State's Scott Czarnowczan and Bowling Green's Dal DeSalvo.
Globke, who turns 20 on Dec. 10, will tell you he won the lottery being paired with Campbell. Roque said doesn't plan to break up the duo anytime soon.
"They've really helped me out a lot," said Globke, whose older brother Rob played for Notre Dame and the NHL's Florida Panthers. "Dan Radke is really good with his hands. Campbell really likes to move [the puck] quick. They're teaching me when to move the puck, when not, so puck poise basically."
Michigan Tech heading to Alaska for 11 days
Michigan Tech embarks on an 11-day trip to Alaska starting this week as the Huskies play the Seawolves in Anchorage on Friday and Saturday and the Nanooks in Fairbanks the following weekend.
With the Thanksgiving holiday sandwiched between the two series, Tech is able to remain in Alaska without missing much class, according to coach Mel Pearson.
"The biggest thing on the Alaska trips, and I've been there before, is trying to get acclimated to their time zone and what's going on up there," Pearson said. "We'll have enough time to get acclimated."
In addition to some sightseeing and a few games of curling, Pearson said the team needs to get its first road win of the season in Alaska, having gone 0-6-1 at Minnesota-Duluth, Notre Dame, Northern Michigan and Michigan.
That will be tough, considering the Nanooks and Seawolves are a combined 7-1-2 this season on their home ice.
"We have to prove to ourselves first and foremost we can go into a [road] rink and win," Pearson said. "Anchorage is much improved and Fairbanks has a good team. It's going to be a tough trip, but I think our boys are looking forward to it."
Minnesota State will make a similar trip to Alaska in January, playing Jan. 3-4 at Fairbanks and Jan. 10-11 at Anchorage.
Around the WCHA
• Ferris State held on to first place in the WCHA with a come-from-behind tie Friday and a come-from-behind win at home on Saturday against Bowling Green. The Bulldogs, who needed two goals in the third period on Friday and three in the third on Saturday, are unbeaten in WCHA play at 5-0-1 and unbeaten in their last seven games (6-0-1). Junior goaltender CJ Motte is an even better 8-0-1 this season.
• Bowling Green not only failed to take over first place in the WCHA by giving up two late goals on Friday and three in the third on Saturday, but the Falcons failed to win another overtime game, falling to 0-1-3 this year. The Falcons are 4-7-13 in their last 24 overtime games. In addition, BGSU failed to score a power-play goal in Big Rapids and is 0-for-23 in its last five games.
• Northern Michigan senior Vigier remains the leading goal scorer in the WCHA after the Wildcats' bye week with 10 on the season. He fell into a tie for third in points with 12. Vigier takes an eight-game goal streak into this weekend's series against Alabama-Huntsville in Marquette.
• Alabama-Huntsville is one of two winless teams remaining in the country, along with Dartmouth. The Chargers have been close. Their 4-3 loss to St. Cloud State on Saturday (following a 10-0 loss Friday) was their fourth one-goal loss of the season. All four of those losses came on the second day of a series.
• Alaska-Anchorage got one point at Bemidji State last weekend, but first-year coach Matt Thomas is looking at his glass as half full. After losing 4-1 on Friday, the Seawolves scored four times in a 4-4 tie on Saturday. "We stayed mentally strong tonight, which is a great characteristic of a winning team," Thomas texted to the Anchorage Daily News. "We couldn't be more proud of the guys or their effort. This was an important game in our quest to be a winning program."
• Alaska will play Ferris State this weekend, marking its third straight WCHA weekend and third straight series against a former CCHA foe. There hasn't been much crossover yet between the leftover WCHA and CCHA teams following realignment, just five series with two more scheduled for this weekend (Minnesota State at Bowling Green and Lake Superior State at Bemidji State). Former CCHA teams are 7-3 against former WCHA teams so far.
• Bemidji State's series against Alaska-Anchorage produced two of the three WCHA players of the week. Offensive honors went to Seawolves forward Scott Allen, who had a hat trick on Saturday. Beavers forward Phillip Marinaccio was named rookie of the week for his three-point performance on Saturday. Ferris State goaltender Motte was named defensive player of the week.
• Minnesota State begins an important four-week, eight-game conference stretch this weekend at Bowling Green. The two teams played each other just two weeks ago in Mankato, with the series ending in a split. The Mavericks have struggled on the road so far, going 1-5 and getting outscored 22-7 with two shutouts in those games.