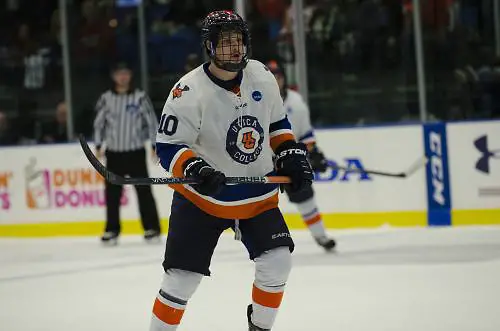 One draws motivation where ever it can be seized and for Adam Graff, it seems to be there for the taking at every turn.
If not in an air-filled grab at a Frozen Four title, then perhaps in a stinging last-second loss.
Or if not there, then in a chance to show an ECAC West foe just what slipped through their fingers.
Nope, there is no lack of fuel to spark Graff's competitive fire, which accounts for how the Pioneers' senior stalwart has become so important to the fortunes of the nation's seventh-ranked team.
Graff and the other returning vets took Utica to its first-ever Frozen Four berth last year. However, the loss in the semifinals to eventual champions Wisconsin-Eau Claire left the Pioneers with something of an empty feeling.
"[It's] unfinished business," Graff said. "We have 13 seniors on this team and this is our last chance. We want to go out as winners, as everyone does. Getting there last year was awesome, but now the next step is to bring home the hardware."
Utica is backing up those aspirations with perspiration.
The Pioneers are off to a scintillating 5-1-0 start and might be a perfect 6-for-6, if not for a last-second [literally] goal by Hobart's Robert Sovik that handed Utica a stunning 3-2 loss, it's lone blemish, in front of packed house at the Utica Aud.
"It was definitely a humbling experience for us," said Graff. "They beat us on our home ice. And the way they beat us is more of a teaching point for us."
And the hard lesson that was learned?
"You can't take a second off," said Graff, who was on the ice, watching in disbelief when the puck crossed the line just before time expired. "Not even a second. In a split-second, the puck can be in the back of the net."
The loss will still be fresh in the Pioneers' minds this weekend when they'll make the return trip to Geneva for two clashes with the No. 14 Statesmen.
"They're a very good team," said Graff. "[But] this is huge. It's always a battle when you go into Hobart. The mindset is to come in on Friday, ready to go, and getting the lead on them early in their rink."
Graff is a business management major [with a concentration in risk management] from Bear, Del., and is one of very few First Staters ever to play NCAA hockey.
Once he had outgrown Delaware's youth leagues, Graff [and his parents] had to routinely make the 90-minute trek to West Chester, Pa., to find better competition, which put him within easy viewing reach of ECAC West rival Neumann.
However, Graff said, the Knights never gave him a single look.
"No, not once," he said.
And that, said Graff, gets him plenty revved up every time Utica invades the Ice Works in Aston, Pa., where he skated often as a youngster.
Last weekend, Graff enjoyed another homecoming by scoring one goal and setting up another in the Pioneers' 6-2 win.
That performance helped Graff earn the league's player of the week honors.
"Every time we play Neumann," he said, "it's a chance to prove that they missed out. I'm in a better place and much happier here."