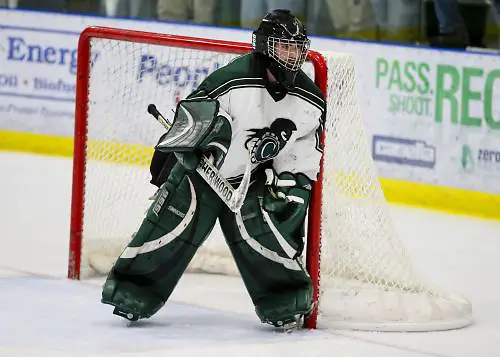 For first year coach Steve Moffatt, life with Castleton has been an interesting odyssey that finds the new coach greatly enjoying the regular season and appreciating the community presence his program has established in the Rutland, Vt., region.
"I am really loving the job, especially now that the real games have started," noted Moffatt. "All the details away from the rink have been challenging to get my arms around, especially based on the scale of things like fundraising and community service that the Castleton program supports. I am, of course, very familiar with those activities based on my time at Plattsburgh, but the scope here is on a much bigger scale if that is possible to believe. I have been very impressed by the program's commitment to the community outreach and perhaps that has a lot to do with why we are setting attendance records in our first home games this season.
"The perspective is different being the head coach, but it is great to be a part of with this group of players and the school."
After years of working with the very successful Plattsburgh program and coach Bob Emery, Moffatt has inherited a successful program in his first head coaching stint. So what will be different at Castleton this time around from the success achieved under former head coach Alex Todd?
"I think the big focus for us is a new focus on discipline," stated Moffatt. "I came from a program that had great success at Plattsburgh where we played very hard for 60 minutes each and every night and aggressively, but with discipline. I think over the past five or six years, we were one of the least penalized teams in all of D-III and that discipline helped us be successful. We didn't beat ourselves or give the opponents man-advantage situations that could swing the outcome in games. So right now, we are focused on being smart, disciplined and reducing unnecessary penalties. I thought we did a great job on the opening weekend and could have been better this past weekend, so we will focus on improving from there."
With that focus, the new coach also had some views on the early stats around the Spartans' power play and penalty kill efficiency.
With identical 21.1 percent success rates for and against on special teams, one would think there might be room for improvement, particularly on the penalty kill side of the equation. Moffatt was more than happy to point out the old Mark Twain quote regarding "lies, damn lies and statistics."
"I actually think we have been pretty good in the early going on both the power play and the penalty kill," stated Moffatt. "On the power play, we actually have two goals just a second or so after the penalty expired that don't show up in the overall success rate. On the penalty kill, we have given up a couple of goals in multiple man-down situations, including an extra-attacker goal that probably unfairly inflates the numbers as compared with the way we have played and defended in man-down situations.
"I know that we will need to be really good in those areas this weekend when Babson and Massachusetts-Boston come to play. I think both have power plays working better than 30 percent, so we have our work cut out for us and welcome the challenge in the conference. We have a lot of home games early in the season and we need to take advantage of the home ice and crowd to get points every weekend and especially at home. This weekend will be a great test for our hockey team with a couple of the league's best coming to Vermont."
With a new coach comes a new system and so far, the players seem to be adapting pretty well to the style of play Moffatt expects from this very diverse roster across all of the different classes.
"It's obviously easier for the freshmen coming in to pick up something new in a new program since they don't have one, two or even three years of playing in the same system with the same players," Moffatt said. "I am really proud of how hard the upperclassmen have worked and committed to the system and I am pleased with the results so far, but know we can continue to improve."
One senior that is off to a strong early start is Colin Murray, who leads the team in goals and points after the first four games and has taken to his pairing with freshman forward Bart Moran with their combined 14 points in just four games.
"Colin has worked really hard," noted Moffatt. "Sometimes, you have to take him aside and just remind him how good he really is and let that talent come out on the ice. He is off to a great start along with Bart and has done a great job in working in the new system. Ross [Herzog] and Kyle [Richards] have also been leading by example as seniors and that has really helped the young guys come along quickly."
Back in the crease, senior goaltender Erik Cinotti has cemented his spot as the team's No. 1 netminder and will be expected to continue to play his consistent style that has produced a better than .900 save percentage and near two-goals against per game average during his career at Castleton.
"Erik played very well on our opening weekend and really came up with some key saves when we needed them," said Moffatt. "He did cement his role as No. 1 in that first weekend and backed it up with a solid weekend performance this past weekend against St. Anselm and New England College. He is healthy and in great shape, so we do expect lots from Erik, as we do from any of the capable goaltenders we have on our roster."
Yes, there is a new coach leading the Spartans, but the anticipated outcomes aren't any different this year than in seasons past. The Spartans are looking to compete every night with the best in the ECAC East and compete for a title. The road to get there might be a little different with Moffatt leading the way, but the end goal and resolve to get there is as strong as ever for the Spartans.