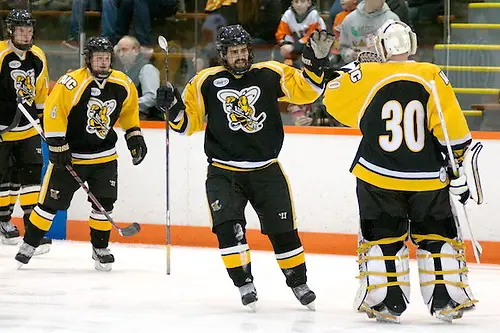 After years of frustration, American International looks like it's "figuring it out."
I used that phrase when talking to Yellow Jackets coach Gary Wright, who has his team off to its best start ever in Atlantic Hockey. AIC is 3-3 overall and 3-0 in conference, good for third place with games in hand on first-place Air Force and second-place Niagara.
"It's funny you should say that," said Wright. "Our football coach … who comes to a lot of our games, used that exact same phrase."
It's been a long time coming. After years of finishing in the basement of Atlantic Hockey, the Yellow Jackets went on a late-season run last year, jumping into ninth place and barely missing a home-ice playoff series.
Bolstered by record-setting goaltender Ben Meisner and all-star forward Adam Pleskach, AIC lost just once after Jan. 25, going on a 7-1-3 run that finally ended in a playoff series loss at Rochester Institute of Technology.
But the Yellow Jackets were expected to take a step back this season with the loss of Meisner, Pleskach and five other seniors. They were picked to finish 11th in the league's preseason poll.
"We did lose a big senior class," said Wright. "Not just Meisner and Pleskach and [defenseman Jeff] Ceccacci, who were all-stars, all-league, but a class that gave us a lot of leadership and experience."
Last season taught Wright's team how to win, and that has carried over to this year, even with several players in new roles.
"I think it really started the year before," he said. "We took Robert Morris to three games [in a first-round playoff series] and lost the deciding game in overtime. Robert Morris was a very good team and we came away knowing that we could play with them.
"Last year was interesting. The first half of the year it was very much about Meisner playing so well, and putting the team on his proverbial back. But after January our underclassmen got stronger and all of a sudden we were playing more as a team and not just about our goaltending."
AIC's 2013-14 season has already seen its fair share of drama. In their first six contests, the Yellow Jackets have endured a 10-4 loss at Providence, a close 5-4 loss at Michigan State, a wild 8-7 win over Bentley, and then immediately followed that scorefest with a stingy 1-0 victory at Holy Cross.
"We're certainly covering things," said Wright. "Bentley was the kind of game we used to have when I was playing in the '80s. Following that up with a 1-0 shutout was ironic."
The volatility can be expected when breaking in eight freshmen, including a pair of rookie goaltenders.
"We've got the two freshmen and a senior who really hasn't played before," said Wright. "[Senior] Ryan Kerpan opened with the 10 goals at Providence, really getting thrown into the fire. He's going to get another start soon. [Freshmen] Ty Reichenbach and Hunter Leisner have both turned in good performances — Reichenbach at Sacred Heart [a 4-1 win] and Hunter at Holy Cross [a 1-0 win].
"We'll take another look and eventually have a starter. As they say in football, 'If you have three starting quarterbacks then you don't have a starting quarterback.'"
While Wright works at settling on a starter in net, he knows he has the offense to keep his team in games. AIC has the top-ranked offense in the league (3.5 goals per game), as well as the No. 2 power play (26.1 percent). Junior Alexander MacMillan and freshman David Norris lead the team with eight points each. Six players have two goals or more already.
The Yellow Jackets have played only one home game so far, the win over Sacred Heart. But their next four contests are on home ice, including a game this Saturday against Connecticut.
Confidence has never been higher for Gary Wright's Yellow Jackets. It looks like they're figuring it out.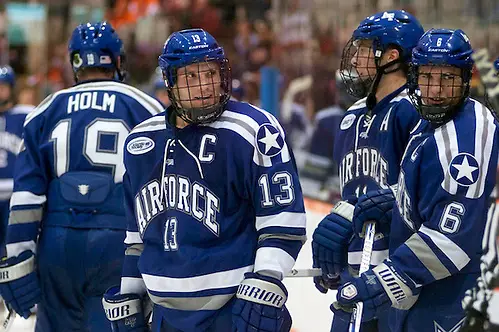 Bright spot
We've touched several times on Atlantic Hockey's abysmal non-conference record this season, with just seven wins in 58 attempts (7-47-4).
A bright spot has been Air Force, which owns three of those seven wins, including a 3-1 victory against crosstown rival Colorado College on Tuesday.
And it is a bonafide rivalry now. Colorado College leads the all-time series 59-9-2 but the teams have split their last six meetings.
This win by the Falcons was make a little more special by the introduction of the Pikes Peak Trophy, which will be presented to the winner of the annual meeting between the two Colorado Springs-based schools. The Falcons captured the inaugural version.
"It goes to show you where our program is," Air Force coach Frank Serratore said in a postgame interview. "It's not that CC's gotten worse. We've gotten better."
The Falcons have more local rivalry games this weekend when they host Denver on Friday and play the Pioneers at Magness Arena on Saturday.
Here are the highlights from Tuesday's Falcons-Tigers game:
[youtube_sc url=http://www.youtube.com/watch?v=VJ6wHmcl7_Y]
The Engineers are coming
Air Force isn't the only AHA team hosting a big nonconference game this weekend. Mercyhurst hosts No. 14 Rensselaer on Friday. RPI leads the all-time series 6-2 but this is the first time the teams have squared off at Mercyhurst Ice Center.
Lakers coach Rick Gotkin was an assistant at Rensselaer from 1986 to 1988 before leaving to start the Mercyhurst program.
It comes down to goaltending
It's always interesting to see how teams work out their goaltending in the early part of the season. Some have already settled on a No. 1, either by choice or by circumstance. Others are still looking for a go-to guy in net, while some will platoon throughout the season.
Here's what the goaltending situations look like so far around the league:
Air Force: Senior Jason Torf has been the starter for most of his career, and will play in his 100th game this weekend.
American International: After four years of Meisner, the Yellow Jackets continue to audition for his replacement. All three goalies on the roster have started.
Army: Junior Rob Tadazak has seen the majority of time in net, as he did last season. Rookie Parker Gahagen got his first start last weekend as Brian Riley decided to shake things up after opening the season 1-6.
Bentley: Senior Branden Komm earned the starting role as a sophomore and has played all but 23 minutes so far this season. His next appearance will be his 90th.
Canisius: Senior Tony Capobianco played in 41 games last season for the Golden Griffins, but this season he has shared the duties so far with junior Keegan Asmundson.
Connecticut: Senior Matt Grogan won the starting role over Garrett Bartus in the second half of last season, and has played all but one game so far for the Huskies.
Holy Cross: Matt Ginn enters his junior year as a three-year starter for the Crusaders, and has played every minute so far this season.
Mercyhurst: Junior Jimmy Sergeant was the odd man out his first two seasons with the Lakers, sitting first behind Max Strang in his rookie season and then behind a platoon of Strang and Jordan Tibbett last year. Sergeant has shared time with Tibbett this season, but looks to have won the starting job in recent weeks.
Niagara: Rookies Jackson Teichroeb and Adrian Ignagni have split time in net, as coach Dave Burkholder looks for a successor to Hobey Baker Award finalist Carsen Chubak, who played in 35 games last season but decided to forgo his senior campaign in favor of a professional contract.
Rochester Institute of Technology: Junior Jordan Ruby platooned with the departed Josh Watson last season, but took the reins down the stretch for the Tigers. He's played every minute for RIT so far this season.
Robert Morris: The Colonials look to replace the steady Eric Levine, who graduated at the end of last season. Sophomore Terry Shafer has started all but one game so far for the Colonials.
Sacred Heart: Sophomore Alex Vazzano, a transfer from Vermont, has started eight of the Pioneers' first 10 games.
Players of the week
I decided to combine awards this week, because a rookie goalie is both a rookie and a goalie:
Player of the week — Niagara forward Hugo Turcotte: The sophomore had a big weekend in a series sweep of Army, recording four goals and an assist.
Goalie and rookie of the week — American International's Hunter Leisner: The freshman picked up his first career win in style with a 22-save shutout of Holy Cross.
Games played on Tuesday of this week will count toward next week's awards. Let's see if Torf's excellent 34-save performance in that 3-1 win at Colorado College stands up.