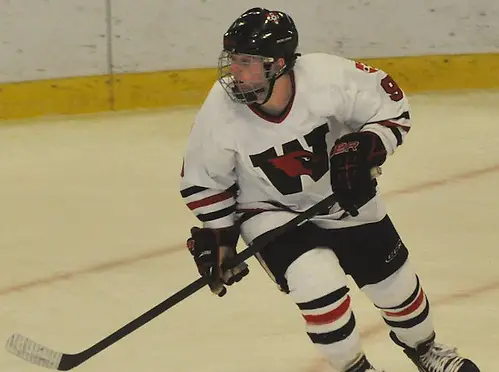 For the 2-0 Wesleyan Cardinals, opening weekend showcased great results, great resolve in some adverse situations and some young talent that has taken-off early.
Wins at home against Tufts and Connecticut College were strong confidence boosters for Wesleyan, but it was more about the way they did it that most impressed their head coach and has the coaching staff excited about the opportunities down the road.
"We definitely created some challenges for ourselves in both games going down a forward and taking major penalties that potentially could have cost us in both games last weekend," stated Cardinals' coach Chris Potter. "We didn't have a major penalty all last season, so to take two in the first two games was something very different for us and a challenge we rose to meet as a team."
Potter said with the turnover from last season, putting players in new situations is an adjustment, but one the Cardinals have made with ease.
"Last year, I used a lot of the same guys on specialty teams, which meant a lot of guys sat and didn't necessarily gain experience on the penalty kill or power play," Potter said. "With the graduation of 10 seniors last year, I give a lot of credit to assistant coach Jon Bellonio, who really reshaped this team. This year, I decided that we were just going to roll players out in specialty situations and find out what people can do in those situations. Obviously, we didn't plan on having to kill major penalties, but being down players as a result of the penalties really meant everyone stepping up and contributing to getting the job done. That was a real positive coming out of a not-so-positive situation that could have changed the game in favor of our opponent on either night last week."
A couple of new players to the roster shined for Wesleyan and the Cardinals' week one performances may hopefully be a portent of good things to come.
Freshman forward Elliott Vorel had an incredible first game as a collegian, posting two goals and three assists for five points in a 5-4 win over Tufts last Friday night. Vorel slotted in nicely with seniors Tommy Hartnett and Keith Buehler and the line accounted for four of the team's five goals and 10 points on opening night. With Buehler out for the Saturday game against Connecticut College, Vorel and Hartnett continued their magic with four of the five goals in a 5-2 win.
"Elliott has some great offensive skill," said Potter. "He really showed that last weekend playing with and then without Keith [Buehler], who has definitely proven his offensive ability in his time here at Wesleyan. Elliott has that innate ability to go to the right spot on the ice and one of his goals this weekend was a perfect example where he left the forecheck and found the open spot in front of the net and buried the puck when it got there. Tommy and Keith are proven guys up front and Elliott has been a good fit in working with them. It will be exciting to see where he continues to improve at the college level and be a key offensive player for us this season."
Another freshman who excelled this past weekend was forward James Kline, who made an impact with a steady overall game, strong presence on the penalty kill and scored the game-winning goal in Saturday's contest against Connecticut College in the second period. Kline's goal came just 40 seconds after the Camels had tied the contest at 2-2 and swung the momentum back to the home team that responded with two more unanswered goals in the win.
"James played great," Potter said. "He had some good chances on Friday night that he didn't finish, but really was a key contributor each and every shift and was a big part of our success on the penalty kill all weekend. Getting that goal, a really timely and needed one for us, hopefully will get him going offensively and add to the balance I think we have across all of our lines. With our depth and balance, I think it will be hard for teams to just focus on Keith and his line. If they do pay special attention there, I think we have enough talent and offense among the rest of the forwards to make that strategy unsuccessful for our opponents."
The third high-flying freshman was goalie Dawson Sprigings, who made 36 saves in his collegiate debut in the win on Saturday. Sophomore Nolan Daley picked up the win on opening night and Potter has a high level of confidence in his goaltending depth based on what he has seen in practice and in the pressure situations faced early on this season.
"Both guys played great," stated Potter. "Obviously, you scramble a bit when you go down a player and face major penalty-kill situations, but I thought both Nolan and Dawson were very composed and came up with some big saves in situations that could have changed the momentum of the game. We have a couple of other guys on the roster that will push those guys to play at a high level, but it was good to be able to split the load last weekend and see solid performances from both goaltenders and our defensive core overall."
This weekend, the Cardinals travel to Hamilton and Amherst on the not-so-common Saturday-Sunday two-game set. The change from the typical Friday night/Saturday schedule doesn't bother the Wesleyan coach and he hopes his team responds well to the start of five games in eight days, including three nonconference games.
"I like the Saturday-Sunday set-up," said Potter. "It gives us that extra day during the week and some flexibility as to whether it is a rest day or practice day and as well, it gives some guys with some bumps and bruises time to heal up a little bit longer. This weekend are the last conference games we have before the break, so we want to try and get points in two places that are very difficult places to play. Hamilton will be hungry after losing their opening games and Amherst is always a difficult game, especially at Orr Rink.
"We got off to a good start last weekend and now need to see if we can be consistent and play well on the road. The league is so tight that if we want a shot at a home-ice playoff position, we need to get points every weekend. The opportunity is there again this weekend against two tough opponents on the road."