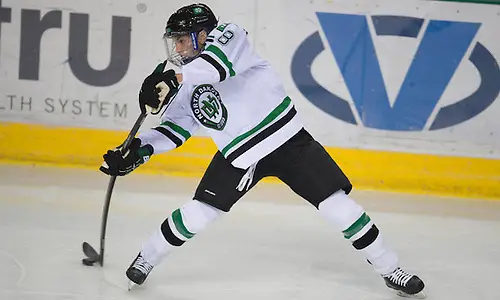 Consider recent years, as far back as the 2010-11 season when North Dakota first rose to become a perennial top-10 team. What UND players come to mind?
Jocelyne and Monique Lamoureux, of course. Michelle Karvinen. Josefine Jakobsen. Meghan Dufault. All forwards. And if you kept going, you'd probably come up with names like Alyssa Wiebe before venturing beyond the forward lines.
Many programs are that way to an extent, just because we tend to spend so much time talking about offense, but included in the mix at Minnesota-Duluth will be a Jocelyne Larocque and Kim Martin, or Alex Rigsby and Stefanie McKeough at Wisconsin.
One reason we tend to be unfamiliar with North Dakota players responsible for the defensive game is because that defense has often not been very sound. Three years ago, when UND advanced to a WCHA semifinal for the first time and fell just short of an NCAA tournament bid, its scoring defense ranked 26th out of 33 teams at 2.86 goals per game (GPG). That improved to 18th in 2011-12 at 2.54 GPG and 10th at 2.26 GPG last year, but some of that improvement was due to a top offense controlling the puck for much of the game.
"[Defense] is something we've struggled with in the past," said Karvinen, this year's captain. "It's been hard for us to even break it out in the past."
So much so that Monique Lamoureux was moved back to defense midway through each of the previous two campaigns, not because she was better at defense than at forward, but because the team didn't have any other options. In the wake of her graduation, it was vital that a better alternative emerged.
Luckily, this season's freshman class included defensive standouts Gracen Hirschy and Halli Krzyzaniak.
"Having two players like that who can just bring it up and be a part of the offense as well, that's something that's just huge for us forwards," Karvinen said.
The duo definitely contributes on the offensive end, both averaging at least a point a weekend. Hirschy is particularly skilled in that respect, ranking fifth on the team in points.
"I played a lot of forward my senior year of high school, so I've been back and forth at forward and D," she said. "I love skating the puck up. I love scoring goals."
She has scored four times in her first dozen games, and has added five helpers.
Nice as that offensive boost has been, it is what the pair has brought to the defensive side of the game that brings the greatest cause for optimism. The scoring defense has tightened further to 2.08 GPG, and having watched North Dakota limit Minnesota to two goals on Sunday and end the NCAA's longest winning streak, the two freshmen are a huge reason why.
"There's going to be ups and downs," coach Brian Idalski said. "What they're doing for us, it's a little unfair to expect them to do that week in and week out. Obviously, we're excited for them down the road, a couple of years of development and just understanding what it means to play in this league week in and week out. They're solid; they're going to be cornerstone D for us."
Although the two have experienced international competition at the Under-18 World Championships, Krzyzaniak playing for Canada and Hirschy for the United States, they are still freshmen trying to adjust to a new level.
"Right now, we're kind of developing and learning the systems and stuff," Krzyzaniak said. "Hopefully, we continue to develop, the eight of us that we have on defense continue to develop as a whole, and we can be solid back there."
Saturday was the first time that the duo and their teammates met a team from the current top 10, and there were some struggles in a 6-1 loss. Signs of progress were definitely in evidence the next day, as they adjusted to the speed of the opponent in a 3-2 win.
"That's why those kids end up in this league, because those are the games you want to be in development wise, and just for the fun and the pace," Idalski said.
The games aren't necessarily even the biggest adjustment.
"I think definitely it is the day-to-day intensity," Krzyzaniak said. "The girls here, they're so great, they're intense with absolutely everything we do, whether it's in the weight room or it's a 20-minute skate. Everything has to be your best all the time."
Hirschy's adjustment is one not often associated with Grand Forks, population 53,456.
"It's actually a pretty big city, compared to what I'm used to," she said. "It's a lot more spread out than what I'm used to."
Although her hometown is listed as Fort Wayne, Ind., Hirschy grew up in the much smaller New Haven. Unlikely as it seems, the state of Indiana produced a five-foot-nine-inch athlete whose sport involved hockey pucks instead of basketballs.
"When I was little, my family had season tickets to the professional team there, the Fort Wayne Komets," Hirschy said. "I went to every game since I was a little kid, and they finally just put me on the ice."
When it came time to select a college, Division I hockey wasn't an option at the state universities, such as Big Ten schools Indiana and Purdue.
"They have boys club teams, but that's about it," Hirschy said.
The in-state prospects are a bit more promising at Notre Dame in South Bend.
"I really hope they are able to get one," she said. "They have a fabulous rink there, so I think a girls' team would first be there."
Forced to look elsewhere, Hirschy was drawn to North Dakota.
"The first time I visited UND, I had a feeling and I knew that was the place for me," she said. "I knew just right off the bat; this is it."
Grand Forks is roughly four hours away from Krzyzaniak's home of Neepawa, Man.
"Obviously, it's nice that it is really close to home," she said. "My parents are able to come and watch a lot more than they used to, but that definitely wasn't the deciding factor. Just being there on my visit, everything felt right and that's kind of where I wanted to play out my four years of college."
She had some familiarity with her new teammates, having played a couple of years with Dufault and Tori Williams for Team Manitoba, and teaming with Rebecca Kohler to win U-18 gold for Canada.
"Walking in knowing nobody would be a little intimidating, but the group has been really welcoming," Krzyzaniak said.
Attendance in the WCHA tends to be considerably more than what is typical at a youth hockey game, but Krzyzaniak hasn't found that to be intimidating in the least.
"I love it," she said. "Playing at the Ralph [Engelstad Arena] is great. When the band comes out, it really changes the atmosphere there. I didn't mind playing [in Minneapolis]. They had a lot of fans. I really think that the fans kind of fuel the players. It's great when you have a good showing out there because it really helps the game."
Krzyzaniak would enjoy playing on an even bigger stage some day, such as that found in the PyeongChang, South Korea, host of the Winter Olympics in five years.
"2018 is obviously a goal; never turn that down," she said. "Definitely, winning a national championship would be the ultimate goal for my four years here. To be part of the team that wins the first for North Dakota would be great."
Perhaps Hirschy and Krzyzaniak will wind up as opponents in PyeongChang, or as teammates hoisting that NCAA trophy, but in the short term, they have other things to worry about. The WCHA schedule delivers its own one-two punch: No. 2 Wisconsin arrives Friday, five days after North Dakota faced No. 1 Minnesota.
"We're at home and we need points and we're battling with Wisconsin, and the way the PairWise has gone, you know full well that that is a full-value game and we've got to take care of business," Idalski said. "And we toward the end of last year got a little bit of the monkey off our back. That's another team that's dominated us a little bit, so we have to be ready to go."