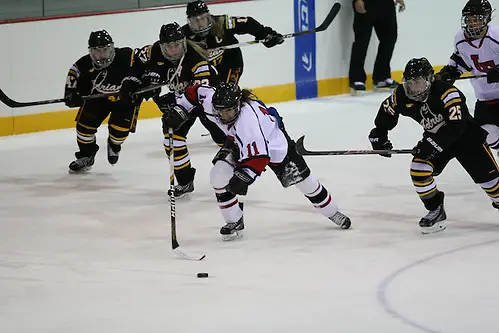 As a blueprint, it might not have been the best scenario, but for Lake Forest coach Carisa Zaban, heading into the season with a roster nearly devoid of seniors has been rendered a nonissue.
Zaban's club has thrived thus far, outside of the conventional wisdom that says leadership qualities are best served by a senior-laden roster.
The Foresters, tapping on the door of the top 10 in the first two weeks of play, are now intent on kicking it in following a pair of quality wins in a home-and-home set with Concordia (Wis.) last weekend. The Foresters take on a crucial early season swing of four away games, the first two with quickly rising, unbeaten St. Scholastica, beginning Friday.
"We're just looking to build on and off of the success we had last year," said Zaban, now in her ninth season with the Foresters. "We are still relatively young, but our junior class boasts some great leadership to add to our few seniors. One of our sophomores, Melissa Paluch, was named a captain this year — the first for the program. So that gives you an idea of the role of the sophomore class, as it's not just their offensive output, but their recognized leadership as well within the team."
Paluch, who concluded the 2012-13 campaign with 14-19-33 numbers, earned her second career hat trick in Saturday's 8-1 thumping of Concordia.
"I believe we are a young team with a lot of talent, and if we continue to stay motivated and focused throughout the season, our ability to mesh and work well as a team will increase greatly," said Paluch in regard to the team's collective mindset of going forward with a youthful roster.
Defenseman Sarah Gilbride and forward Maeve Connelly are the lone skaters who hail from the class of 2014. Senior goalie Stacey Dierking, backing up freshman find Casey Hartfiel, has yet to see action.
"Even though we have a lot of underclassmen, the majority of our team are returning, so I feel very confident and think we will be even better than last year with the help of the freshmen that we brought in this year," said Gilbride, who brings a wealth of experience to the Foresters in their own end. "We have a lot of new talent, and added to the talent we already had I think gives us a lot of depth as a team. As one of the only seniors, I see my role as being a positive and encouraging leader, and I hope to lead by example, both on- and off-the-ice, just as my past seniors have done for me."
Zaban believes the dearth of seniors onboard hasn't altered the teams' disposition one bit.
"I don't think we implemented too many changes this year, which is why I hope we will be successful," said Zaban whose team is averaging 42.7 shots on goal per game. "I think consistency in systems and expectations is good for a younger team, as they already know what's being asked of them, have proven success from it, and hopefully fuels their confidence level. Every year, though, it's about team chemistry more than anything else, and so I hope that the girls come together and want to play for each other and share the same expectations."
Last season, the Foresters won both away games against St. Scholastica while dropping a pair on home ice. For sophomore Michelle Greeneway, at the top of the list in scoring for the Foresters with nine points, the impending series with St. Scholastica and the prolific Waidacher sisters provides a golden opportunity.
"I think we shot ourselves in the foot last year by dropping a few games early in the season to teams we should have beat," Greeneway said. "Come playoff time, those points turned out to be ones we couldn't afford to lose and our ranking was affected by it. We are all now more aware of the importance of every game and go into each weekend, no matter who the opponent, knowing that we need those four points because at the end of the regular season those points will be crucial to a better seed."
Junior forward Morgan Pope, who tops the team with six goals on just 20 shots, was among those who surmised coming in that the team makeup was ideal.
"Right from the start, I had a feeling we were going to have a strong season due to the amount of returners," said Pope who is one score shy of 20 career goals. "Each one of us was ready to get back on the ice and move forward from where we finished last year. Some teams usually worry about the amount of underclassmen, but our underclassman were able to jump right into things, which made it easier to mesh as a team, in terms of team chemistry on- and off-the-ice. Our seniors are a big part of our success; they set the bar for how hard we need to play not only during games, but also practice. I don't think our record so far this really shows the ability we have, so I'm hoping we can continue from our past two wins and keep that going for the rest of the season."