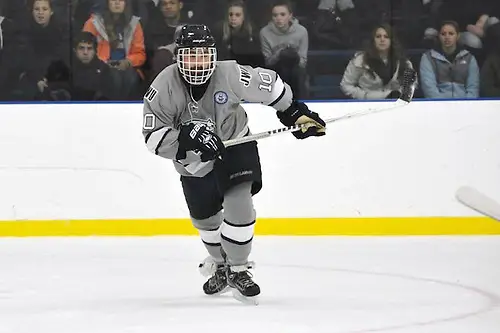 Coming together as a team.
For a young team like Johnson and Wales, it's important for team bonding early on and that's what exactly what the Wildcats did.
"We have some upperclassmen that have done a terrific job helping the [younger] guys out because they need it, getting back on to campus and being back in class," Johnson and Wales coach Eric Noack said. "The veterans on the team have been instrumental to get guys in line and on time in doing the team building and team dinners."
This wasn't orders coming down from Noack to get the team together to go to watch field hockey games this fall, but it has certainly paid off as the Wildcats are off to a 3-1 start after a 10-16-1 campaign last year.
"We are a very young [team], we are very young on the back end and we don't even have a junior defenseman right now," Noack said. "It's all freshmen and sophomores, freshman goalie and a freshman on the first line. It's going to take a little time for the guys to get going and get use to the intensity to college hockey."
Last season, the team had talent, but just didn't put everything together for the entire season.
"Last year was a weird year – we had a ton of talent and it came together at the end," Noack said. "They came together in spurts and we started off a lot slower than we were going to. I think we weren't playing well defensively and everybody, including the forwards, our [defensive] zone wasn't where it needed to be."
The Wildcats have certainly jumped out to a better start defensively this season, allowing nearly two goals less to their opponents and the penalty kill has been much better through the first four games of this season.
Freshman Stefan Brucato has lived up to the hype so far with a goal and five assists through the first four games
"Stefan was a kid that we were on all [last] year," Noack said. "He played with the Idaho [Jr. Steelheads] and he was absolutely the best player in the Western States Hockey League. We knew that all year and saw him out in Las Vegas and the year before. He has done what we thought he would do. No matter what they say, it's an adjustment out of Tier III Junior A to get thrown in against, Wentworth, Suffolk and Curry."
Brucato's linemate, Josh Obregon, has been putting the pucks in the back of the net with four goals and two helpers after coming off a 23-point freshman campaign that included 12 goals.
Noack said Obregon is a proven goal scorer going all the way back to his playing days in the North American Hockey League where he put up 28 goals in two seasons.
Most teams have been splitting time between goalies trying to find a goalie to take the reins, but the Wildcats have found a hot goaltender from the get-go. Joey Ballmer has been solid in his rookie campaign with a 3-1-0 record, a 2.25 GAA and a .919 save percentage.
"He's a kid we worked really hard to get in here, he was a late commit," Noack stated. "He's doing what he needs to do in there. Off the ice, he's something special. He just wants to go to school and play hockey. He doesn't want to do anything else. He doesn't want to be a social guy, he's very easy-going. He doesn't seem to get down when he gets scored on."
Noack also said Ballmer's experience in the United States Hockey League last season facing Division I-caliber players helped in the transition to the Division III game.