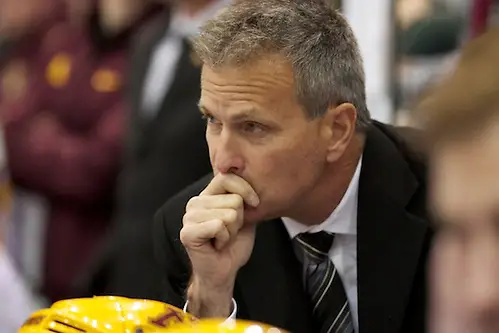 It's the last week of total nonconference action for the Big Ten. League play begins Thanksgiving weekend with two series: Minnesota versus Wisconsin and Ohio State versus Michigan.
Wait a minute. The Gophers playing the Badgers and the Buckeyes and Wolverines facing off? This is not exactly unfamiliar territory. Maybe that's why this weekend doesn't feel like the final tune-up for anything new.
"It doesn't even cross my mind." That's how Minnesota coach Don Lucia put it when I asked him about one more weekend of nonconference play to prepare for the Big Ten season. And that's completely understandable, given that the Gophers faced Minnesota State last week, play Minnesota-Duluth this coming weekend and begin their Big Ten play with that two-game series against Wisconsin Nov. 29-30.
"The reality is that I almost feel like we're playing the WCHA," said Lucia. "That's what's been a little bit strange."
We all knew that this season would be a little bit strange for everyone in the Big Ten — and for several other conferences — but how the weirdness would manifest itself wasn't really apparent until play began.
"I've talked to other people, too," said Lucia — other people meaning other coaches — "and you start getting into some league games and they don't feel like league games because there's no rivalry. They feel like nonconference games."
Wisconsin coach Mike Eaves has a slightly different take on the start of his team's Big Ten play.
"I think because it's Minnesota, it'll feel like the beginning of conference play," he said. "I think, though, that it'll really kick off the Big Ten for us. It's a great way to kick it off, get right into it like that. Big rivals."
Before we get to the start of league games, though, three Big Ten teams play nonconference contests this weekend while three teams are sitting this one out. The Gophers host their former WCHA rival Bulldogs; Michigan State plays a home-and-home series against former CCHA foe Western Michigan; and Michigan hosts Niagara for a single game Friday.
This weekend definitely feels like another chance to prepare for league play for the Spartans, according to coach Tom Anastos.
"I don't know how many teams are in our situation," said Anastos, "but for us we're trying to introduce a lot of new people gaining experience and playing time. We also had some pretty relevant injuries we're hoping to get healed up before we start Big Ten play."
Michigan State has been without its leading returning scorer, junior Matt Berry, and a top defenseman, sophomore John Draeger, since the start of the season. Anastos said that the two began to skate this week.
The Spartans actually have two more weeks before they host Minnesota Dec. 6-7. Following this weekend's series against the Broncos, Michigan State hosts Princeton for two games Thanksgiving weekend. There is much work to do, said Anastos.
"We're using this time trying to identify line combinations and special teams," he said. "What we're seeing [during nonconference play] is the benefit of experience. Learning to execute at game time, and not just at practice time."
The Spartans are returning to play this weekend for the first time since Nov. 8-9, when they dropped two road games to Michigan Tech.
"I don't want to take credit away from Michigan Tech," said Anastos, "but we weren't happy with our play."
Michigan State scored two goals while allowing six in the two contests, and the Spartans allowed 68 shots on goal while registering 38 themselves.
Anastos said that after the Michigan Tech series, it was challenging to address things that needed to be addressed because of the following weekend off.
"We couldn't practice because we had to take the week off by NCAA rules," said Anastos. "We did skate Monday and Tuesday, but then we were off. We regrouped this week. You try to simulate what you need in practice but there's nothing like playing games."
It's time off this weekend for Wisconsin before the road series against Minnesota.
"This is our third [weekend off] already this year," said Eaves. "It's very similar to our schedule last year with two byes early."
Unlike the Spartans, the Badgers could practice this week because this specific bye week is a result of not having to travel to Anchorage this season.
"It becomes a little bit of a challenge for the coaching staff," said Eaves, "to be creative, to keep the players interested. It becomes a matter of how often you want to practice."
Like the Badgers, the Buckeyes will be idle this weekend. And like the Badgers, the Buckeyes have been creative in the way that they've used their practice time, balancing some time off with time on the ice, according to associate head coach Brett Larson.
Larson said that in Columbus, the Big Ten season is looming big — and the Buckeyes are excited for it.
"There is a sense that every weekend, we're doing work that leads to league play," said Larson, "and every weekend in the second half will have more at stake."
Ohio State returns to play against Michigan, hosting the Wolverines Nov. 29 and traveling to Ann Arbor for a Monday night game, Dec. 2.
"Obviously," said Larson, "there are teams [in the first weekend of Big Ten play] playing against each other from the previous leagues they were in, but everyone is sensing how big this is. Everyone."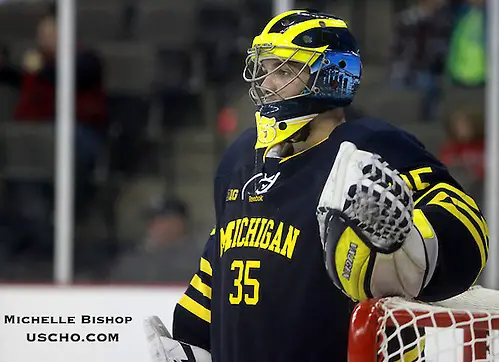 It's all about the goalies
One of the biggest surprises of this season has been the play of Michigan, a team that looked more than a bit disorderly in 2012-13.
This is in no small part to goaltender Zach Nagelvoort, the rookie with the sixth-best GAA in the nation (1.71) and sixth-best save percentage (.940).
Nagelvoort, though, isn't the only Big Ten goaltender making news. Minnesota senior Michael Shibrowski shut out Minnesota State 3-0 Saturday night after sophomore Adam Wilcox earned the 4-1 victory Friday.
"Adam played very well on Friday," said Lucia. "I thought it was one of his better games of the year, [but] we went into the weekend knowing that we wanted to give Shibrowski a chance. That put a little bit more pressure on our team, too."
Shibrowski's play buoyed the entire team, said Lucia. "The guys love him," he said. "He's a great teammate. He's waited and he's worked on his trade. When you're a good person, it shows. The team was really happy for him."
In Oxford, Ohio, the Badgers split with Miami and the Saturday 3-2 win went to junior Joel Rumpel, who had been out for a month with an injury.
"It was great hockey," said Eaves. "Both coaches said that was really fun. Both teams played a high pace, goaltending was good, refereeing was not a factor, the building was full.
"We dropped Joel into the middle of the deep end. One thing that factored into that decision is that he's kind of a laid-back guy. You could tell right from the get-go that he was ready."
Eaves said that the fact that the Badgers had to come from behind to win late in the third period made Rumpel's return that much better.
"I'm really proud of the way we won that game," Eaves said.
The biggest goaltending story in the Big Ten so far this season, though, is what's happening at Ohio State. First, sophomore Collin Olson left the team for a lack of playing time in the first week of November. Then, eight days later on Nov. 9, freshman starter Matt Tomkins was injured less than four minutes into a game against Niagara.
Enter Logan Davis, a freshman from the Columbus suburb of Upper Arlington who earned a 6-1 win against Niagara in his first collegiate appearance and then went on to sweep visiting Canisius last weekend, recording his first career shutout in Friday's 3-0 win.
Larson said that the game against Niagara was "an emotional night" for the Buckeyes coaching staff.
"It was incredible to watch," he said. "Logan went into the net and guys were doing whatever they could to block shots — blocking with their heads if they had to.
"He went in and stopped all the pucks he should have, but I think he helped us to elevate our game."
Davis was suddenly elevated himself, to starter from practice goalie. "He was the third goalie on the team," said Larson. "He knew the situation coming in behind two NHL-drafted goalies. He was excited to be part of the team knowing that he was the third goalie."
Olson's departure and the injury to Tomkins left the Buckeyes with one goalie — so they found two more, a couple of guys named Aaron.
Aaron Gretz is a junior catcher with the Ohio state baseball team, and he'll leave the hockey team for baseball when that season begins. Gretz was a four-year letterwinner at Apple Valley (Minn.) High School. Aaron Kahn played two seasons for the OSU club hockey team and played for the AAA San Jose Jr. Sharks.
Larson said that the Buckeyes are lucky to have found two goalies so quickly. "It's not easy to get people NCAA eligible immediately," he said. "The NCAA gave us an emergency waiver to clear Gretz, so we got that taken care of."
Kahn was another gift. "We put a feeler out and he was known as a good midget goalie and had some credentials and he reached out to him," Larson said. "He was excited to be able to participate with the team."
While Gretz will return to baseball, if Kahn's time with the Buckeyes ends this season, he has nowhere to go. His play with the Division I squad nullifies his ability to play club hockey for the remainder of the season.
"It's a great sacrifice for this young man to be here," said Larson. "They're both great young men and I think this whole process of all this adversity has brought this whole team together."
Tomkins has a lower-body injury and is day to day, said Larson.
Players of the week
This week is all about the goalies. I'm not kidding.
First star — Wisconsin junior Joel Rumpel: Rumpel, sidelined with an ankle injury since mid-October, returned to action on the road against Miami last weekend, earning his second win of the season with a 3-2 decision Saturday, turning away 32 shots in the process. In his two games this season, Rumpel has a 1.50 GAA and .945 save percentage.
Second star — Minnesota senior Michael Shibrowski: In his third career start Saturday night, Shibrowski shut out Minnesota State 3-0, stopping 25 shots in his first collegiate shutout. The 25 saves matched a career high for saves in a single game for Shibrowski.
Third star — Ohio State freshman Logan Davis: Davis was in goal for both contests as the Buckeyes swept visiting Canisius 3-0 and 3-1. He stopped 20 saves during the Friday contest, his first career shutout, and made 22 stops on Saturday.
My ballot
1. Minnesota
2. Notre Dame
3. Miami
4. Michigan
5. St. Cloud State
6. Boston College
7. Providence
8. North Dakota
9. Yale
10. Quinnipiac
11. Wisconsin
12. Massachusetts-Lowell
13. Clarkson
14. Ferris State
15. Lake Superior State
16. Union
17. Ohio State
18. St. Lawrence
19. Northeastern
20. Rensselaer
Shameless self-promotion
Next week, Drew Claussen has the column and I have the Monday blog. I'll post our picks for this weekend's games on Friday morning.
Follow both of us on Twitter: @drewclaussen and @paulacweston.