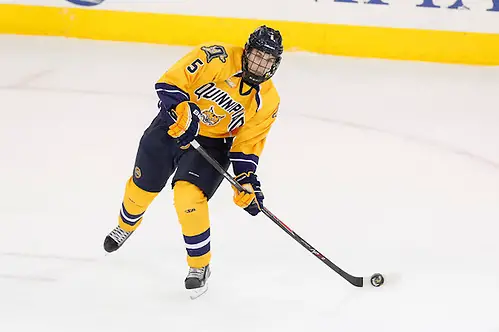 There were times last season when Quinnipiac coach Rand Pecknold was surprised with the Bobcats' success.
He expected Quinnipiac to be good, but not 21-game unbeaten streak and No. 1 team in the country good.
This year's start is even more unexpected for the Bobcats coach. Quinnipiac lost 11 seniors, including four starting defensemen and goalie Eric Hartzell, from last year's national runner-up team. The season begin with a loss to Alaska-Anchorage, but Quinnipiac hasn't lost since, and is on a national-best 12-game unbeaten streak.
"This one is probably even more surprising," Pecknold said of Quinnipiac's current stretch. "I knew we were going to be good, but I thought it would take until January or February to get the freshmen defensemen up to speed."
It's taken less time than that, as the Bobcats allow the fewest goals per game in the country and rank third in defensemen scoring.
Freshmen Connor Clifton, Derek Smith, Devon Toews and Joe Fiala have all seen significant action this year, while sophomore goalie Michael Garteig has started every game and has a .924 save percentage and 1.52 GAA.
While Pecknold said the coaching staff is excited about this year's freshman class, there's no substitute for game experience. "There's a lot more chaos for us," he said.
But while the newcomers, including forward and leading scorer Sam Anas, have contributed, Quinnipiac has gotten plenty of production from veterans Matthew Peca, Jordan Samuels-Thomas, and Connor and Kellen Jones.
After spending the end of last season on the same line, Peca and the Jones brothers are broken up again, with Peca skating with Travis St. Denis and Tommy Schutt. The Joneses are with Anas, and Samuels-Thomas is with Cory Hibbeler and Bryce Van Brabant, giving Quinnipiac three scoring lines.
"We're good this year, but we're not as good as last year," Pecknold said.
Just like last year, the Bobcats have players outside their superstars contributing. Defenseman Danny Federico is among the national leaders in blocked shots with 24, while Alex Barron had five assists last weekend from the blue line.
Hibbeler has given Bobcats valuable and flexible minutes, rotating between centering QU's second line and playing defense on its top penalty kill unit.
"There's a few games where the freshmen haven't been very good and he's gone back on the blue line and eaten nine or 10 shifts," Pecknold said of Hibbeler, the Bobcats' senior captain who played defense in juniors and spends one day a week there during practice. He'll keep his spot on the penalty kill until the Bobcats' freshmen get some more experience.
"It's a valuable resource to have a kid that can move back in games, especially if you have one take a five-and-10 and get tossed and another kid gets hurt," Pecknold said. "He's a great kid; I could probably tell him to play goalie and he'd do it."
Win No. 12 of last year's streak came on Dec. 30 against Nebraska-Omaha. By that point, Quinnipiac had gotten some headlines across the country. This year's streak has been a bit quieter.
"Certainly, at the 12-game point last year we were getting a lot more attention," Pecknold said.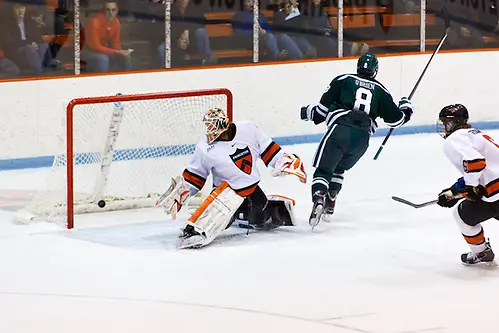 Opening month a struggle for Dartmouth
It was just one play Saturday night at Quinnipiac, but it was a microcosm of Dartmouth's season to date.
Hibbeler brought the puck up the right boards and threw it toward the slot from behind the goal line. Dartmouth defender Rick Pinkston was in position to break up the play, but the puck went off his left skate and straight to a crashing Van Brabant, who sniped it past Cab Morris to put Quinnipiac up 1-0.
The Big Green lost the game 3-1 and fell to 0-8, keeping it with Alabama-Huntsville as one of two teams nationally without a win. It's a stark contrast from last year, when Dartmouth was the last unbeaten team in Division I and was in position for a first-round bye in the ECAC Hockey playoffs late in the season.
"That's kind of how things have gone," Big Green coach Bob Gaudet said. "I love the team; [it's] a really, really good group of guys. I think we're making strides."
Dartmouth looked in position to get its first win Friday, taking an early 3-0 lead at Princeton. But the Tigers scored four straight goals to take the lead. Brett Patterson tied it for the Big Green, but the Tigers won it with 11 seconds left in overtime.
"It was a tough one," Gaudet said of the loss to Princeton. "One of the tougher ones I've been around in 25 years of coaching."
Injuries haven't helped, as senior forward Eric Robinson was lost for the year and freshman forward Troy Crema missed last weekend after getting banged up two weeks ago. Defenseman Nick Lovejoy played right wing in both games last weekend.
Gaudet said Robinson will be back for a fifth year next season, while Crema was held out for precautionary reasons and should be fine going forward.
Despite the injuries, Dartmouth's power play is ranked first in the country. Defense has been another story — the Big Green give up 5.12 goals per game, second to last in Division I.
Still, Gaudet has seen improvements in the back end from the start of the season.
"We were filling some holes and trying to score," Gaudet said of his defense. "And sometimes when that happens, it's that extra pass or that extra play and it's not the simplicity of the game. As we've moved along, this weekend especially, I think we're a much more solid team. It might not look like it to the naked eye, but I know we know what we're doing."
Around the league
• Colgate and Union have bounced back nicely from slow starts. The Raiders won at St. Lawrence for the first time since 2008, while the Dutchmen swept rival Rensselaer in a home-and-home series. Union defenseman and Philadelphia draft pick Shayne Gostisbehere is arguably one of the top players in the league, but RPI coach Seth Appert thinks he's the best in the country, period. "We've played a pretty good schedule, we've played [Boston College's] Johnny Gaudreau and it's no sleight to him." Gostisbehere had two goals in Union's 4-1 win Saturday, a game in which the Dutchmen and Engineers finished with a combined 36 penalties for 177 minutes.
• Four league teams (Union, Rensselaer, St. Lawrence and Yale) rank among the top 10 nationally in goal scoring, while St. Lawrence's Greg Carey (second), Brown's Mark Naclerio (third) and Nick Lappin (fifth), and Cornell's John McCarron (eighth) are among the leaders in points per game. Union also leads the nation in defenseman points with 38, while Quinnipiac (32) and St. Lawrence (30) are in the top five as well.
• Several league teams rank among the leaders in timely scoring as well, with Brown's four goals in the opening minute of a period second only to Lake Superior State. Union is tied for third with American International with three goals in the first minute of a period. Clarkson is tied for the most goals in the final minute of a period with six, while Quinnipiac and St. Lawrence are in a tie for second with five.
• Kevin Beattie, the associate athletic director for communications and compliance at Rensselaer, is holding a fundraiser throughout "Movember" to honor a friend who suddenly passed away. You can find more information here.
• Princeton wore its throwback jerseys Saturday night, a 5-3 loss to Harvard.
@puhockey throwback jersey night. Room is ready. #ecachockey pic.twitter.com/9C3NrcCBr5

— Greg Gardner (@coachgards) November 16, 2013
Weekly awards
As selected by the league:
Player of the week — Shayne Gostisbehere, Union: The junior defenseman scored twice in a span of 70 seconds to lead Union to a 4-1 win over Rensselaer Saturday. Both goals came off slap shots, one from inside the left faceoff circle, the other from atop the right circle. He recorded two assists in Friday's win and finished with 14 shots on goal for the weekend.
Rookie of the week — Emilio Audi, Colgate: Audi had five points on two goals and three assists in a 2-0 weekend for the Raiders.
Goalie of the week — Michael Garteig, Quinnipiac: The sophomore stopped 50 of 53 shots as the Bobcats extended their nation-best unbeaten streak to 12 games.