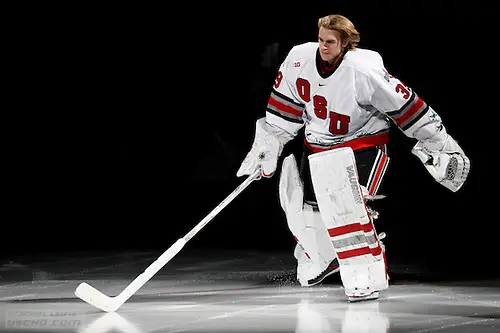 Goaltender Collin Olson, a sixth-round NHL draft pick, has left Ohio State, citing a lack of playing time.
Olson, a sophomore, is expected to return to junior hockey.
"Collin feels he hasn't played the number of games he's needed over the last few years," Buckeyes coach Steve Rohlik said in a statement released by the team Sunday. "He has decided leaving our program to find somewhere he will play more games will be best for his future. He is a good kid and a good student and we wish him nothing but the best."
Olson, who was picked by Carolina in the 2012 NHL Entry Draft before he started at Ohio State, played in nine games as a freshman and two this season.
He allowed six goals on 38 shots in a season-opening loss to Miami on Oct. 11, then was pulled from an Oct. 25 game against Robert Morris after allowing two goals on the Colonials' first three shots.
For his collegiate career, Olson has a 2-4-1 record, 3.70 GAA and .885 save percentage.
The Buckeyes have two freshman goaltenders left on their roster: Matt Tomkins, who has started the other six games this season; and Logan Davis.