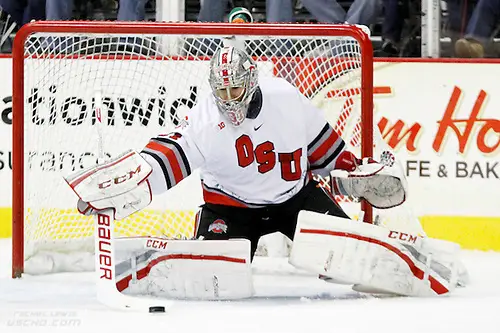 Ohio State lost a second goalie in the span of eight days Saturday when Matt Tomkins left a game against Niagara with an apparent right leg injury.
Tomkins was replaced by Logan Davis, who made his first collegiate appearance and backstopped a 6-1 Buckeyes victory.
A week earlier, sophomore Collin Olson left the program, citing a lack of playing time.
That left Tomkins and Davis — both freshmen — as the only goalies on Ohio State's roster, and the injury to Tomkins further decimated the depth at the position.
Sources said Ohio State coaches feared that Tomkins suffered a broken tibia four minutes into Saturday's game, an injury that could end his season.
After Saturday's game, Buckeyes coach Steve Rohlik did not give the media a diagnosis or a length of time Tomkins would miss.
"Numbers don't lie, we have one right now," he said. "Depending on how many days with [Tomkins], but sometimes those are the cards you are dealt and we'll deal with it. We have a great group and we will work extremely hard."
An Ohio State spokesperson said Sunday that Tomkins is still being evaluated.
If it's needed, the team could add a player to its roster as long as he is already enrolled at the school. Ohio State has an ACHA Division II club team that lists three goaltenders.
Tomkins, a seventh-round pick by Chicago in the 2012 NHL Entry Draft, started eight of Ohio State's first 10 games.
UPDATE: Rohlik told Jeff Svoboda of Buckeye Sports Bulletin that Tomkins' injury would not be season-ending.
#OhioState hockey coach Steve Rohlik just told me G Matt Tomkins is "day to day" with lower-body injury. Definitely not season-ending

— Jeff Svoboda (@JeffSvoboda) November 11, 2013
OSU has won 6 of 7, hosts Canisius this weekend before an open week. Seems unlikely Tomkins will play this weekend but will return after bye

— Jeff Svoboda (@JeffSvoboda) November 11, 2013
Rohlik also confirmed Ohio State could bring in another goaltender for the second half of the season to join Tomkins, Logan Davis

— Jeff Svoboda (@JeffSvoboda) November 11, 2013
A source said examinations showed the injury was not a broken tibia as coaches initially feared.