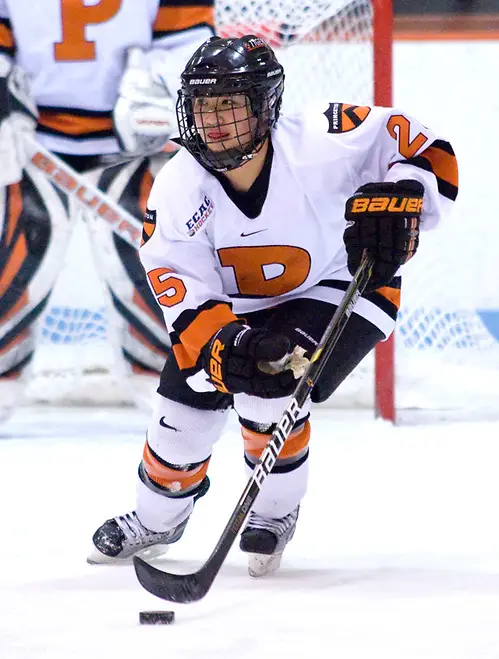 Candace: Well, it's over. After 62 consecutive wins dating back to Feb. 17, 2012, when they lost in overtime to North Dakota, the Minnesota Golden Gophers finally lost again, as North Dakota came out firing and scored three in the first period, then held on to defeat Minnesota, 3-2. I watched a YouTube video of the final stick salute, and the entire Gophers team came in to center ice and huddled together after saluting their cheering fans. Coach Brad Frost said afterward, "We're not sad because it's over. We're happy because we were a part of it. I'll tip my hat to anyone who can go to 62 or 63 games without a loss."
As you pointed out in your game recap, during that streak, Minnesota defeated North Dakota 10 times, including heartbreakers for the losers, such as the triple OT game in the NCAA quarterfinals last year, or last year's WCHA Tournament final.
I guess it begs the question though, of what happens going forward? Will the loss have other teams (especially Wisconsin) believing that they can beat Minnesota. Will the path to a third consecutive national title suddenly get even harder? I definitely felt, especially this year, that there were times Minnesota's aura of invincibility carried it through some tough games where Minnesota was in trouble. With that aura suddenly gone, perhaps other teams will be able to prevent that from happening?
Arlan: I think at this point it becomes more of a typical season in the WCHA. There's always some team that is the defending national champion, and there's always somebody that's leading the league. In some years, those are one and the same. Either way, opponents get up to play that team. Then there are the rivalries. The traditional powers always get up to go head-to-head. The incentive is always there. Sure, maybe the intensity has been cranked up a little extra for opponents of the Gophers as of late. North Dakota came out yesterday like it was the NCAA tournament.
We always hear about giving 100 percent all the time. I'm sorry, but in a sport like hockey, that just isn't going to happen. You see a competitive regular season game and think that the pace is high until you see those same two teams meet in the conference tournament, and it is up a couple of notches. Then the NCAA tournament arrives, and somehow the speed increases even more. Maybe it is adrenaline kicking in or players mentally peaking; I'm not enough of a human physiology expert to say. When Wisconsin came to Minneapolis in October, the Badgers were in February form. And yesterday, North Dakota played the first period like it was March. But it isn't March, so it is tough to stay at the same level, particularly once the Gophers come out of the intermission with renewed purpose. Frost talked about how bad his team was in the first period. I thought they had good jump and were skating around like they did in Saturday's win. North Dakota was just amped. And once they scored the first goal, that energy increased, and that's when the Gophers got back on their heels.
Now the question is how do they react going forward? Minnesota catches a break in that it gets two unfamiliar opponents in Yale and Princeton. The first is on the road, so they can get back to just playing hockey without any other distractions and focus on improving.
North Dakota goes from the frying pan to the fire, so to speak. Sure, North Dakota has struggled against the Gophers, losing the first 28 meetings, winning five of the next seven, and then losing 10 straight before yesterday's win. But those six wins all-time against Minnesota are two more than it has over the Badgers. North Dakota has to find a way to carry that energy from the Minnesota series into a crucial home series with Wisconsin. If the energy dips, North Dakota will need better goaltending than it had over the weekend to handle the Badgers. Another two weeks out is a trip to Clarkson for a key nonconference test of the season.
In my opinion, that's the flaw with the ECAC schedule. Cornell and Harvard play to a draw, then they go off and face Dartmouth and Colgate, not meeting each other again until January. Even though playing each other fewer times serves the ECAC well in the PairWise Rankings, would you like to see an immediate rematch of Cornell and Harvard, as is done in the CHA and WCHA?
Candace: Hell yes! It's not just the ECAC either; Hockey East does some home-and-homes, but often does a lot of one-offs as well. I think though, that it might be a travel factor. In the CHA and WCHA, teams have to travel long distances to play each other, so playing a pair of games on the weekend makes sense. Most teams in Hockey East and in the ECAC have shorter bus rides; but yes, I don't quite understand the travel partner setup. Harvard has already driven all the way to Ithaca; why not play a pair? I think it's a treat for fans too, and helps build rivalries.
Regarding Harvard and Cornell, what is your take on what their tie means in the bigger picture? Who do you feel has the inside edge to take the ECAC crown? Or will it be neither of those two? I could see Quinnipiac making a run, especially after the Bobcats beat Boston College this past weekend. Their confidence must be sky-high. And you can't overlook Clarkson either. Frankly, the ECAC looks to be the conference most up in the air. Yes, the WCHA will be competitive, but it will come down to one of three teams. Syracuse still can't break Mercyhurst, so the CHA probably comes down to two teams. Hockey East, even if BC and Boston University have issues, none of the other HE teams are good enough to take it from those two.
Arlan: Cornell has the edge. The Big Red have their road games at Harvard, Quinnipiac, and Princeton out of the way and have a lead in the standings. They have the three most prolific scorers in the country so far playing on one line. That offense will blow away most teams in the league. Meanwhile, Harvard didn't even outshoot Colgate on home ice in its 2-0 win. I get the feeling that Harvard is going to be forced to play 60 minutes in more games and grind out wins, while Cornell will have a lot of games wrapped up by the second intermission.
Clarkson has the sixth-best winning percentage in the league. I know the Golden Knights have only played six league games and have games in hand so they aren't as far back as it appears, but they just had their first weekend sweep since the first half of October. It is hard to just pencil in wins for a team that was playing at a .500 clip until it got well against Providence. The Friars are in such a funk that I don't know if we can take it as a sign that Clarkson has turned a corner, because it could easily slip back when it travels to Princeton and Quinnipiac.
St. Lawrence and Princeton may be higher than expected, but both are already 0-2 against the Cornell and Harvard tandem. It will be hard to win the league without beating those teams. The Bobcats are the only other squad that I'd give a chance at taking the ECAC. To do so, I would expect that their home contests coming up with St. Lawrence and Clarkson are must-win games.
I'll say that Cornell has a 50 percent chance of winning the league, Harvard is 35 percent, Quinnipiac is 10 percent, Clarkson is five percent, and the field gets another five percent. I know that is higher than 100 percent, but that's because of ties and shared titles. What do you think of those numbers, which admittedly lack scientific backing?
Candace: I'd say it's pretty close to what I'd expect. There is one potential X factor though. Of those three teams that you give the most chance of winning to, Cornell has the toughest out-of-conference schedule by far until it starts in exclusively with conference action again in mid-January. What if the Big Red get beat up a bit, or tired, in facing Boston College, Syracuse, and Mercyhurst ahead of its home series with Dartmouth/Harvard Jan. 17-18? That could be an opening for the Crimson. Of course, Harvard has displayed more vulnerability since its strong performance on opening weekend, struggling against Colgate, losing to Rensselaer, and squeaking by St. Lawrence, teams that, aside from Colgate, which Cornell hasn't played yet, the Big Red defeated handily. Quinnipiac is another team that, while it usually finds ways to win, is also more vulnerable to the upset than a squad like Cornell, which has such offensive firepower.
I mentioned the series Cornell has at Boston College at the end of November. Those two games are now looming huge for the Eagles after this past weekend, when they lost to Quinnipiac and tied Princeton while scoring a measly three goals in two games. BC currently sits at 11 in the PairWise. Yes it's early, but if the Eagles don't right the ship soon, they'll find that winning the Hockey East Tournament may be their only avenue to a fourth straight NCAA tournament appearance.
Arlan: No, the Eagles shouldn't have to think in those terms yet. They still only have three losses, three and a half if you factor in the tie. No matter how weak Hockey East may wind up, and right now the league has lost seven more games than it has won, 10 losses or less should have them in contention. One way to look at it is which teams above BC would it have a good shot at displacing? Princeton and Robert Morris are definitely in range. Clarkson is pretty much in the same boat as the Eagles. There are so many head-to-head games to be played with Boston University that the current ranking of those two doesn't mean much, given they could meet five times before NCAA selections.
More of a concern is that BC lacks any wins that are that impressive. Sweeping St. Lawrence is likely its best result. Beyond that, it isn't playing like a team that would be much of a factor if it should reach the tournament. Sitting 12th in scoring defense doesn't really matter; it is allowing an average of 2.23 goals per game that is the problem. That number is particularly shaky when considering that the Eagles have yet to face a top offense. Princeton and Quinnipiac were the best BC has seen, and neither of those games went particularly well, although it was the offense that stalled.
I'd say that the Eagles need three wins in the five games they have left in 2013. A 12-5-1 record heading into the new year should suffice given BU is the only big challenge on that portion of the schedule. However, if a team like New Hampshire gets healthy, that could make the road more challenging.
How about BU? The Terriers are in good shape, but should they lose to Harvard on Friday, their record starts to look a lot like that of the Eagles.
Candace: The Terriers continue to win, despite the fact that I expect them not to almost every weekend, but in looking at their record, they haven't played anyone you'd really expect them to lose to, and when they have, they've lost. Case in point, they got blown out by Wisconsin this past Saturday in a game in Vail, Colo. The win against New Hampshire looks good only because the Eagles lost to the Wildcats. BU split with Robert Morris, and given the volatility in the CHA, perhaps BC's loss to Syracuse doesn't look so bad in retrospect. BU has a couple of interesting tests coming up. In addition to Harvard, they play at Northeastern, where they barely won in OT at the end of October, then close the first half with a two-game set at home against Minnesota-Duluth. I will hedge my bets on the Terriers until I see how they do against a top defensive team like Harvard that they should be competitive with, where they weren't competitive against the Badgers. Interestingly enough, Northeastern gave Wisconsin all it could handle in the Friday game, but perhaps we can chalk that up to travel and adjusting to the 8,000-foot elevation, although those affect Northeastern as well, so who knows. Regardless, I think Hockey East comes down to how the Terriers and Eagles do against each other in the second half. It will be interesting to see where the PairWise is at in early January.
I mentioned Syracuse. While the Orange still haven't beaten Mercyhurst, perhaps they can take heart from the 3-3 tie in the Friday game. Syracuse had the lead entering the third, and held it until Mercyhurst tied it with four minutes remaining. In the second game, the two were tied at the end of two, and tied at three until three minutes remained, when Kaleigh Chippy scored the game-winner. Syracuse did have a lead at the halfway point in the game, but couldn't hold it. Do you think the Orange can use this weekend as a springboard to finally get the Mercyhurst monkey off its back, or will the inability to close further demoralize them the next time they play the Lakers.
Arlan: The Orange are probably best served by just forgetting about the Lakers for the time being; they won't meet again until the end of January. Syracuse has Robert Morris, the current points leader in the CHA, coming into town this week, so that will have to be its focus. The Orange broke through against the Colonials last year, winning three times, after failing to take a single game two seasons ago. If they can play well versus the other teams in the league and build confidence, that may be the best route to build to an upset of Mercyhurst.
Meanwhile, the Lakers have problems of their own. Mercyhurst (7-4-2, 2-1-1 CHA) heads to Rochester to confront RIT (7-5-1, 3-0-1 CHA), and while that looks like a favorable matchup, the two teams have roughly equivalent records. Plus, Mercyhurst seems to be vulnerable against anyone, having lost to Minnesota State, Ohio State, and Providence, three teams that have really struggled of late.
The Lakers looked to have their defensive game figured our for a stretch, but now they've allowed three goals in three consecutive games. That poses a problem, because they've scored two goals or less in over half of their games. Their next four games will be huge. If they can somehow manage sweeps of the Tigers and St. Lawrence with a quick turnaround in the middle of Thanksgiving week, that sets up well with only Penn State and Lindenwood left in 2013. Steal a game from Cornell on home ice out of the break, get that record to 16-5-2, and Mercyhurst is back to looking like a tournament team. That sounds easy, but will be more difficult in practice, largely because the offensive production is down by over a goal per game from last year. It declined in each of the previous two campaigns as well. It could rebound quickly once the Lakers get back into the softer side of the CHA slate.
How do we view RIT being two games over .500 in what looked to be a rebuilding year? Interestingly, two games above even was the Tigers' high last season as well. Is this year's record a product of a weak schedule, or an indication that RIT will be feisty throughout?
Candace: We view RIT as a tricky team that is capable of throwing a scare into almost anyone. Really, aside from the Tigers' first game against Clarkson, where they were blown out 12-1, they've played some good teams, beating New Hampshire, losing by one to Northeastern, splitting with Vermont. The OT losses to Colgate and Brown I think can almost be viewed as the growing pains of a young team.
This weekend's series against Mercyhurst is really the Tigers' stoutest test. RIT has seemed to improve its defense, but we won't really know how well until this weekend, because it's not like Brown or Colgate are teams that score a lot to begin with. Given that the rest of the CHA is Penn State and Lindenwood, teams that really are still trying to get established, I feel confident predicting that the Tigers will finish fourth. Penn State has shown signs of life, playing Syracuse tight in two losses and beating Union and Vermont, plus the one-goal losses to RIT this past weekend, but I don't think the Nittany Lions really have the players yet to move up the CHA ladder. Ditto for Lindenwood. Will RIT challenge Syracuse or Mercyhurst or Robert Morris? I won't go that far yet, but it will be interesting to see what happens.
Speaking of Tigers, what do you make of Princeton so far? Can those Tigers move up in the ECAC? They've got a good challenge before Thanksgiving, hosting Clarkson and St. Lawrence this weekend and then Quinnipiac on Tuesday before going out to Minneapolis. They looked good this weekend in beating New Hampshire and tying Boston College, and of course there was that one-goal loss to Cornell. Could you see Princeton challenging for top four in the ECAC?
Arlan: I still like Cornell, Harvard, Quinnipiac, and Clarkson as the top four in the league, but Princeton and St. Lawrence are the teams most likely to take advantage should anyone falter. Outside of that four-goal loss to Harvard, there is little to complain about in Princeton's results, except the period that followed it, the horrific first 20 minutes against Cornell. Five of the team's top six scorers are seniors: Rose Alleva, Denna Laing, Sally Butler, Gabie Figueroa, and Oliva Mucha. The future should be now. Those five are also tops in career points on the roster. In fact, outside of those five seniors, only two players, juniors Ali Pankowski and Brianna Leahy, have more than eight points as Tigers, so the window of opportunity is closing quickly. Princeton made its only NCAA appearance eight years ago. One never knows; history could repeat in another Olympic year. We'll have an idea as to how realistic that is after the five-game stretch you mentioned. I haven't seen Princeton since that NCAA appearance in 2006, so I'm looking forward to their Minnesota trip Thanksgiving weekend.
If RIT is in the next tier in the CHA, and Princeton and St. Lawrence occupy that spot in the ECAC, which teams are the best of the rest in the other leagues? I think we both agree that Hockey East comes down to BU and BC in some order. What team will emerge as the closest pursuers behind the Terriers and Eagles? The WCHA isn't clear-cut either. For a time, it looked like Ohio State would be next after the three that are high in the polls, but the Buckeyes have dropped off the pace. Will it be Minnesota-Duluth, or a dark horse like Bemidji State or St. Cloud State?
Candace: I'm really not sure what to make of the other teams in Hockey East. For now, Maine, with all the problems it has had, really sits at the bottom. Providence sits in last, but I feel that the Friars have the potential to make a run if they can get it together. They've been in a tailspin of late, but they did split with Mercyhurst, Syracuse, and Northeastern. I figure the second tier in Hockey East comes down to Vermont, New Hampshire, and Northeastern, with the latter having the best chance of finishing third. Regarding New Hampshire, every time I think I have them figured out, they punt, so I won't even touch that one. I guess you can't really count out Connecticut either, but the Huskies have struggled against most good teams.
Hockey East and the WCHA do share something in common: I think after the top favorites, you could throw darts and predict the order of finish better than you could by looking at records and the teams' play. Minnesota-Duluth currently sits in fourth in the WCHA, but the Bulldogs have been a puzzle, losing and tying St. Cloud at home and then going on the road and sweeping Ohio State. St. Cloud has had some decent results, but seems too inconsistent to push for that spot. For Minnesota State, the high point was the first game, in which it beat Mercyhurst. Since then, they've been dreadful, only managing wins against Lindenwood. Ohio State has potential, but the Buckeyes look to have suffered a severe letdown since beating North Dakota, getting swept by Wisconsin, losing and tying Bemidji, and getting swept by Minnesota-Duluth. Bemidji looks to have rebounded of late, but we'll really get a handle on the Beavers after this weekend's series against Minnesota-Duluth.