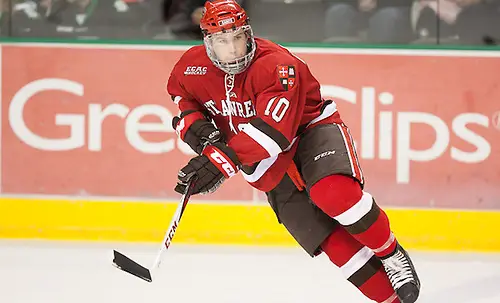 St. Lawrence's Greg Carey and Quinnipiac's Sam Anas were honored as the national player and rookie of the month, respectively, for November by the Hockey Commissioners Association.
Carey led the nation in scoring last month with 21 points in 10 games, posting nine goals and 12 assists.
It's the second time the senior forward from Hamilton, Ontario, has been named the national player of the month. He also earned the nod in February 2013.
Anas led all rookies with 16 points in November, posting six goals and 10 assists.
The Potomac, Md., native helped Quinnipiac to a 7-1-2 record last month.
The winners were chosen from nominees by each of the six Division I leagues. The other player of the month nominees were forwards Alex Grieve of Bentley, Andrew Copp of Michigan, Johnny Gaudreau of Boston College and Shane Berschbach of Western Michigan; and goaltender CJ Motte of Ferris State.
The other rookie nominees were forwards Todd Skirving of Rochester Institute of Technology, Hudson Fasching of Minnesota, Ryan Fitzgerald of Boston College, Jake Guentzel of Nebraska-Omaha and Kyle Schempp of Ferris State.