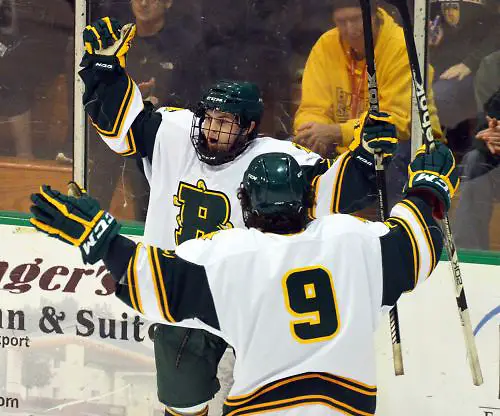 Let's get 'er goin,' gang!
What does our panel of Division III men's experts see happening this weekend?
ECAC East – Tim Costello
Last week's picks finished at 3-1-1 (.700), which brings this season total to a very good 13-4-3 (.725).
There is just one more weekend for most teams before the semester break and conference games and points still mean a lot in December.
Here are this week's picks:
Friday, Dec. 6
Castleton @ St. Michael's
The Spartans certainly shouldn't get caught looking ahead to Saturday's matchup with their other Vermont rival, Norwich. Still looking for consistency and this trip to Winooski may be just what Steve Moffatt's team needs to get some positive momentum going for the weekend. Castleton 4-2.
St. Anselm @ New England College
This travel partner game always seems to close out the first half for these teams in conference play. While the Pilgrims are off to the better start, anything can happen between these two teams and usually does. Home team won't let two points get away in this one. New England College 4-3.
Skidmore @ Norwich
The first loss of the season to Wisconsin-Superior, and by shutout no less, is enough motivation to get the offense cranked up against Skidmore. This game could easily go over to the home team, but Matic Martinsek has quietly been very good for Norwich and he is the difference-maker in this one. Norwich 4-3.
Saturday, Dec. 7
Massachusetts-Boston @ Southern Maine
The Beacons, under coach Peter Belisle, have never won at Southern Maine during his tenure at UMB. Last weekend's PAL Cup championship showed some positive signs for the Beacons and back-to-back weekend sweeps would carry some strong positive reinforcement about effort and results to close out the first half. Massachusetts-Boston 5-3.
Babson @ University of New England
The Beavers have been on a roll other than last weekend's hiccup at Williams. No worries as Babson quickly refocuses in conference play and continues to lead the way at the top of the standings. Just too much of everything for the game Nor'easters. Babson 4-1.
Points in December means as much as any other time so no reason to take any opponent lightly – drop the puck!
ECAC Northeast – Nathan Fournier
Friday, Dec. 6
Salve Regina at Neumann
Salve starts the meat of its nonconference schedule at Neumann. This should be a wide-open game with both teams knowing how to put the puck into the net. Salve wants to make some noise out of conference and a win over Neumann would help their cause. I think the Seahawks pick themselves up from two losses this past weekend with a 7-4 win.
Canton at Western New England
The Golden Bears will be well-rested having nine days off after their win over Manahattanville on Nov. 26. They get a Kangaroos' team that has been struggling. I don't see Western New England having much issue and I see them winning 6-1.
Saturday, Dec. 7
Canton at Becker
Becker is coming off back-to-back losses over the weekend and they look to enter the semester break on a high note. This game could serve as a momentum booster heading into the second half. Their offense has been struggling along. The defense also has been struggling with a 6-0 loss to Assumption. I have them winning, though, 6-3.
Suffolk at Franklin Piece
The Rams are coming off a tough weekend in Maine losing to Colby and Bowdoin. They will need to crack down on taking undisciplined penalties that haunted them in their game against Colby on Sunday. They go on the road once again to face a struggling Franklin Pierce squad. It will be a tough, hard-fought game and I think Suffolk comes out on top 4-2. A win on the road is needed for the Rams.
Stonehill at Johnson and Wales
The Wildcats are coming off a split from last weekend and have a Stonehill team that knows how to win on the road coming in. Stonehill has been putting puck into the net a lot lately, but Johnson and Wales has been stingy on defense. It will be a tight game with Johnson and Wales winning 4-3.
Salve Regina at Utica
The Seahawks will be going into hostile territory on the second night of a back-to-back. It will be good experience for the Seahawks as they continue to build their program. They will need their best effort on the season to steal a win. I think the Pioneers will be to tough to handle for Salve Regina as Utica rolls 7-2.
Southern New Hampshire at Western New England
This should be a very good matchup. The Penmen have played very well on the road this season, but are coming off two losses last weekend and will be hungry. Despite their recent struggles, they still have a strong power play and a good penalty kill. I think Southern New Hampshire wins a 5-4 goalfest.
Tuesday, Dec. 10
Wentworth at Stonehill
The Leopards have been struggling to find the back of the net and Stonehill isn't a team you want to face when you get goals. With two games remaining before they head to break, two points are almost a must. I think they have a potential to steal a game and I think they will in a 3-2 victory.
Wednesday, Dec. 11
Franklin Pierce at Nichols
The Bison wrap up the first half with Franklin Pierce. On paper, Nichols has the advantage, but it's certainly a trap game. Alex Larson has also played in every game but one through the first nine contests. You could see him getting the night off and have Patrick Salkind rebound from his only start of the season against Suffolk. I think Franklin Pierce gives Nichols a scare, but the Bison hold on for a 4-2 win.
ECAC West – Dan Hickling
Saturday, Dec. 7
Salve Regina (6-3-0) @ No. 11 Utica (7-2-1) – Utica 4, Salve 3
Still smarting from last week's ambush by Morrisville, the Pioneers will take it out on another nonconference foe.
Sunday, Dec. 8
Hobart (2-2-4) @ New England College (6-2-0) – Hobart 4, NEC 2
Are, as Bill Parcells used to say, you are what your record says you are? The Statesmen have a chance to prove they are better than just a two-win team.
MASCAC – Nathan Fournier
Saturday, Dec. 7
Fitchburg State at Massachusetts-Dartmouth
Both teams are coming off two losses over the Thanksgiving weekend. The Corsairs have been playing teams tough so far, but aren't getting the desired results. Fitchburg State has been floating around .500 in conference, but hasn't found a way to win on the road. I believe UMass-Dartmouth will find a way to hold onto a lead in a 3-2 victory.
Westfield State at Plymouth State
The Owls of Westfield State have played better in conference than out of conference. They also have been putting pucks in the net a lot more in MASCAC play, scoring a goal more per game. Plymouth State has been playing better defensively in conference. It will be a battle, but Plymouth State will take care of business on the road.
Worcester State at Salem State
Both teams have struggled on the man-advantage so far this season, but both have good penalty kills. Worcester State is still looking for that first MASCAC win of the season, while Salem State has played well at home. I believe the Vikings bring more to the table all-around and will skate away with a 5-2 victory.
Wednesday, Dec. 11
Framingham State at Assumption
Framingham State ends the first half of the year in a nonconference game. They have played some decent hockey so far this season and look to carry the momentum into the break. The Rams will need to look to work on their special teams. Assumption, on the other hand, has struggled this year, but is a team that shouldn't be taken lightly. Framingham wins this one in a 5-3 game.
Westfield State at Stonehill
This has the potential to be an offensive showdown. With it being an out-of-conference game, Westfield will want to get a win on the board outside of MASCAC. It will be good heading into the break for the Owls. This will be Stonehill's third MASCAC opponent of the season. Westfield pulls it out in a 6-5 contest.
MIAC/WIAC – Brian Lester
I'm not sure if I'm a genius or just lucky.
I guess we could say it's a little bit of both because heading into this week's picks, I am 25-2 on the year. If I keep that run of success up, I'm planning a trip to Vegas to cash in on my luck, although by mentioning how well I've started, I probably just cursed myself for the rest of the season.
Conference play is in full swing for both MIAC teams and WIAC teams. So without further delay, here are my picks for the weekend games.
WIAC
Friday, Dec. 6
Wisconsin-Stevens Point at Wisconsin-Eau Claire
It's the biggest matchup of the weekend as the two nationally-ranked opponents square off in an early-season showdown. Stevens Point is one of the hottest teams in the nation at the moment, winning eight consecutive games to start the year. The Blugolds, the defending national champions, are 5-2, losing twice to St. Norbert. The Pointers have been explosive, ringing up 50 goals, and opponents have scored only 11. Eau Claire does have the luxury of playing at home, but I'm not sure if it will be able to cool off Stevens Point. This game should go down to the wire. Stevens Point 2-1.
Wisconsin-Superior at Wisconsin-River Falls
Superior is coming off a huge win over nationally-ranked Norwich in New York and momentum seems to be on its side. The Yellow Jackets have been balanced offensively and it has two goalies more than capable of getting the job done in Drew Strandberg and Dayn Belfour. If the Yellow Jackets can play well on defense, they will be in good shape against the Falcons. River Falls is coming off two consecutive wins and this is an opportunity to for the Falcons to make an early statement. River Falls needs Scott Lewan to be strong in goal. He has made 99 saves on the year. While this one could go either way, the edge goes to Superior, 4-2.
Saturday, Dec. 7
Wisconsin-Stout at Wisconsin-Stevens Point
Stout is going to have a hard time winning this game, especially on the road. It has dropped five consecutive games and is 0-3 on the road this season. The Blue Devils, who have scored 21 goals on the year, don't have the offensive firepower to hang with the Pointers. Stevens Point 5-1.
Wisconsin-Eau Claire at Wisconsin-Superior
This should be a bounce-back game for the Blugolds. I don't expect a win to come easy, though, and both teams will challenge each other from start to finish. But I can't see Eau Claire losing two in the same weekend. The edge goes to the defending champs. Eau Claire, 3-2.
NCHA – Katie Carito
So far, picking only conference games had bode well for me as right now, I'm 9-2-0. With a weekend full of conference series ahead, I'm sure that will change. This weekend should serve as a good shake-up in the standings.
St. Norbert versus Lawrence
St. Norbert (9-1-0, 6-0-0) suffered their first loss of the season over the weekend in a nonconference game again St. Scholastica. On Nov. 27, the Green Knights beat Wisconsin-Eau Claire 8-2. Lawrence (2-5-1, 2-4-0) has yet to get on a roll this season, having a win, tie and loss in their last three games. I think St. Norbert will bounce back from their loss and take the sweep in the home-and-home series. St. Norbert 4-1, 3-1
Adrian at Marian
Adrian (9-0-0, 6-0-0) remains the lone perfect team to date in the conference. They were 2:40 away from a loss in Sunday's game against non-conference Nazareth, but Michael Hoy's power-play goal forced overtime and Dustin Hebebrand notched the game-winning goal to keep the Bulldogs' streak alive. Marian (4-7-0, 3-3-0) is coming into the weekend on a three-game losing streak, most recently dropping two close games (4-3, 3-2) at the NCHA/MIAC Thanksgiving Showdown. I have a feeling the Bulldogs are going to enter 2014 without a loss. Adrian 5-2, 3-2
Lake Forest at St. Scholastica
The Foresters (5-4-0, 4-2-0) lost two games against nonconference St. Mary's with matching 2-1 scores both nights. Lake Forest sits at fourth in the standings with eight points, right behind St. Scholastica, who is currently third with 10 points. The Saints (6-1-2, 4-0-2) played a nonconference game and downed St. Norbert 4-2. They have only suffered one loss this season, to Wisconsin-Superior. I think these teams will split the weekend. Lake Forest 2-1, St. Scholastica 3-2
Concordia (Wis.) at Finlandia
Finlandia (0-8-0, 0-6-0) remains winless on the season, most recently getting swept by Lake Forest on Nov. 22-23. Concordia (3-4-3, 2-2-2) snapped a four-game losing streak on Nov. 29 with a 5-5 tie against nonconference Bethel, before winning 4-2 the next night. I like the way Concordia's young team has been performing. Concordia 2-1, 5-3
Milwaukee School of Engineering at Northland
I'm not sure how to explain MSOE's season so far, but the runner-up for the 2012-13 MCHA regular-season title has yet to win a game this season. The Raiders (0-8-0, 0-6-0) dropped two games against Wisconsin-Stevens Point and Wisconsin-River Falls two weekends ago. Northland (1-8-0, 1-5-0) most recently lost a nonconference series against Augsburg. I'm going with a split for these teams. Northland 3-2, MSOE 2-1
NESCAC – Tim Costello
I think I might be getting the hang of this prediction thing as I had a really good week at 4-0-1 (.900), which brings the season total to 12-1-2 (.867).
Here are the picks on what is the final weekend of play this year for most teams:
Friday, Dec. 6
Middlebury @ Amherst
A battle for first place and the big question may be who starts in goal for the Panthers following last weekend's loss to Plattsburgh in the Primelink final. No question who is between the pipes for Amherst and Dave Cunningham makes enough saves for the win at home. Amherst 4-3.
Williams @ Hamilton
The Ephs can play with anyone, as evidenced by last week's quality win against previously-unbeaten Babson. Bill Kangas' team won't be looking ahead to their rival game at Amherst on Saturday and take care of business, albeit in a close one. Williams 3-2.
Saturday, Dec. 7
Tufts @ Bowdoin
The Polar Bears got the offense on track in the past week and Tufts is a welcome conference foe despite the Jumbos' win on the road at Castleton. Too much offense and speed for Tufts to keep up at "The Sid." Bowdoin 5-2.
Hobart @ Wesleyan
The Cardinals have proven they can score, but Hobart plays things very tight and this one probably sees an empty-net goal as the ultimate decider in a close contest. Hobart 3-1.
Trinity @ Manhattanville
The Bantams are back on the road and looking to rebound after a tough 2-0 loss against Stonehill this week. Back to basics for Matt Greason's team and it all works out against a traditionally tough ECAC West opponent. Trinity 3-1.
Finals for the semester are certainly upon the players but not before some critical games this weekend – drop the puck!
SUNYAC – Dan Hickling
Friday, Dec. 6
Brockport (2-7-1, 1-3-0) @ Fredonia (2-5-1, 2-2-1) – Fredonia 4, Brockport 1
Both teams are trying to figure themselves out before the break. The guess here is that Fredonia will learn a few more things about itself.
Saturday, Dec. 7
Potsdam (2-6-0, 0-5-0) @ Cortland (3-4-3, 3-3-1) – Cortland 5, Potsdam 3
At this stage of the season, the Red Dragons are closer to joining the middle of the SUNYAC pack than Potsdam is.