There are lots of events and non-events that happen during the course of a hockey game that tend to get overlooked by your average fan. Efficient line changes. Coordinated plays. Defensive spacing. Lane coverage. Shot selection. Many of these aspects go unappreciated or unnoticed by casual observers.
Then there are some other plays that are clear to see, yet still seem to end up undervalued by your John Q. Hockeyfan. Like, say, shot-blocking. It happens a dozen times every game, but the process and strategy behind blocking a shot goes much deeper than simply charging forward and flinching.
"My [London Knights midget] coach Rob Simpson was big on it, defending shots, and it just kinda stuck from then on out," said ECAC Hockey's leading blocker, Harvard freshman Kevin Guiltinan. "It's something I've heard from a lot of coaches down the road, and something that I think is valuable. Everyone brings something to a team, and if I can help out on my part, then that will hopefully give us a chance every night to go out and do our best."
Guiltinan is averaging 2.92 puck-shaped bruises per game, as it were, second in the nation to New Hampshire's Eric Knodel (3.00).
"One of my strengths is killing penalties, so I naturally fell into that role; it kinda came with the job title," he said.
There are right ways and wrong ways to eat rubber, to be sure; not all blocks — or more to the point, block attempts — are created equal.
"I like the one-knee drop personally; I'm not a big fan of the slide wholesale on the ice," Guiltinan said. "I've done the slide, but that's usually when I'm caught out of position. I try to avoid that one as much as possible.
"The way Rob showed me is pretty much the way I've stuck with: One-knee drop with your hands turned over so you don't break your hands, and that way you're not eliminating yourself from the play, either. You can get back up if the shot goes off you; you can see which direction the shot deflects off and make a play there."
Princeton coach Bob Prier urges his players to take a different approach: Go big or go home.
He coaches them "not to put their legs together like the Washington Monument; you want to get out and get big, have a nice wide base, and lead with your stick," Prier said.
"You do what you can do to get in front of a shot, but if you're in good position and you get your stick in the right spot and like I said keep your feet apart and get big, a lot of times that will discourage a point man from shooting."
Beyond technique, strategy is also a big factor in blocking the biscuit. To wit, it doesn't matter how close you are to the puck if you're not in front of it.
"The positioning is important," added Prier, whose Tigers lead the league with nearly 17 blocks a game. "Rather than charging out at the point, if the opposition releases it up to the point, you've got to take almost a direct line back to the gut of the ice first, and then go out at the shot lane.
"Early on, we were getting caught just charging out diagonally, trying to get to the defenseman [at the point] as quick as we could, and I think guys have made a conscious effort to get in the lane then get out at the point."
To break down what Prier said, he wants his players to clog the slot before bolting out to block a shot from the point. This generally assures that his Tigers will be in the shooting lane as quickly as possible: Shooting-lane presence takes priority over proximity to the shooter.
Guiltinan noted how important skater-goalie communication is in the play, too: Harvard senior goaltender Raphael Girard is nothing if not outspoken, and defenseman Guiltinan does his best to keep his 'keeper happy.
"[Girard] just says that if you're in the lane and you want it, and he can't see it, just make sure you get it," Guiltinan said. "He's obviously a great goalie back there — he knows what he's doing — but I'm sure sometimes he hates me when I'm in the lane."
Got that? If you see a guy diving to get in the way, something went wrong; if the goalie is yelling at his teammates instead of to them, something went wrong; and if you have scratched your head at the sight of a forward rushing to the center before the point, now you know why.
It's not hard to notice someone sacrificing his body to prevent a shot, and it's not rare to spot somebody who might be immediately regretting that decision, too.
"Obviously there's a risk of injury associated with it, but it's a big part of my game," Guiltinan said. "It's something where the reward outweighs the risk. … It's something that I need to do and that I pride myself in doing. There's some points where it sucks, but at the same time it's something I sickly enjoy doing.
"Any time I get one up around the head it's a little bit scary. [I've been stung on the] ankles, feet, that kind of thing — and hands. This year I actually got custom gloves; they look like a goalie blocker, they're pretty funny, just to protect my hands a bit. Then I wear the plastic pads over my skates just so I don't break my ankle."
"It's more than technique; it's about being fearless, because getting hit by a puck is not fun," underscored Brown coach Brendan Whittet, whose Bears are redirecting 16 would-be shots-on-goal each game. "We do stress it, constantly; we do work on it.
"In any drill we're doing in practice, we expect guys to block pucks. If you stress it enough and demand it in practice, it comes second-nature in the game."
Despite the fear and risk inherent to the act, shot prevention simply isn't going away. The simple fact is that the fewer saves a goalie has to make, the fewer goals he's likely to allow.
"We've given up eight or nine more shots per game than we've been getting, and the difference in power plays and penalty kills has given us opportunities to block a lot of shots," Prier said with a self-effacing laugh. "I love the guys — I love this team — and they're willing to block shots, and that's going to help us down the stretch and into the second half."
He shouted out to two of his top puck impediments, senior Jack Berger and rookie Ryan Siiro, though sophomore Kevin Liss actually leads the team with 20 blocks in just 10 games played.
Among full-time rubber deflectors, Princeton alumnus Jeff Halpern "gets paid a lot of money to block shots and be in the right spot," Prier said, and the Tigers were fortunate enough to skate with Halpern during the NHL lockout last season.
At Brown, Whittet said that blocking "is something that we consider a fundamental facet" to the game plan, going so far as to use lightweight pucks explicitly for blocking practice.
"It's an important factor in what we're trying to do, and I hear people say it all the time: It's almost like there's not just one goalie on the ice; there's six," Whittet said. "Everybody packs it in low nowadays, so it's really hard to get pucks through to the net.
"It's part of the game, and it's here to stay, so we want to make sure we do it and that we do it very well."
Fresh threads
A few sartorial updates from around the league: Some have already seen game action, some are yet to come out of the box.
• From Dartmouth sports information director and Twitter expert extraordinaire Patrick Salvas: "We switched last year's alternates to become our regular home jerseys. They have the full shoulder yoke and the circular logo, rather than the mostly white shoulder with no logo that we had used for two years. That one is now our 'alternate' even though it is the mirror of our road green sweaters."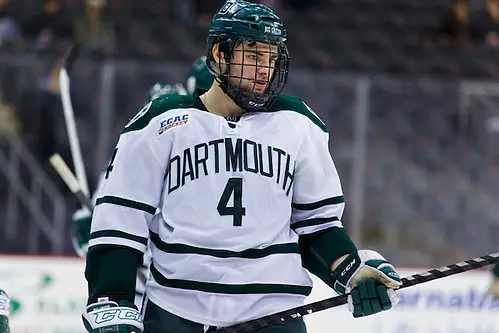 • Cornell added a vertical white stripe to its classic all-red pants. Maybe it got a Groupon rate by purchasing pants with Wisconsin and Boston University?
• Rensselaer rolled out its annual one-time-only Black Friday sweaters earlier this year, and also switched home sweaters to a sharp crest-bearing motif.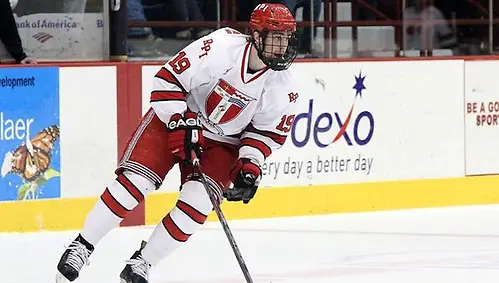 • Per Jeff Torre, Yale's director of athletic equipment services: "The jerseys are slightly different from seasons past. We went with a scoop tail and tie down neck. Socks are custom with our logo."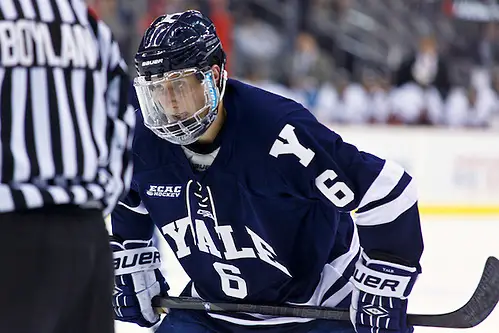 • Princeton broke out some old-school threads against Harvard last month, harkening back to the look of Hobey Baker's terrific Tigers.
• Harvard will feature a new look for the Rivalry on Ice game against Yale at Madison Square Garden on Jan. 11 … but details, like the uniforms themselves, have yet to come to light.
• Union, too, will feature a new alternate look this season, but the jerseys have not arrived in Schenectady, and specific details are not yet available.