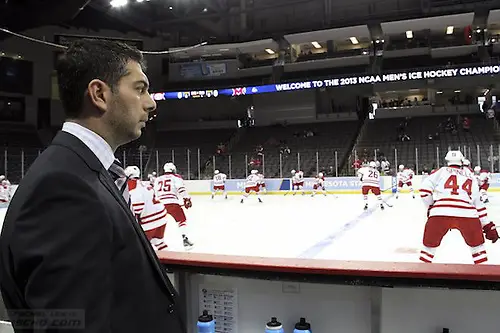 The announcements of men's Frozen Four sites on Wednesday carried a high level of interest.
What was left unsaid by the NCAA men's ice hockey committee, however, may end up having more long-term implications.
The committee did not award regionals for the 2017 and 2018 tournaments because it's considering a return to on-campus tournament play, said committee chair Jim Knowlton, the athletic director at Rensselaer.
"We did not want to tie our hands with four years of regionals," Knowlton said. "So we went out two and we'll continue to assess how the regionals do and whether or not the fan experience and the student-athlete experience will benefit from being on campuses."
The regional system has been in question as attendance has fallen off in recent years. The combined attendance at the four regional sites in 2013 was off 48 percent from 2012.
NCAA tournament games leading up to the Frozen Four were played at school venues from 1977 to 1991. The regional system started in 1992, although team rinks occasionally served as host sites.
The success of this season's regionals — in Bridgeport, Conn.; Worcester, Mass.; St. Paul, Minn.; and Cincinnati — could play a big role in the committee's decision on the system's future.
Another year of poor attendance and lackluster atmosphere in the venues could essentially force the committee's hand to give home-site tournament games a chance.
Knowlton said he couldn't put a date on when such a decision would need to be made, but if it's done it would probably be during the 2014-15 season.
The committee already did pull the trigger on something of a return to campus sites for regionals, but only because it had no choice.
It awarded the 2015 Midwest Regional to Notre Dame's Compton Family Ice Arena because there were no neutral-site bids for that opening, Knowlton said.
"Our goal was to do all of them off campus," he said. "We didn't have any options for that particular one."
Notre Dame will be the first team to host a regional at its home rink since Minnesota in 2009.
The committee awarded Frozen Fours to Boston in 2015; Tampa, Fla., in 2016; Chicago in 2017; and St. Paul in 2018.
Boston and St. Paul are highly experienced hosts, but of the group, Tampa has hosted a Frozen Four most recently, in 2012.
It'll be four years between the Tampa Frozen Fours, the shortest for one city since Milwaukee landed the 1993 and 1997 events.
In Tampa and Chicago, the committee selected two cities that have no native college hockey presence. But Tampa earned rave reviews on its first Frozen Four, Knowlton said, and Chicago has seen a groundswell of hockey support because of the success of the NHL's Blackhawks.
"Anytime you do something different, people are going to question why you're doing it. We expect that," Knowlton said. "But we have really thought through each site. We've thought through all of those different criteria.
"The fan experience, the fans being able to get there, the fans being able to do other things besides going to our event — all of those things play into wherever we pick being a destination and being someplace that they're going to enjoy going to. And we think we've done that with all four of those sites."