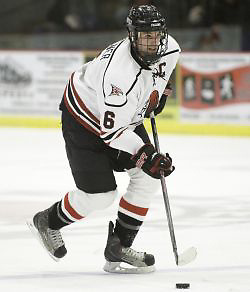 Two months of college hockey have come and gone and who would have thought Wisconsin-River Falls would be the team with the best record in the WIAC at the moment?
The Falcons are 2-0 in league play and an impressive 8-1-1 overall. Not bad for a team that won only 13 games a year ago. Not only are they winning, but they are nationally-ranked, sitting at 14th in the latest USCHO.com Division III Men's Poll.
Wisconsin-Stevens Point and defending national champion Wisconsin-Eau Claire are nationally-ranked as well. The Pointers are fourth in the country and are 10-1 overall and 1-1 in the league. Eau Claire is 7-3-1 and 0-1-1 in the conference.
Stout (3-7, 1-1) and Superior (4-7-2, 0-1-1) have both shown promise at times and are likely to be competitive going forward in a conference that can make a case for being one of the best in the nation.
With the teams on break, I've decided to take a closer look at each team before getting back to the regular column routine in 2014.
Enjoy reading and I hope everyone has a wonderful Christmas and New Year.
Wisconsin-River Falls: The Falcons are flying high heading into the holiday break. They are one of the hottest teams in the nation, having won six consecutive games. Their only loss this season was a by a goal and that was a 3-2 defeat to Augsburg.
Willie Hess leads the offense with eight goals and five assists, but five other players have scored at least two goals. Defensively, the Falcons have been able to count on two goalies in Tanner Milliron and Scott Lewan. The two have combined for 261 saves.
Of course, the schedule does not get any easier. The Falcons have three nationally-ranked teams to battle in the first 18 days of January. Those games against St. Norbert, St. Scholastica and Stevens Point could very well define the direction they go in the rest of the year.
Wisconsin-Stevens Point: The Pointers have won 10 of their first 11 and look like the frontrunner for the WIAC championship at the moment. They stubbed their toe only once and that was in a 3-2 loss to Stout.
Offensively, this team is a machine. Stevens Point has scored 65 goals and it's given up just 17. Garrett Ladd has led the way with 11 goals and 10 assists and Joe Kalisz has struck for seven goals and six assists. A total of 19 players have scored for the Pointers and with that kind of balance and depth, they will be tough to beat on any given night.
Brandon Jaeger has seen most of the time in goal and has 167 saves on the year. Spencer Viele has won twice in his two starts.
One thing about the Pointers on defense is that they have been tough against the power play as teams are converting just over 10 percent of the time in those situations.
Stevens Point is the team to beat as far as I'm concerned and don't be surprised if the Pointers win a championship this season.
Wisconsin-Eau Claire: It might seem like the sky is falling for the Blugolds, but despite three losses, you can't write the champs off. The Blugolds have lost all three of their games to nationally-ranked opponents, including two to St. Norbert, and they go into the break with a two-game win streak.
It's not easy being the champions and trying to follow up on what was accomplished last year, but Eau Claire is still very much alive in the mix for a title and perhaps, even another run at the national title.
Joe Krause and Jon Waggoner have been steady forces on offense, tallying seven goals and six goals, respectively, while combining for 12 assists.
The Blugolds have also seen Jay Deo step up in goal lately. Deo has won the last three games for Eau Claire, giving up just three goals, and if he continues to make progress, he could play a key role in how this season plays out for Eau Claire.
The Blugolds start off the new year with a home game against Augsburg, but an opportunity to make a statement will come on Jan. 18 when it plays host to St. Thomas. Like I said, I'm not writing off Eau Claire yet – still too much hockey left to be played.
Wisconsin-Superior: After a big win over second-ranked Norwich out in New York at the end of November, the Yellow Jackets have had a tough time getting on track in December.
Superior is winless in its last four games, with ties against Eau Claire (2-2) and Finlandia (3-3) mixed into that streak.
The Yellow Jackets have allowed 37 goals on the season and need to improve defensively if they are going to come out playing well in 2014. Drew Strandberg and Dayn Belfour have both taken turns in goal and own goals-against averages of 2.18 and 3.49, respectively, and they will need to continue to make strides if the Yellow Jackets are to thrive.
The offense will also need to be more productive. Superior has 32 goals on the season, including five goals apiece from Cody Hotchkin and Pat Dalbec. Finding consistency on offense is key. In five games this year, Superior scored one goal or less.
Superior has shown it can play with the best teams in the nation. It's just a matter of being consistent in order to live up to its potential.
Wisconsin-Stout: The Blue Devils can at least feel good knowing they head into the break with a huge win over Stevens Point with a 3-2 win over the Pointers on Dec. 7.
The win ended a rugged stretch where Stout had lost six consecutive games. Four of those losses were by one goal, which illustrates the competitiveness of the Blue Devils.
Kevin O'Donnell has been a bright spot, scoring seven goals and dishing out five assists. He is the only player with more than three goals on the season.
If Stout can be a little more productive offensively and make those plays in close games that lead to a win instead of a loss, the Blue Devils have an opportunity for a decent season.
Goaltender Corey Koop, of course, will need to continue to step up as well. He's been solid all year, making 320 saves, and that includes 59 saves in a thrilling upset of the Pointers.
Stout likely won't win a conference title, but it could play the spoiler role on more than one occasion in the second half of the year.