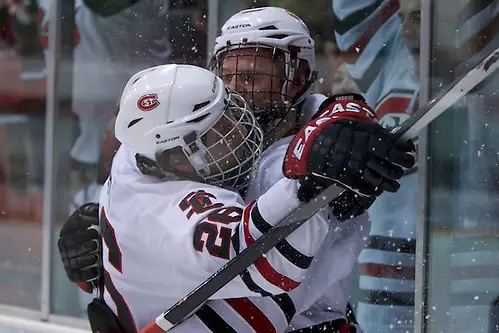 With the NCHC going almost completely dark over the holiday break, I felt now would be a good time to put out midseason report cards for each of the league's eight teams.
Only two NCHC teams will be playing between this column's publishing date and the start of the 2014 calendar year. Western Michigan will participate in the Great Lakes Invitational after Christmas, while Miami has an exhibition game scheduled for New Year's Eve.
At any rate, for our last NCHC column of 2013, here are letter-grade reports on each league team in alphabetical order.
Colorado College: D+
Coach Scott Owens' club is still battling and has occasionally been rewarded for its efforts, but those rewards have been much too few and far between.
I've been encouraged by the Tigers' work in their last two series against Nebraska-Omaha at home and away to Wisconsin, but at 2-12-3 overall and 2-5-3-1 in the league, CC is going to have to successfully navigate a tough second-half schedule if it wants to secure a place above the NCHC's basement come the end of the regular season.
Denver: B-
Denver came out of a tumultuous offseason in which it lost long-standing coach George Gwozdecky and a bevy of top-quality players leaving early, so the Pioneers can be forgiven for their shaky start to their 2013-14 campaign.
First-year coach Jim Montgomery's Pioneers (9-6-3, 4-3-1-1) have stepped up their game, though, and thanks to continued great goaltending from Sam Brittain and more pucks starting to hit the backs of DU's opponents' nets, I'm confident Denver will continue its ascension in 2014.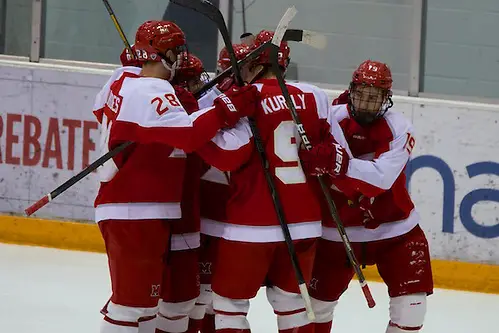 Miami: B-
This is one of those instances where a specific grade can have positive connotations for one party and not so great ones for another. Whereas Denver has made a big climb up into its B- spot, Miami (9-7-2, 3-5-0-0) has disappointed a lot of people, likely including the RedHawks themselves.
Most NCHC prognosticators had Miami in the league's top two going into this season, but we haven't seen Enrico Blasi's team play well enough consistently enough to make us think the RedHawks are the league and national contenders we thought they'd be.
Minnesota-Duluth: C+
At 7-8-1 and 3-5-0-0, it's easy to look at the seventh-place Bulldogs and say they haven't been good enough so far this season, and I wouldn't dispute that.
I do, however, envision a better second half of the season for UMD, as it has eight winnable home games remaining and a road slate Bulldogs coach Scott Sandelin's club could safely navigate if it can hit a rich vein of form.
This is a team that could clinch home ice for the first round of the NCHC playoffs if it consistently puts in the effort and gets a few bounces to go its way.
Nebraska-Omaha: B
Seeing as I and many others had picked UNO to finish at or near the foot of the NCHC table, it appears the second-place Mavericks (8-7-1, 5-2-1-1) are punching a bit above their weight.
The bad news is UNO had a rough start to this season and its nonconference record — most glaring are splits with Bentley and Northern Michigan and a sweep at home at the hands of Cornell — may come back to bite the Mavericks.
The good news? UNO has been maybe the NCHC's biggest surprise in league play, and if the Mavericks can miss out on the sort of late-season tailspin they've experienced the last couple times around, this may yet be an NCAA tournament team.
North Dakota: B
North Dakota appears to be its usual North Dakota self of recent years, starting out slow before finding its legs and rocketing up the league standings.
UND sits at 9-7-2 and 5-5-0-0, having not been as consistent as it should've been through the first half of the season, which is as underwhelming as it sounds.
However, as coach Dave Hakstol's bunch has won each of its last five games and has one of the NCHC's easiest remaining schedules, I fully expect North Dakota to keep climbing and possibly even win the league's regular season championship. Watch this space.
St. Cloud State: A-
I have a feeling I might get roasted by Huskies fans for "only" giving St. Cloud State (11-2-3, 6-1-1-0) an A-, but while the truth's out there that no NCHC team has been perfect thus far, St. Cloud has unquestionably been the best of the bunch.
A lot was made before this season about the Huskies losing a Hobey Baker Award winner in Drew LeBlanc as well as a few other key pieces from recent years, and SCSU's offense could afford to be more consistent.
However, coach Bob Motzko has this team winning from the net out with goaltender Ryan Faragher's great play begetting solid play in the Huskies' own zone begetting wins, and lots of them.
Western Michigan: C+
Western Michigan is one of the surprisingly few teams that is where we thought in preseason that it would turn out to be.
There's a lot of time for the Broncos (7-8-3, 3-5-0-0) to climb above the foot of the NCHC table, though, but Andy Murray's club is going into the winter break having lost three of its last four games and has maybe the league's toughest second-half schedule.
I'm not convinced this is a last place team — nobody should be, anyhow, given the current bottom three have identical NCHC records — but Western's in danger of becoming that if it doesn't start finding more consistency.
Players of the week
Offensive player of the week — Rocco Grimaldi, North Dakota: The third-year sophomore UND forward dished out three assists in last weekend's home sweep of former WCHA rival Northern Michigan. He had the primary assists on both game-winning goals over the Wildcats, and Grimaldi extended his own point streak to five games, all of which UND has won.
Defenseman of the week — Jordan Schmaltz, North Dakota: UND allowed only two goals all weekend against Northern, and Schmaltz had a big part to play in that. He helped UND kill seven of the Wildcats' eight power plays on the weekend, and Schmaltz wasn't on the ice for either of Northern Michigan's goals. He also contributed three assists to the cause, including two during power-play opportunities in UND's 4-1 win Friday.
Rookie of the week — Kyle Osterberg, Minnesota-Duluth: The forward led UMD to its split last weekend with Western Michigan, putting together two goals and an assist on the weekend. He came up particularly big in Duluth's 4-3 win Saturday, opening the scoring just 12 seconds into the game before adding an assist on a goal that put UMD up 3-0 in the first period.
Co-goaltender of the week — Sam Brittain, Denver: The senior from Calgary, Alberta, allowed only one goal in each game last weekend at No. 18 Rensselaer. Over the two games against the Engineers, Brittain made 40 saves — 22 Friday, 18 Saturday — while also posting a .953 save percentage and 0.94 GAA. This is the fourth time already this season that Brittain has earned at least a share of this award.
Co-goaltender of the week — Zane Gothberg, North Dakota: The sophomore goaltender has been playing well lately, and he led his team to both of its wins last weekend against Northern Michigan. He put together 24 saves in UND's 4-1 win Friday, and Gothberg needed to make only 13 saves the following night en route to a 3-1 victory. Hakstol is likely to turn to him again coming out of the winter break, as Gothberg is riding a career-best five-game winning streak.