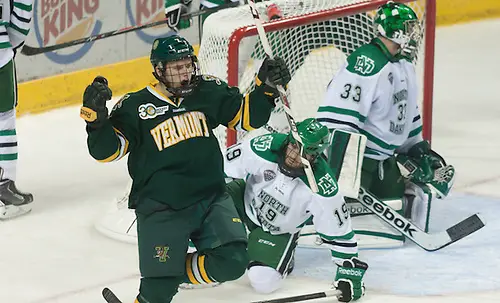 When talking about the hottest teams in Hockey East, it is easy to come up with names like Boston College, Massachusetts-Lowell and Maine.
But quietly, the league's entry from the Green Mountain State, Vermont, has quietly put together an impressive resume that has it ranked in the USCHO.com Division I Men's Poll for the first time since the final poll of the 2009-10 season.
Last weekend, Vermont knocked off then-No. 9 Clarkson and Canisius to win the Catamount Cup, good for seven wins in eight games for the Cats.
You're not going to find any of the Catamounts' players among the national scoring leaders and neither of UVM's goaltending tandem of Brody Hoffman or Mike Santiguida is exactly lighting things up. But a balanced scoring attack where 20 different players have found the back of the net and a solid 1/1A combo in net has made Vermont a tough opponent night in and night out.
Last weekend, the Cats squeaked past Clarkson 3-2, holding off a late rally by the Golden Knights, before finding themselves in a bit of a strange situation in Sunday's finale versus Canisius.
Because the tournament used a predetermined field, Vermont and Lowell couldn't meet in the final despite both teams winning their opening games. That led to both teams posting 2-0 records and two tiebreakers were necessary to determine the winner.
Goal differential was the first. After Lowell's 3-1 win over Clarkson on Saturday, their differential was plus-5. That meant Vermont would need to beat Canisius by at least four to match Lowell's mark.
Leading 5-1 late, it appeared that the Cats would also have a plus-5 margin, which activated the second tiebreaker — total goals. Should the score have remained 5-1, both teams would have been tied with eight goals and the two would have been co-champions.
But when Canisius scored late to make the score 5-2, all of those scenarios were out the window. Thus Vermont needed another goal — which it got from the stick of Jake Fallon with two seconds remaining — to capture the tournament title outright.
"It's kind of an unusual circumstance where at the end of the game, we give up a goal to make it 5-2," said Vermont coach Kevin Sneddon. "It's sometimes a challenging thing because the other team thinks you're trying to run up the score.
"We called a timeout to tell the guys to take some chances and it paid off."
The two wins were not just a solid start to the season's second half. More importantly, they were a bounceback after Vermont lost its final game before the break 3-0 at home to Northeastern, ending a five-game winning streak.
"That 3-0 loss definitely left a bitter taste going into break," said Vermont's Michael Paliotta, who was named the MVP of the Catamount Cup. "Everyone came back and worked hard after break to get into shape. When we got back, things just seemed to be clicking for us. It seems like we didn't miss a step.
"It's great to see because I thought we played to really good games against two pretty good teams this weekend."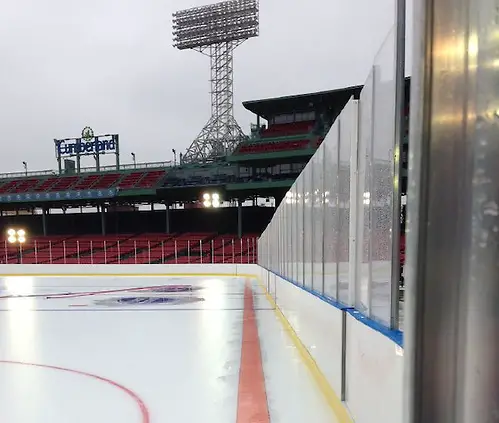 Fenway ice will have its own warning track
It seems appropriate that when Hockey East teams begin play on a baseball field that the ice surface at historic Fenway Park will have a bit of a ballpark field.
The Look-Up Line, or hockey's version of the warning track in baseball, will be part of the ice at Fenway Park for this year's Frozen Fenway. A one-foot thick red line painted 28 inches from the boards around the entire ice surface will make players aware of how close they are to the boards.
The idea is the brainchild of Thomas Smith. Smith was twice a victim of spinal cord injuries suffered while playing hockey, the latter leaving him in a wheelchair for 27 months. While watching a game at Fenway Park in 2012, he took notice of how fielders began searching for the wall once their feet reached the warning track.
Wondering if the same idea could be implemented in hockey, he worked with Hockey East commissioner Joe Bertagna and the NCAA rules committee to test the concept at Frozen Fenway.
"I want to give Tom a lot of credit, not only in coming up with this idea but also in being persistent in getting people to listen and implement it at Fenway," said Bertagna. "His passion was a key in convincing both the NCAA and Fenway people to give this a shot."
The original concept for the Look-Up Line was to paint the ice red 40 inches from the boards. But with the unpredictability of both ice conditions and weather in an outdoor setting, only the 12-inch version will be used.
Still, there is a lot of hope that adding awareness to where players are on the ice might also make them aware of the dangers associated with head-on collisions into the boards. And if nothing else, implementing hockey's "warning track" for the first time at Fenway Park is one great PR stunt for Smith's worthy idea.
Hockey East having major impact at World Juniors
Tuesday's preliminary-round loss to Canada may have put a bit of a damper on Team USA's journey at the World Junior Championship, but that can't take anything away from how solid players from Hockey East were through the tournament's opening round.
Boston University's Matt Grzelyck has led the way offensively for the Americans with two goals and six points. But a name that may not yet be familiar to many in Hockey East, Notre Dame's Vince Hinostroza, has also opened plenty of eyes.
Hinostroza potted five points in the four preliminary games, four of those coming in an 8-0 rout of Germany. Early in the season, Hinostroza was equally as explosive for the Irish before suffering an injury that set him back. He's certainly proven over in Sweden that he is a powerful forward with great eyes for the ice.
Finally, Jon Gillies from Providence has been the go-to guy in net for the Americans. Gillies' 2.35 GAA and .910 save percentage are impressive, and count on Team USA to lean on their netminder in the medal round if they are going to have any chance at repeating as champions.
Quick hits
While the overall record for Hockey East in holiday tournament play was solid (10-3-3), teams records in shootouts was not stellar. Both Massachusetts and Maine played to ties in their respective tournaments but neither could pull out the shootout win to either advance to the finals (UMass) or win the tournament (Maine).
Northeastern may have come away from the Ledyard National Bank Tournament at Dartmouth without a victory, posting a loss and a tie. But Monday's 8-8 tie against Dartmouth in the final may be one of the most impressive rallies of the season. Trailing 8-4 with 11:30 remaining in the third, the Huskies scored four goals, including two with the goaltender pulled, to tie things. Northeastern also had a power play for the final minute of overtime with a chance to win but couldn't convert, sharing third place with the hosts.
Boston College's Johnny Gaudreau remains the hottest player in Hockey East. The junior posted two goals and three assists as the Eagles captured the Three Rivers Classic title. Scoring in both games extended his scoring streak to 13 games. He has scored in 17 of BC's 18 contests this season and is second in the nation in points and points per game behind St. Lawrence's Greg Carey.
If you're headed to Fenway Park this weekend for Frozen Fenway, dress warm. Temperatures are predicted to be around the 19-degree range and there should be a solid coating of snow on the ground. The Boston region is forecasted to get 9-12 inches of snow on Friday night, which will make the Fenway Park crew work overtime to clear the ice and the stands to make things playable. According to the league, should conditions not be sufficient to play, it has the option of moving the games between Providence and Merrimack as well as Boston College and Notre Dame to Sunday.