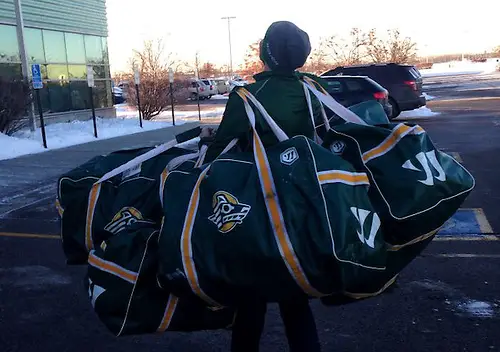 A college hockey team from the contiguous United States is scheduled to play a series in Anchorage, Alaska, and actually arrives there before its hosts?
Yes, it's just about as rare as you'd think it is.
It might be best not to tell that to Alaska-Anchorage coach Matt Thomas, though.
Many college hockey teams fell victim to the unusually severe winter weather events a week ago that hit the Great Lakes region and east coast of the country. None of those teams, however, faced a situation as potentially harrowing as the one Alaska-Anchorage was made to endure.
"In the end, I think this only helps us in terms of team bonding, and it's probably something we can use to push us forward as we continue the second half of our season."
— Alaska-Anchorage coach Matt Thomas
Following a series split Jan. 3-4 at then-No. 13 Wisconsin, the Seawolves' homeward travel itinerary had them flying from Madison, Wis., on Jan. 5 to Minneapolis and then onto Anchorage, all on Delta Airlines jets.
So why are we still talking about UAA's travel plans being thrown into disarray?
It was jarringly cold in Minneapolis a week ago — what with it being January — but the Twin Cities area wasn't hit with anything like the snow accumulation much of the rest of the country got.
No, this was something else.
"We were late coming out of Madison into Minneapolis," Thomas said. "We got off the plane [from Madison], all 28 of us, sprinted to the next gate and we got there and literally watched the plane not yet pulling out of the gate, but they'd separated the jetway from the plane."
It gets worse.
"The plane was right there and we went up to the gate and asked if they couldn't hold it any longer, and we knew that was the last flight to Anchorage from Minneapolis that day, so we knew we were stuck," Thomas said. "So right away we started looking for hotels with 15 rooms, and half the people in the airport missed their connections with the weather on the east coast, so there was suddenly a rush.
"Baggage claim was absolutely crazy because half the people's bags didn't show up, and we went down and more than half our bags had made the trip back to Anchorage. We couldn't understand that: How could our bags make it to Anchorage, but we get off the plane [from Madison] and try to make it to the next one home and missed it?"
In all, what the Seawolves had expected to be a five-day trek to the lower 48 turned into one that lasted eight. Delta's upcoming flights from Minneapolis to Anchorage were already fully booked, leaving the UAA team stranded.
The trip, spanning from the small hours of the morning on New Year's Day to late last Thursday, saw the Seawolves finally touching down in Anchorage on Jan. 9 at approximately 9 p.m. local time.
That was less than 24 hours before they were scheduled to open a WCHA series against Minnesota State, which had played the weekend before in Fairbanks, Alaska, and stayed in the state between the series.
The rearranged travel plans presented their own problems for UAA to deal with.
"The way we needed to get home, we had to FedEx our equipment home on Wednesday because [FedEx] had too many connections and couldn't guarantee they'd make all the connections Thursday," Thomas said. "And thank God we did because there was a hailstorm in Salt Lake City Thursday, so we were delayed 45 minutes getting out of there, and we landed in Seattle and had to run because we were taking Delta to Salt Lake and then Alaska Airlines to Seattle, then up to Anchorage.
"Alaska Airlines actually added a flight for us because they're a big partner of [UAA's], and we had to sprint just to that gate [at Seattle-Tacoma] just to make that flight in time. If we'd done that Thursday, our equipment wouldn't be here in Anchorage ahead of the games with Mankato."
All's well that ends well, though: The Seawolves swept the Mavericks to move two games above .500 overall and into the top half of the WCHA standings.
They weren't the only team to experience travel headaches at the Minneapolis-St. Paul airport.
Ferris State and Rensselaer, both having just taken part in Minnesota's Mariucci Classic, also had to endure delays at the same airport from which UAA was trying to get home.
The Arctic cold front didn't make things any better for teams on the east coast trying to move westward. Both Notre Dame and Nebraska-Omaha had issues departing Boston on Jan. 5 for South Bend, Ind., and Omaha, respectively.
Notre Dame, in fact, had trouble going both to and from Boston, where it took part in the Frozen Fenway event at Fenway Park. When the Fighting Irish's originally scheduled flight from Chicago O'Hare International Airport to Boston's Logan International Airport on Jan. 2 was canceled, Notre Dame used a partnership it had previously forged with the NHL's Chicago Blackhawks to use a charter jet that earlier in the week had carried the Blackhawks to Boston.
The Fighting Irish again used a charter service to get back to Indiana, but getting home wasn't easy, either.
They were set to use a charter jet that Clemson's women's basketball team had just used while traveling to South Bend for a game, but plans for that were scrapped due to a major snowstorm in Chicago that kept the Tigers from getting to the plane at Chicago's Midway Airport.
Instead, Notre Dame's hockey team was able to use a Baltimore-based charter plane to get from Bedford, Mass., back to South Bend, which welcomed the Irish back Jan. 5 with 20 inches of snow, a temperature of minus-13 and a wind chill of minus-45.
As for Nebraska-Omaha, which suffered a pair of losses Jan. 3-4 at New Hampshire, its originally scheduled flight from Boston Logan to Chicago O'Hare was canceled. Even before UNO's second game against UNH, the Mavericks learned their connecting flight from Chicago to Omaha had also been scrapped.
They were then booked onto a later United Airlines flight from Boston to Denver, and then the Mavericks would be able fly home to Omaha's Eppley Airfield from Denver.
Once UNO knew it was bound for Denver, however, Mavericks hockey equipment manager Mark Pane pulled some strings.
Pane spoke with an United operations employee working out of Eppley, and eventually the United flight from Boston to Denver landed in Omaha along the way to drop the Mavericks and other Omaha-bound passengers off.
"I don't know how they explained it," said Dave Ahlers, Nebraska-Omaha's radio play-by-play commentator and sports information director. "But the Denver passengers knew we were stopping in Omaha.
"They were still a little perplexed because that's the way airlines used to fly in the old hub-and-spoke system, but it was kind of remarkable when we found out that we got on the plane but that it was going to stop in Omaha to drop us off, thereby saving us probably an eight-hour bus ride [from Denver to Omaha].
"At that point in time, knowing everything was canceled and everything was such a mess, we were just thinking, 'Get us someplace close and we'll get a bus.' We were thinking, 'Get us to St. Louis, get us to Kansas City, get us to somewhere where we could take a bus,' and if it had to be Denver, it had to be Denver, and then that bit from Heaven came down and we lucked out."
One common theme for all of these five teams, though — as well as any traveling group that's become stranded due to inclement weather — was that their ordeals made for good team-bonding experiences.
Being in close quarters for an unexpectedly long amount of time, all that's left for it is to make the best of the experience.
Luckily for Alaska-Anchorage, which was affected the most by the cold front that gripped so much of Canada and the U.S., accommodations were made.
The Seawolves were able to practice out of Richfield, Minn., for two days and were able to book rooms at a Hilton hotel near the Mall of America, which, even for grown men, apparently provides an atmosphere that promotes togetherness.
"[The weather] made for an inconvenience and adversity to deal with, but our guys had fun," Thomas said. "They got on all the rides for free at the Mall of America, so they were acting like 10-year-old kids again and were able to do that and go bowling and go to movies.
"We ended up making it pretty fun considering the situation we were in, and I think the guys enjoyed that opportunity to be around their teammates even that much more. In the end, I think this only helps us in terms of team bonding, and it's probably something we can use to push us forward as we continue the second half of our season."