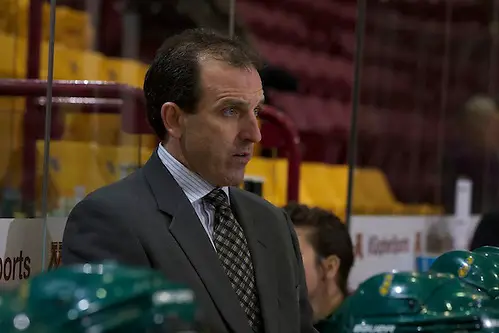 It doesn't take much to start a slump, but if last weekend is any sign, Clarkson looks to have avoided starting down that path.
After losing just three games in the first half, the Golden Knights entered the middle of January on a 1-4-1 stretch, which included a tie and two losses against No. 8 Massachusetts-Lowell.
But Clarkson put to rest any thoughts of an extended skid with a pair of 3-2 home wins over then-No. 8 Yale and Brown last weekend.
"I didn't think we were that far off," Golden Knights coach Casey Jones said. "We had some games that didn't go our way where we played well enough to win. Over the course of the season, that's going to happen."
Still, Jones said the Golden Knights showed an uncharacteristic lack of discipline in a 4-0 loss to Merrimack on Jan. 11, as back-to-back penalties turned into two Warriors power-play goals in the second period.
Clarkson stayed in control against Yale and Brown, taking only six penalties in the two games, as it improved its record to 12-3 in one-goal games this season.
"We don't get nervous; we've been in them before," Jones said of playing in so many tight games. "We won some close games early, which helped our mind-set."
The Golden Knights may not have the big names that teams like Quinnipiac or Union do, but they have plenty of depth through the lineup and deny their opponents space to work.
"We hunt down pucks and skate well," Jones said. "That's a trademark of our team. When we're a step off, we give [the opponent] more time and space than they should have. We did a really good job pursuing pucks; that was probably the biggest thing this weekend."
That aggressiveness carried over to the power play as well, as Will Frederick's third-period goal on the man advantage was the game-winner Saturday.
"Sometimes we don't have an attacking mentality; we look to get set up," Jones said of the Golden Knights' power play. "We just have to have a little more of a shooting mentality and generate some second-chance opportunities."
No. 13 Clarkson's depth will be tested this weekend when the Golden Knights travel to No. 12 Cornell and Colgate. Senior center and top scorer Ben Sexton will sit out Friday's game after getting a game disqualification penalty last Saturday against Brown, while freshman center Troy Josephs is day-to-day after missing both the Yale and Brown games.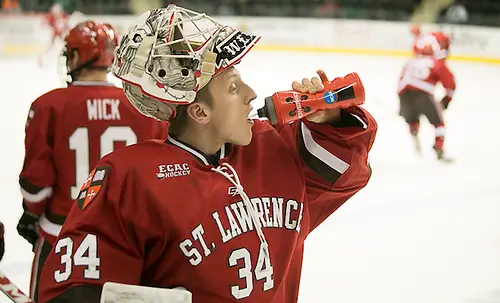 St. Lawrence sliding
It's been a rough go of it for the Golden Knights' travel partner and North Country rival St. Lawrence. The Saints have lost seven in a row and 10 of their last 12.
"We're not a long ways off," St. Lawrence coach Greg Carvel said.
Goaltending and penalty killing have been the main issues for St. Lawrence, which Carvel estimates was one of the only teams not to have a bye week in the first half.
"At the end of the semester, we were just a tired team. Now it's more of a mental thing," he said.
Part of that has to do with getting out to slow starts recently. The Saints haven't scored a first-period goal in four games and are just 2-7 when trailing after the opening period.
That's a problem, even with a prolific offense that has the country's best power play and is scoring nearly three and a half goals per game. The trio of Matt and Greg Carey and Jeremy Wick is averaging a point per game or better each, while senior Justin Baker has been an offensive force from the blue line.
"I guess we're a fragile team. Maybe we're expecting bad things to happen," Carvel said. "Obviously, that's not the way to win. To score first would go a long way."
An improved penalty-kill unit and better goaltending would help, too. St. Lawrence ranks third-to-last in the country in short-handed efficiency, while goalies Matt Weninger, Tyler Parks and Kyle MacDonald have combined for an .858 save percentage.
"Our penalty kill has got to get a lot better," Carvel said. "We don't give up a lot of shots. The biggest factor is to get the saves.
"When we're letting in goals we're losing our aggressiveness and giving teams too much time. We really should be pressuring more on the penalty kill."
Each of the Saints' three goalies has started a game during the seven-game losing streak, but Carvel has no plans to go away from Weninger, a senior who's started since arriving on campus.
"Matt is our guy; he's proven that many times," Carvel said. "We're going to stick with him and work with him to help him find ways to get back on track."
St. Lawrence dealt with a similar stretch last season, losing six of seven in the middle of the year before turning it around with a solid stretch run.
"This time last year, we found a way to turn things around and went six games without a loss," Carvel said. "We need to transition that success to this year."
Around the league
• Quinnipiac freshman Sam Anas' goal Saturday against Merrimack was selected as the NCAA's top play of the week. Check out the video here.
• Union and Colgate continue to be two of the league's hottest teams, with each school earning a sweep on the road last weekend. The Raiders are 4-0-1 in January and haven't allowed more than two goals during that stretch. Colgate gave up four or more goals seven times during in the first half. Union swept a pair of games at New Hampshire to push its winning streak to three. The Dutchmen have only three losses since Oct. 25.
• The ECAC announced Monday that Dartmouth forward Eric Neiley was suspended for two games as a result of his actions against Cornell last Saturday at Thompson Arena. The league action was taken after review of an incident that occurred after the final horn of the third period where Neiley was assessed major and game disqualification penalties.
• Brown's Massimo Lamacchia also will also sit out Friday after he was given a five-minute major and game disqualification for fighting Sexton on Saturday.
• Quinnipiac defenseman Dan Federico was recently profiled in the New Haven Register. The junior defenseman was repeatedly praised by coach Rand Pecknold during last year's playoffs, and he's been even better this year. Federico has played in all 27 of the Bobcats' games to date, and is plus-16 overall, the best of any ECAC player.
• Yale's John Hayden had a career-best two goals and one assist against St. Lawrence last Saturday to earn the league's player and rookie of the week awards. Union's Colin Stevens set career highs with 38 and then 40 saves at New Hampshire last weekend to win the goalie of the week award.