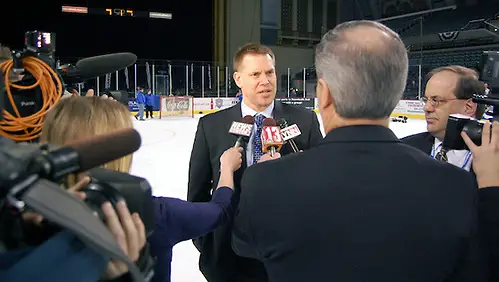 Union has suspended coach Rick Bennett for two games after he was involved in an on-ice altercation with members of the Rensselaer coaching staff and team after Saturday's game.
The school announced the suspension, issued by athletic director Jim McLaughlin, on Sunday. Bennett will miss ECAC Hockey games at St. Lawrence and Clarkson next weekend.
ECAC Hockey is also reviewing the video of the melee, which took place as Rensselaer finished off a 2-1 victory over No. 3 Union in the annual Mayor's Cup game in Albany, N.Y.
In videos posted to YouTube, Union captain Mat Bodie is seen delivering a high cross-check to Rensselaer's Brock Higgs after a last-second faceoff, and other players assemble to create a mass of bodies.
Later, Bennett is seen confronting Engineers coach Seth Appert and appears to shove him.
Two players from each team were issued game disqualification penalties that include an automatic one-game suspension.
Both coaches were apologetic in postgame news conferences, and Bennett repeated that in a statement issued by Union on Sunday.
"On behalf of Union College and the men's hockey team, I apologize for my actions and behavior after last night's game against RPI," Bennett said in the statement. "The administration, supporters, and loyal fans of both programs deserve and demand better from me. I'm truly sorry for the events that took place after the game."
Dutchmen assistant coach Joe Dumais will serve as the acting head coach next weekend.