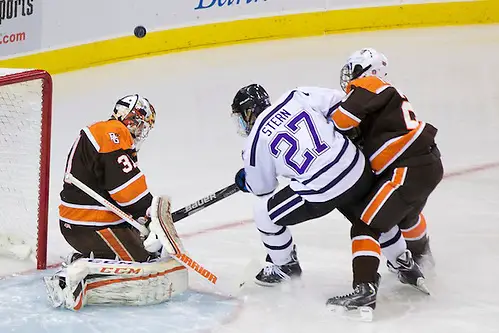 Winning the WCHA regular-season title means getting the historic, 100-year-old MacNaughton Cup as a prize.
The reward after that might not be as meaningful.
Changes to the league's playoff format mean there are close races up and down the standings.
There's a race for the trophy, a race for home ice and a race just to make the playoffs. With six weekends remaining in the regular season, a case can be made that there are a few teams involved in all three.
"Parity, it goes without saying," said Minnesota State coach Mike Hastings, whose team travels to Northern Michigan this weekend.
The Mavericks are four points out of first place and could move into a tie with idle Ferris State with a sweep. Bowling Green, which hosts Michigan Tech, sits one point behind Minnesota State.
"The difference between winning and losing is minute," Hastings said, "and part of it is, we only get to control a little bit."
The top four finishers will get a home series for the first round of the league playoffs, March 14-16.
Alaska-Anchorage is in fourth place, two points behind Bowling Green and one ahead of Bemidji State. Both split league series last weekend. The Seawolves split with Northern Michigan, which is four points out of fourth.
"It became huge," Anchorage coach Matt Thomas told the Anchorage Daily News following Saturday's win over the Wildcats. "[Wins] always become bigger when you lose the night before late in the season. Every loss is devastating and every win is joyous, and hopefully, something positive for down the road."
Then there's the race for the final playoff spots.
When the WCHA scrapped its controversial "Alaska Plan," which would have pit the two Alaska schools against each other in the first round regardless of their finish, it opted to eliminate the bottom two finishers from the postseason.
While Alabama-Huntsville, with just three points, seems destined for 10th place, there is real completion for those final spots. Lake Superior State, Michigan Tech and Alaska are tied for seventh place, although the Nanooks have played two more games than the others. At 16 points, the three teams sit one point behind Northern Michigan. The Wildcats have two games in hand over the Lakers and Huskies and four over the Nanooks.
The seventh-place teams also sit just five points out of fourth.
From here on out, every weekend could see big swings in the standings.
"[Bemidji State was] only two points ahead of us, and it was going to be a playoff-type game, and we didn't bring it tonight," Alaska forward Colton Beck told the Fairbanks Daily News-Miner after Saturday's home loss and series split with the Beavers. "That's what happens when you don't bring it."
And once everything shakes out at the end of the season, there will be no cakewalk to the Final Five for the team carrying the MacNaughton Cup.
The winner doesn't get to host Huntsville (if the Chargers indeed finish last), and, likely, a pretty solid team will be sitting home, its season over, that weekend.
"You better be good — you better be really good in the first round," Hastings said. "And you could be good in the first round and still get beat."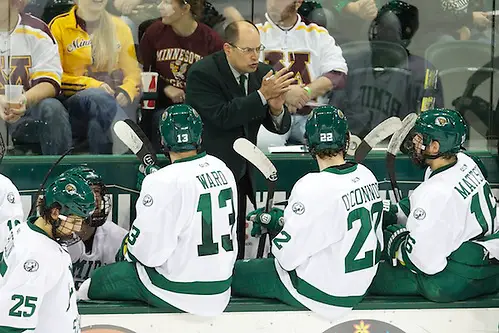 Nonconference woes
Typically the MacNaughton Cup is an easy ticket into the NCAA tournament, but with the exception of Ferris State, the rest of the WCHA is going to need to win the Broadmoor Trophy at the Final Five to advance after a dismal nonconference season for the league.
The Bulldogs are the only WCHA team in the mix for an at-large bid as of this week, sitting in a tie for fourth in the PairWise Rankings. Minnesota State is the next highest team at No. 24.
The Mavericks' two costly losses in the Minnesota North Star College Cup wrapped up nonconference play for the WCHA, which finished 25-44-12 overall.
The league posted a winning record at home of 14-7-5, but was 4-7-1 on neutral ice and 7-30-6 on the road.
The WCHA was near-perfect against Atlantic Hockey (9-0-1) and posted a winning record against ECAC Hockey (7-5-2), which could put as many as five teams in the NCAA tournament.
The WCHA went 5-13-3 against the Big Ten, 4-14-6 against the NCHC and winless at 0-12 against Hockey East, which is also in a position to put five teams in the NCAA tournament.
Alaska-Anchorage (4-2), Alaska (3-1-2), Ferris State (5-3-1) and Lake Superior State (4-3-1) all posted winning nonconference records, while Bowling Green (3-3-2) finished at .500.
Minnesota State (2-6), Michigan Tech (2-6-2) and Northern Michigan (2-5-1) all finished with two wins while Bemidji State (0-5-3) and Alabama-Huntsville (0-10) went winless.
Michigan Tech, Northern Michigan, Bemidji State and Alabama-Huntsville played nonconference games against only the NCHC, Big Ten and Hockey East. Minnesota State played all three leagues plus future Hockey East member Connecticut, which is currently a part of AHA.
Bemidji State played five of its eight nonleague games at home, going 0-3-2.
Around the WCHA
• Alabama-Huntsville is making its second trip to Alaska this season as it plays at Fairbanks. The Chargers went to Anchorage Nov. 8-9. They will make just one trip there next season.
• Alaska-Anchorage is idle this weekend but continued to improve its impressive home record with last weekend's split. The Seawolves are 10-3-1 at home, their best 14-game mark as a Division I program and best overall since going 13-10 in 1983-84. Their overall mark of 13-10-3 is their best start since 1991-92.
• Sean Cahill's shutout on Friday was Alaska's first since Nov. 26, 2011, against Bowling Green and first at home since Nov. 18, 2011, against Ferris State. Cahill stopped 27 shots to beat Bemidji State. The next night, Bemidji's Andrew Walsh returned the favor and shut out the Nanooks on 25 shots.
• This weekend's series at Northern Michigan concludes a stretch for Minnesota State in which it's played 10 of 12 games away from Mankato. The Mavericks are 3-5 so far in that stretch, dating to Dec. 13-14, and 5-11 overall on the road. Six of their final eight games will be at home, where they are 9-1.
• Northern Michigan had only four healthy defensemen with it on Saturday at Alaska-Anchorage. In addition to senior CJ Ludwig, who is out for the season, freshman Brock Maschmeyer and senior Wade Epp both missed the trip due to upper-body injuries. On Friday, junior Luke Eibler got injured and had to be replaced during warmups on Saturday. The Wildcats played junior forward Nate Taurence on defense Friday and Saturday, then moved junior forward Ryan Kesti into Eibler's spot after warmups and replaced Kesti on the fourth line with sophomore forward Cohen Adair. Epp, Maschmeyer and Eibler are all questionable for this weekend's series against Minnesota State.
• Bowling Green saw its six-game unbeaten streak snapped by Lake Superior State last Friday, but the Falcons are still 5-1-2 in their last eight games to take over third place in the WCHA. In their last eight league games, they're averaging 3.8 goals scored and 1.8 goals against. The Falcons are a point back of Minnesota State and five back of league-leading Ferris State.
• Bowling Green hosts Michigan Tech this weekend in the first series between the two schools since Oct. 28-29, 1983. Tech hasn't played in the state of Ohio since Jan. 13-14, 1984, at Miami. Both series came when the Huskies were members of the CCHA. After making its return to Ohio for the first time in 30 years, the Huskies are home for five straight games. They close the season with a game at Northern Michigan and two at Minnesota State.
• Ferris State snapped its three-game losing streak not with junior CJ Motte in goal, but with sophomore Charles Williams, who recorded his first collegiate win and shutout Saturday at Michigan Tech. Williams started in a pair of losses at Colgate and at home against St. Lawrence to start the year, then came on in relief both nights at Minnesota State. In Saturday's shutout at Tech, Williams and the Bulldogs killed all six Huskies power plays.
• Just six WCHA teams are in action this weekend (Minnesota State at Northern Michigan, Michigan Tech at Bowling Green and Alabama-Huntsville at Alaska), and eight will play each other the following weekend. The next time all 10 conference teams will play each other is Feb. 14-15.
• WCHA players of the week were Bowling Green forward Mark Cooper (offensive), Northern Michigan defenseman Mitch Jones (defensive) and Michigan Tech forward Reid Sturos (rookie).